December was one of the more difficult months on the Wilkes-Barre/Scranton Penguins' schedule. Several players were called up to Pittsburgh, and those left in Wilkes-Barre had to try and develop chemistry with new additions from the Wheeling Nailers. WBS also had trouble generating offense and coming back from behind when they got in a hole early on.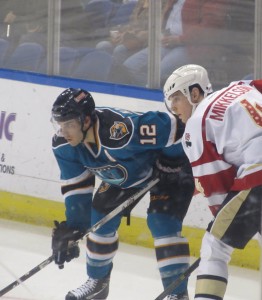 However, the Pens closed out the month, and the year 2013, with a win and there is still plenty of room for optimism. Rookie goaltender Eric Hartzell has been solid when called upon, and forward Paul Thompson has begun to break out of his scoring drought.
Here is a wrap of the team's performance in December before 2014 play begins on Friday night.
Current Record: 18-9-1-3 (fifth in Eastern Conference, second in East Division)
Leaders
Goals: Tom Kostopoulos (12)
Assists: Brian Gibbons (18)
Points: Gibbons' 27 points on the season remain a team high despite the fact that he has spent a large chunk of the month in Pittsburgh.
Goaltending: Jeff Deslauriers (13-7-2 with a .907 save percentage and 2.20 GAA)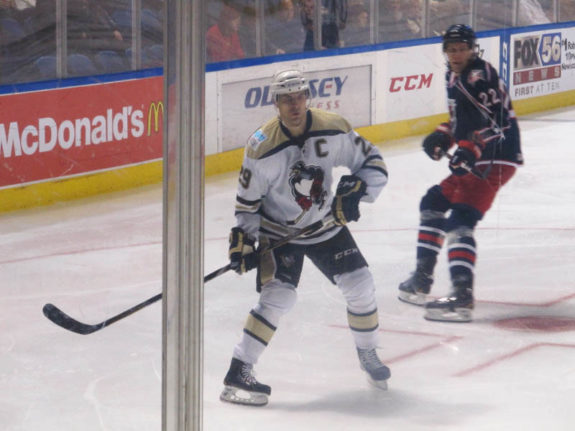 Injuries
Adam Payerl will be out of the lineup for about another two to three months with an upper-body injury. Defenseman Peter Merth remains out with the same issue and does not have a return date. Reid McNeill (upper body) and Dominik Uher (hit with puck, wearing a full face shield) have returned to the lineup after missing time with injuries.
Transactions
Philip Samuelsson, Harry Zolnierczyk and Brian Dumoulin were all recently returned to Wilkes-Barre after being up in Pittsburgh. Gibbons, Jayson Megna and Chris Conner are still with the big club.
Zack Torquato was signed to a tryout deal on December 21 after being called up from the Wheeling Nailers. Other Nailers players to see ice time this month were Cody Sylvester, Barry Goers, Dustin Stevenson, Denver Manderson and Carter Rowney. Rowney and Stevenson have gone back to Wheeling.
December Schedule Recap
Friday, December 6 at St. John's IceCaps: 5-0 loss
Saturday, December 7 at St. John's: 3-0 win
Wednesday, December 11 vs. Springfield Falcons: 3-2 loss
Friday, December 13 vs. Hershey Bears: 5-3 win
Saturday, December 14 vs. Utica Comets: 1-0 win
Friday, December 20 vs. Worcester Sharks: 4-1 loss
Saturday, December 21 vs. Syracuse Crunch: 2-1 win
Friday, December 27 vs. Norfolk Admirals: 3-1 loss
Saturday, December 28 at Hershey: 2-1 shootout loss
Tuesday, December 31 vs. Syracuse: 5-2 win
December Highlights
Just as they did in November, the Penguins split a weekend set with the IceCaps, this time in Newfoundland. After losing 5-0 on December 6, they bounced back on December 7 with a 3-0 win. Gibbons, Tom Kuhnhackl and Bobby Farnham scored for WBS, while Brendan Mikkelson added two assists.
Then, WBS made history in two losses against Springfield and Worcester, as its only goals in those games came on penalty shots. Harry Zolnierczyk scored the first on December 11, and it was only the second time in team history the Pens had successfully made a penalty shot. Nick Drazenovic scored the second in the 4-1 loss to the Sharks on December 20.
Lowlight
The Penguins opened the month with a 5-0 thumping at the hands of the IceCaps. Eddie Pasquale was clutch, stopping 20 shots in net, while Carl Klingberg had two goals. Former WBS foe Andrew Gordon, who spent four seasons with Hershey, also scored for St. John's.
Player of the Month
Although he missed eight games due to injury, Nick Drazenvoic is the December player of the month after he carried a depleted Penguins lineup on his return. The former Springfield Falcon had six points in the second half of the December schedule and is currently tied for fourth on the team with 16 points.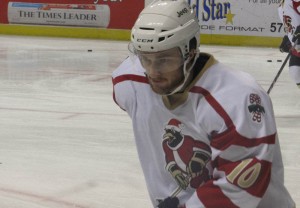 January Schedule
Friday, January 3 at Hartford Wolf Pack
Saturday, January 4 vs. Manchester Monarchs
Wednesday, January 8 vs. Syracuse Crunch
Friday, January 10 at Adirondack Phantoms
Saturday, January 11 vs. Hartford
Friday, January 17 at Providence Bruins
Saturday, January 18 at Portland Pirates (in Lewiston, ME)
Sunday, January 19 at Providence
Friday, January 24 and Saturday, January 25 at Norfolk Admirals
Sunday, January 26 at Hershey Bears
Wednesday, January 29 vs. Syracuse
Friday, January 31 vs. Norfolk
January Schedule Notes
The games on January 17 and 19 will mark the first time the Penguins have played the Bruins since their remarkable playoff comeback in the 2013 Eastern Conference Semifinals. Providence currently sits in sixth place in the conference with a record of 17-10-1-5, and both the Bruins and Pens have 40 points.
Nick Johnson, who played for WBS from 2008 to 2011, is a member of the Bruins this year. He has 20 points through 24 games and recently spent time with the Boston Bruins, where he went scoreless in nine games.
On Saturday, January 18, the Penguins will play the Pirates at the Androscoggin Bank Colisee in Lewiston, Maine. Portland is currently using the Lewiston MAINEiacs' former arena as its own due to leasing issues at its home facility, the Cumberland County Civic Center.
Back on October 20, the Pens beat the Monarchs, their opponent on January 4, 4-3 in overtime to win their sixth straight game and get off to their best start since the 2010-11 season.