As Christmas Eve approaches, fantasy managers undoubtedly have some skaters or goalies that they hope will appear in their league's free agent pool. With the "meat" of the fantasy hockey season almost underway, hoping to snag elite talent from one's free agent pool or waiver wire might be a long shot, but that doesn't mean that managers are out of options.
Whether for the short or long term, pillaging one's league for lesser-owned players offers managers a low-risk option that is expendable at any time. While some might not think that there is value to be found in the depths of free agency, there are more than a few performances that managers should take note of as the calendar year turns. Owned in less than 25% of Yahoo! leagues, some of the skaters mentioned below could help one's roster – especially for a bubble team.
Streaking Into The New Year
Mika Zibanejad (Ottawa Senators – C/W)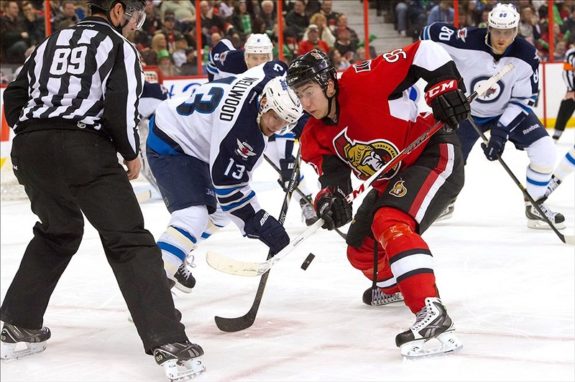 Finding a great deal of chemistry with his new linemates, Mika Zibanejad has woken up in a big way during the month of December. Playing alongside Mike Hoffman and Bobby Ryan, Zibanejad has scored 11 points (6G, 5A) since December 2nd and has seen his ownership rate steadily climb.
Considering that Zibanejad has scored almost 65% of his points during December, it's still a bit surprising to see that Zibanejad is less than 25% owned in Yahoo! leagues. With a 22% ownership rate in Yahoo! formats, fantasy managers in every type of league should scour their free agent pool or waiver wire for Zibanejad as he has been seeing anywhere between 14 and 21 minutes of ice-time on a given night during his hot streak. As long as Zibanejad is playing with Bobby Ryan – and Hoffman keeps up his recent pace of play – the forward should see an ample amount of scoring opportunities, so fantasy managers should try to capitalize on this pick-up sooner rather than later.
Tyler Ennis (Buffalo Sabres – C/W)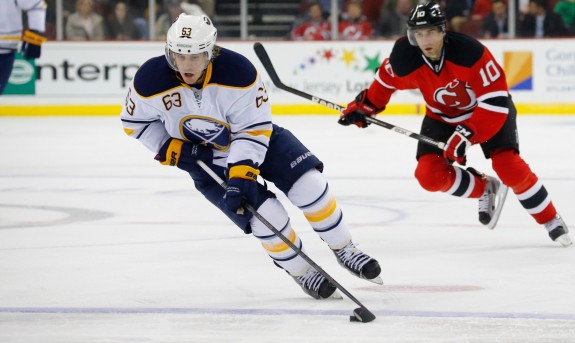 One is usually hard-pressed to find first line help in the bottom of their free agent pool, but that is where Tyler Ennis finds himself at this point in the season, and it's hard to try to understand why. Sure, nobody was expecting the Sabres to vie for a playoff spot this season or be competitive in the least bit, but the team responded quite well lately by rallying off four straight victories from December 9th to the 15th – something that has convinced many that Buffalo is not intentionally tanking the season in order to land a better spot for themselves in the Connor McDavid sweepstakes.
At the center of the Sabres' recently improved play, one can definitely find Ennis on the scoresheet as he has scored one goal and added six assists since December 9th. Consistently playing anywhere between 18 and 22 minutes per night, Ennis should be strongly considered for roster addition. It's not every day that fantasy managers can find a top-six forward – especially one that plays on the first line – in their league's free agency, but at 20% owned in Yahoo! leagues, picking up Ennis sure could be a steal for some managers.
Mark Scheifele (WPG – C)/Michael Frolik (WPG – C/W)/Mathieu Perreault (WPG – C)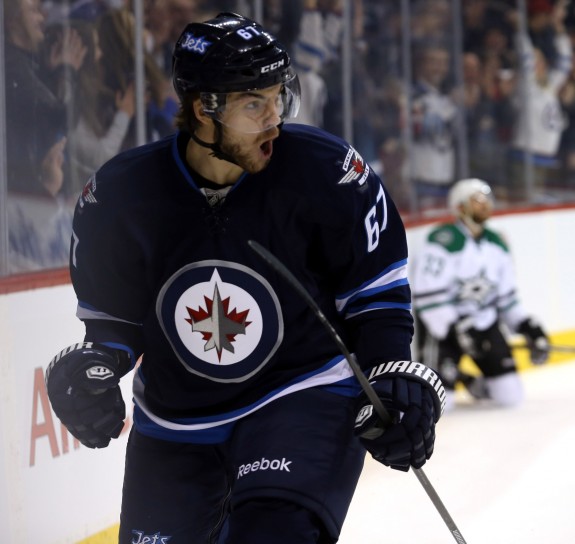 Mentioning just one of these players without mentioning the others simply wasn't going to work in this article, and listing these skaters individually would have just created way too much clutter.
Forming the Winnipeg Jets' second line, Scheifele, Frolik, and Perreault have been firing on all cylinders during the month of December. Since December 11th, Scheifele (14% owned) has managed to score nine (3G, 6A) of his eighteen points, but he has chemistry to thank for his recent success as his linemates have been playing just as well – and are just as sparsely owned in Yahoo! formats.
Michael Frolik – who is only 8% owned in Yahoo! leagues – has been enjoying just as much success over the last two weeks as Scheifele as he has tallied eight points (2G, 6A) since December 9th. Lastly, Mathieu Perreault (6% owned) has scored 11 (6G, 5A) of his 17 total points this season since December 3rd and has not shown any signs of slowing down as he has failed to show up on the scoresheet only once during the month of December.
Seeing as how well Scheifele, Frolik, and Perreault are playing, fantasy managers should definitely go out and snag at least one of the aforementioned players. Of course, it would be hard for any manager to commit to picking up all three of these players and finding room for them on a given roster – especially since the chances of all three skaters being available might not be that great – but just one of these players could make a difference when inserted into a lineup. Playing with such great chemistry and comfort, Scheifele, Frolik, and Perreault have definitely warranted strong consideration for roster addition with their December play – and fantasy managers should definitely take note if they haven't already.
Scott Gomez (New Jersey Devils – C)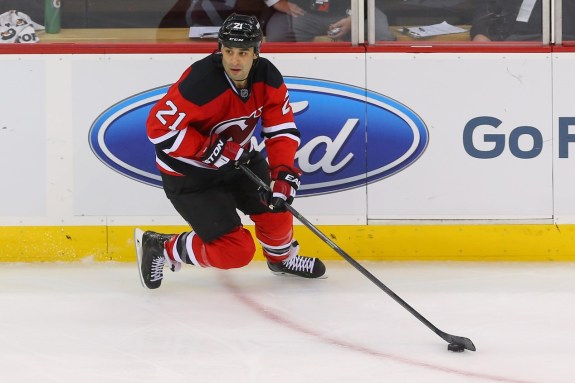 It seems like it was yesterday when people were taking wagers on when Scott Gomez would score a goal, or how long Gomez could go without potting one. However, Gomez has demanded the attention of fantasy managers as of late by putting forth a solid performance in New Jersey's top-six forward rotation.
Currently playing on the Devils' first line alongside Michael Cammalleri and Jaromir Jagr, Gomez has scored seven points (2G, 5A) in 12 NHL games this season. Receiving a good chunk of minutes (anywhere from 16 to 22 on a given night), Gomez has proven his worth in many facets – especially on the power-play where the forward has managed to tally four assists. To put that total into perspective, one needs only to look at Gomez's '13-'14 NHL season with the Florida Panthers and his two power-play assists registered over a 46-game span to realize that the forward has been entrusted with a fair amount of responsibility in his second tour of duty in New Jersey.
Fantasy managers should definitely look into adding Gomez to their rosters – even if it's a short-term fix or a cost-efficient roster experiment – as he is only 2% owned in Yahoo! leagues. Much like Tyler Ennis, fantasy managers will be lucky to find a first line player that is less than 25% owned, and with Gomez's hot hand they now have two skaters that they could comfortably choose from.
In his third year with The Hockey Writers, Toli covers all things related to the New York Islanders. Focusing on the Islanders, the NHL Draft & draft-eligible prospect goalies, and hockey history, Toli can be contacted on Facebook by searching/messaging Toli Metter and on twitter by searching @ToliMetterTHW.