There was no late-game dagger from Jason Zucker this time around. The Flyers avenged their November loss to the Minnesota Wild, extending their current win streak to three games in the process. The Flyers will now head into the three-day holiday break with an acquired taste for the road.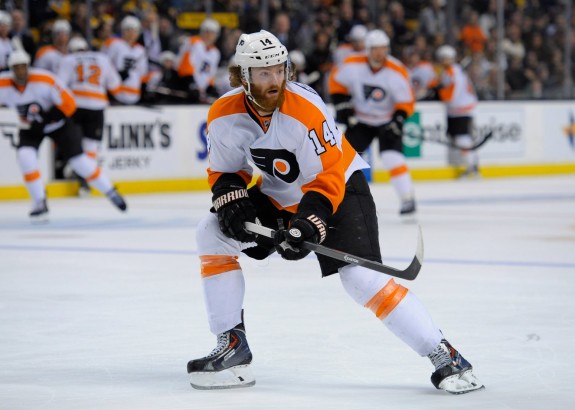 Takeaways from Minnesota
Much like their start in Winnipeg, the Flyers established another early lead on Tuesday night against the Wild. Goals from Sean Couturier and Claude Giroux hushed the Xcel Energy Center crowd, while taking complete control of the opening first half of the opening period.
"We finally found some chemistry," said Couturier of his line, who generated the game's first score. "We're trying to keep it simple, get a good forecheck, create turnovers, and capitalize on our chances."
Sean Couturier is on a pace to have his best season offensively and by far. The departure of Laviolette may have been beneficial for him.

— Gilles (@Gillistheone) December 24, 2014
Momentum would begin to turn, though, after Marco Scandella put Minnesota on the board at the 10:03 mark. From there, it was all Wild. Philadelphia would fail to test Minnesota starter Darcy Kuemper after Scandella's goal since all eight of their first period shots were recorded before the 24-year-old defenseman cut the deficit in half.
When Charlie Coyle tied the game early in the second, the swag from the previous two road wins appeared to evaporate. But the Flyers would go onto outshoot Minnesota in the second by an 11-10 margin, with the added shot being the difference in the Flyers' 3-2 lead carried into the dressing room after two.
p.s. Wayne Simmonds scored the goal. He has a tendency to do that from time to time.
The Flyers would finish off their third straight win with a tip-in from Vincent Lecavalier, and later, an empty netter from Michael Raffl. With 11 shots in both the second and third periods, the Flyers would go onto outshoot Minnesota by a total count of 30-24.
Ray Emery picked up his third win in as many starts, pushing his record to 7-4-1. And after starting the season with three shutouts in his first four games, Darcy Kuemper has now dropped his last three decisions.
Despite Minnesota's 3-4-3 standing in their last 10 games, Tuesday night's win for the Flyers was the next step in climbing out of their early season hole. The penalty kill suppressed four of five Minnesota power plays, while four of Philadelphia's five goals were scored at even-strength. And even for the pessimists who refuse to get their hopes up, it's a win that'll still feel good through the three day holiday break.
Vinny & the Bellemare's
Speaking of the Lecavalier line, it was the third straight exceptional game for the line that should be nicknamed, "Vinny & the Bellemare's." Not only did the 16-year veteran deposit his third goal in two games, the rejuvenated Lecavalier skated in 12:56 of ice time, his highest number of minutes since Nov. 24th against the New York Islanders.
Lecavalier (five goals) had been benched seven games and has been back in the lineup for the last four, looking far more aggressive than he had been with the Flyers.

So, the first part of the Flyers' eight-game road trip has ended for the Christmas break with a three-game sweep. They have six points and need 11 or 12 to get themselves back into the playoff picture. — Tim Panaccio, CSN Philly
Vinny Lecavalier has 5 goals, tying Jagr, MacKinnon, Vanek, Sharp, O'Reilly, Oshie & has 1 more than Mike Richards. #What

— Ryan Bright (@philabright) December 24, 2014
Pierre-Edouard Bellemare collected an assist of his own, but it was his errant miss on an empty net in the third period that will leave the lasting impression of his first trip to St. Paul. With the helper on Lecavalier's tally, the 29-year-old Frenchman now has two assists in his last four games.
VandeVelde Gaining Confidence
Spelling relief for the injured Zac Rinaldo for the second straight night, Chris VandeVelde hasn't gone unnoticed on the Flyers' new look fourth line. The Moorehead, Minnesota native may have just one point in his last 16 games, but Tuesday's contest in his hometown state was another admirable showing.
In 10:31 of action, the 27-year-old forward turned in a number of excellent shifts, while adding two hits and a plus-one rating to his string of noticeable outings. VandeVelde certainly has an upstart Lecavalier to thank for part of his jump in value to the team, but perhaps not all of it.
Really liking the Bellemare-Lecavalier-VandeVelde line the past two games. Working very hard out there. #FlyersTalk

— Tim Riday (@TimRiday) December 24, 2014
According to a report from Philly.com's Frank Seravalli, VandeVelde was recently informed to look for a more permanent residency. The vote of confidence has not only allowed the 6-2, 190-pound forward to move out of the hotel he was recently staying in while up with the Flyers, it also enables him to play more freely, without having to worry about what tomorrow will bring.
"Getting out of the hotel was big for me and my family," said VandeVelde via Seravalli's report. "The hotel life is rough with a 2-year-old. He has a little more space to run around now. I wouldn't say it's made me feel more satisfied at all, but I'm more comfortable with the day-to-day now."
Who Needs the Power Play?
Despite yet another lopsided difference in power plays to penalties taken, the Flyers' penalty kill unit killed off four of Minnesota's five power play opportunities. With the latest showing of improvement, Philly is now two-for-nine in their last two games on the penalty kill.
The power play, on the other hand, is a different story. It's not as if their now seventh ranked man advantage has gone cold, though, although they are now 0-for-5 on the current road trip. With one power play chance in each of their last two games, though, the Flyers have scored 15 of their 16 goals on the road trip at five-on-five even-strength.
Tidbits from the State of Hockey
First Goal Scored in Minnesota
Tuesday's win for the Flyers was their first in Minnesota since Nov. 24th, 2010. It was only their second trip back since then, but their 2-0 shutout loss on Dec. 2nd, 2013 made Sean Couturier's goal the first scored by a Flyer at Xcel Energy Center since Jody Shelley's third period tally in 2010.
It's probably a good thing that Jody Shelley retired, because he would have found a way to score on the Flyers.

— Flyerdelphia (@Flyerdelphia) January 13, 2014
Despite the end of that drought, the Flyers should petition to play the Wild on Dec. 23rd every season. A year ago from the date, Philadelphia downed Minnesota at home by a score of 4-1.
Jake Voracek Watch
It was another episode of the Jake Voracek Show in Minnesota on Tuesday night. The flat out ridiculously good hockey player added two more assists to his league-leading assists and points total. The future mega-wealthy forward added some distance between he and the NHL's second leading scorer, Tyler Seguin, which now stands as a four point lead. Voracek's 46 points puts him on pace for 110 points.
Claude Giroux & Jakub Voracek have each recorded a point on 29 team goals in 34 games this season. Best point pair in League by far. #Flyers

— Pete Jensen 🏒 (@NHLJensen) December 24, 2014
Two "Wild" Goals Overturned
Perhaps the outcome of tonight's game would have been different had the Wild not had two goals waved off. Zach Parise had appeared to have his 14th goal of the season, slipping the puck past Ray Emery. But a call to Toronto would reveal Parise's tally came with the moorings of the goal off the surface of the ice.
Puck clearly went in the net, but waved off immediately. Pominville's stick too high. The exodus has started. 2 goals waived off for wild.

— Gone Puck Wild (@FSGonePuckWild) December 24, 2014
Parise wasn't the only Minnesota skater to fall for the old bait and hook. Thomas Vanek redirected a shot past Emery with a stick that looked as if it were pointed to the nosebleed section of the arena. It was a touch of tough luck for the Wild on having a pair of goals yanked away, but then again, better them than us.
Peter Laviolette Awaits
The Flyers will return to action after the holiday break on Saturday to visit their old coach and beloved friend, Peter Laviolette. At 22-9-2, Laviolette's Preds have jockeyed for the league's biggest surprise story. Nashville is 6-4-0, though, against the Eastern Conference, and carries a 2-2-0 mark against the Metropolitan Division.
My god… Lavy's Christmas tie. pic.twitter.com/jQKQzlMxz0

— On The Forecheck (@OnTheForecheck) December 24, 2014
The Flyers are 1-1-1 in their last three visits to Bridgestone Arena, and have points in their last three overall meetings with the Preds. Christmas is here, though. Why are we talking about Peter Laviolette?
Andy is a contributor for The Hockey Writers, covering the Philadelphia Flyers. He holds a Bachelor's Degree in Communications from Walsh University. He enjoys spending time with his family, golfing, and reading. He is married with a daughter. You can follow Andy on Twitter @ADudones.