With the fantasy hockey season nearing an end, fantasy managers that are still in their league's playoff bracket are undoubtedly making any changes that could improve their chances of winning their respective league.
Of course, seeing as how a number of leagues are already down to the final week or two of play, pickings might be relatively slim in any type of fantasy hockey format. However, managers still have options to choose from, and surprisingly there are still quite a few players available that could contribute handsomely in some offensive categories over the next couple of weeks.
Looking to the depths of Yahoo! leagues, THW breaks down some streaking forwards that have been making it hard for managers to ignore them any longer – and while some of these listed players may not be the most attractive additions to one's roster, they certainly have been getting the job done as of late.
Five For The Finals
Alex Tanguay (Colorado Avalanche – W)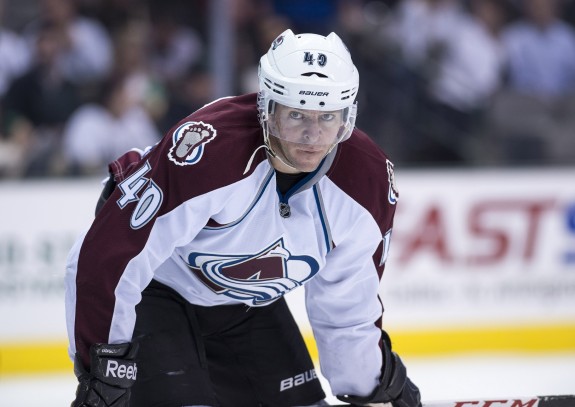 At 36 years young, Alex Tanguay sure has been performing at a high level for a forward his age. Limited to just 16 games last season, Tanguay has put up some impressive numbers during the '14-'15 NHL season (22G, 29A, 72GP) even though the Avalanche haven't had much to write home about this season.
However, what is even more impressive about Tanguay's play is what he has brought to the table during the month of March. Scoring 11 points (6G, 5A) in 11 March contests, Tanguay has seen his ownership rate rise to 25% in Yahoo! leagues, but that still means that the winger is still available in three-quarters of Yahoo! formats.
Fantasy managers definitely shouldn't shy away from picking up Tanguay as he has proven that his scoring touch has not abandoned him. Those that need help in offensive categories should add Tanguay right away as he is seeing anywhere between 17 and 20 minutes per night of ice-time on the Avs' second line.
Drew Stafford (Winnipeg Jets – W)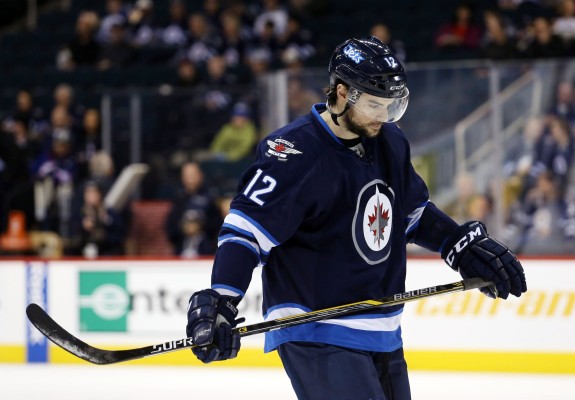 At 17% owned and riding an eight-game point streak, it's surprising to see Drew Stafford have such a low ownership rate at this point of the season.
Over his last 10 games, Stafford has collected five goals and added seven assists – something that has greatly aided the Jets' fight for a playoff spot in the Western Conference. Playing on the Jets' second line alongside Mark Scheifele and Blake Wheeler, Stafford has seemingly gotten along well with his new teammates and has created a fair amount of chemistry after being traded from Buffalo.
Fantasy managers have undoubtedly taken note of Stafford's prowess with Winnipeg, so if there would ever be a time to add the winger, then it would be sooner rather than later. With Stafford playing anywhere between 16 and 20 minutes per night, fantasy managers shouldn't be worried about the forward getting opportunities to rack up more points over the Jets' final seven regular season games – especially since he has already proven his worth in a select amount of games with Winnipeg.
Kevin Hayes (New York Rangers – C/W)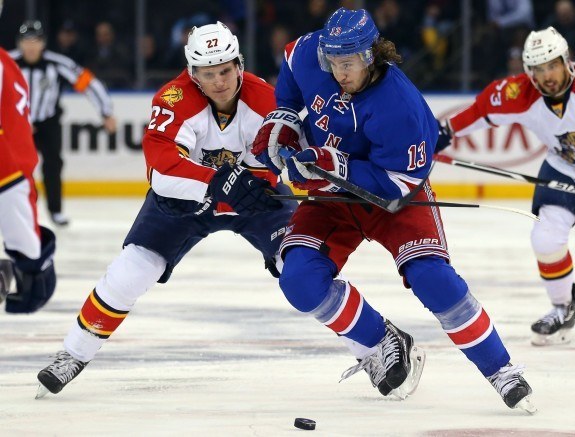 Kevin Hayes sure hasn't looked like a rookie forward in the NHL over his last four games.
Centering the New York Rangers' third line, Hayes has a very respectable four-game point streak going that has seen him score one goal and five assists in the last week. Of course, it would be unfair to expect Hayes to continue putting up such numbers from New York's bottom-six, but at 9% owned he's a fairly low-risk option to consider for addition this late in the season.
Fantasy managers in deeper settings might want to consider adding Hayes since he can qualify as a dual-position forward, but extreme expectations from the forward must be tempered, especially since the young centerman is only playing around 13-16 minutes per night.
Brandon Pirri (Florida Panthers – C)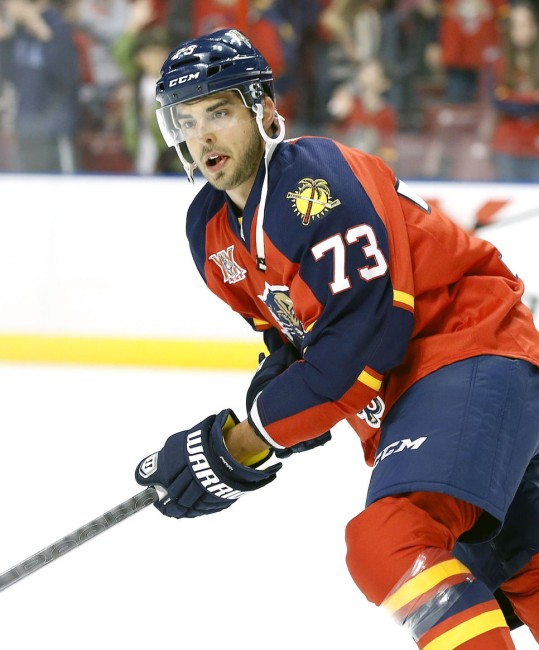 The Florida Panthers are fighting for the eighth seed in the Eastern Conference playoff race, and Brandon Pirri (8% owned in Yahoo! leagues) has been a huge factor in the Big Cats' battle.
Sure, one could look at Pirri's assist totals from this season (2) and immediately gloss over the forward, but his goal totals have been extremely hard to ignore during the month of March. Currently playing on the Panthers' second line, Pirri has scored four goals over the last week and has a total of nine goals in 12 March contests.
Receiving anywhere between 13:30 and 16:30 of ice-time per night, Pirri has seen his ownership rate increase by 4% over the last day due to his latest two-goal effort against the Toronto Maple Leafs. Fantasy managers in need of help in the goals category should strongly consider adding Pirri as he has been potting goals at a furious pace this month and doesn't seem to be slowing down any time soon.
Brian Gionta (Buffalo Sabres – W)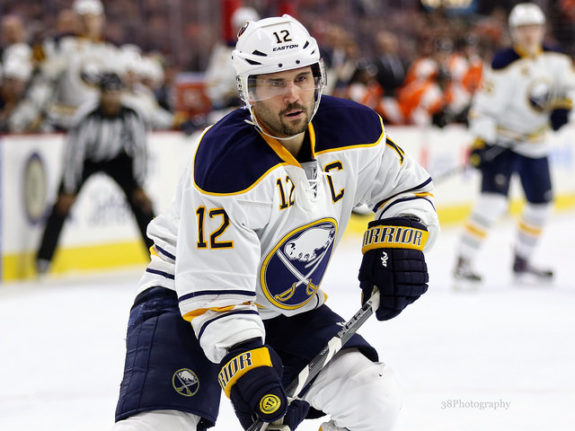 The fact that he is playing on the Sabres might detract fantasy managers from picking up Brian Gionta, but that isn't a reason to ignore the streaking winger.
Gionta has only managed to amass 26 points (10G, 16A) so far this season, but he has been on a tear over his last six games as he has recorded seven points (3G, 4A) in that span. Usually receiving about 22 to 24 minutes of ice-time per night, fantasy managers can expect Gionta to see plenty of opportunities to score over the last several regular season games.
At 2% owned, it's highly unlikely that Gionta won't be available in most Yahoo! formats, but those in different leagues should at least keep a watchful eye on the winger's progress.