Since losing Mikhail Grabovski to an "upper body injury" (concussion) after a hit from Nashville's Eric Nystrom, the Islanders are 2-5-2 and losing ground in the Metropolitan Division. Nystrom's hit won't exactly make Islanders fans toss their 23 jerseys into the trash, but the impact of Grabovski's absence needs to be understood.
Among Islanders forwards, Grabovski is tops in Corsi-for% at 55.7%, trailing just Nick Leddy and Johnny Boychuk in that category. The top defensive pairing is clearly the catalyst for this Islanders resurgence, but Grabovski's importance in controlling the play cannot be understated. Despite being shifted around on different lines and positions this season, Grabovski has sucked it up and continued to drive possession while adding some important points to the lineup.
It's never easy for a team to lose their top possession forward for a significant amount of time, especially when just four players on that team's roster start more of their shifts in the defensive zone.  Though he's not quite being used as a bottom-six defensive forward (like he inexplicably became in Toronto), Grabovski's defensive game has improved significantly and Capuano trusts him to be a player who can gain possession and move the puck out of the defensive zone.
What is a bit strange, yet promising, is that the Islanders are still winning the possession battle in most of their games. Over this cold streak, only three times has their opponent created more chances: vs NYR (58-57),vs NJD (49-47), and vs LAK (65-56). Aside from Thursday's loss to Los Angeles, those are pretty damn close games.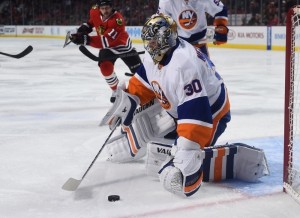 Here's the good news: only once since the win over Nashville have the Islanders registered a PDO of over 100 in a game, a 2-0 shutout win over New Jersey. PDO is a stat that generally helps to understand the role luck plays in a game, so having a low PDO over a cold streak would generally indicate that a team is getting unlucky. If the Islanders' 95 PDO was the number that represented their entire regular season, they would have the worst PDO in the league by far.
Some more (potentially) good news? Grabovski is going to be re-evaluated in a few days.
It's a bad time for a young Islanders team to lose one of their most important possession players for a significant amount of time, but understanding the numbers behind this cold streak should give some hope that they can turn things around. Especially if Grabovski can get healthy in time for the playoffs.
Bantam, Midget, Junior, Pro hockey scout at International Scouting Services. Hofstra University alum.