The 2013-14 season for the Detroit Red Wings can be described with two words, "youth" and "injury." The 2014-15 season has been about building off both by a youth movement and better training.
All Grown Up
The team has witnessed excellent growth out of their youth, which includes Gustav Nyquist, Tomas Tatar, undrafted defenseman Danny DeKeyser and rookie goaltender Petr Mrazek.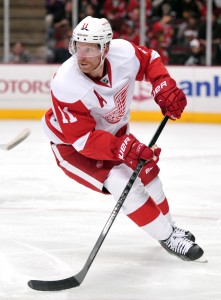 The 2013-14 off-season push for youth was evident by letting Todd Bertuzzi (40), Mikael Samuelsson (38), Daniel Alfredsson (42) and deadline-acquisition David Legwand (34) walk in free agency.
Goaltender Jimmy Howard has continued his poor performance since returning from his groin injury, prompting coach Mike Babcock to replace him with Mrazek for the final two periods against San Jose Thursday night.
Earlier that Thursday, Babcock told MLive's Ansar Khan that, "(Howard's) our starting goalie until he's not our starting goalie," in an unsuccessful attempt to boost Howard's morale.
[Related: Red Wings' Issues Go Far Beyond Jimmy Howard]
Mrazek was handed the start Saturday when the Detroit takes on the Tampa Bay Lightning, a division rival and, if the playoffs started today, current first-round matchup.
Per Coach Babcock; Petr Mrazek will start Saturday vs Tampa Bay. #RedWings

— Detroit Red Wings (@DetroitRedWings) March 27, 2015
Tatar and Nyquist, third and fourth on the team in points, have built on their tremendous push into the NHL last season, combining for 50 goals and 101 points this year, despite each averaging under 17 minutes of ice time per game.
[Related: Tomas Tatar Scoring Like Gustav Nyquist]
With 27 goals this season, Tatar is tied for 10th in the league and only 14 players sit ahead of him. Nyquist, with 23 goals, has been a hot and cold player for most of the year. Fans certainly expected higher production from "The Goose" after recording 48 points (28 G, 20A) in just 58 contests last season.
DeKeyser, who joined the Red Wings in 2013 as a free agent after an impressive senior year at Western Michigan University, has set a career high in points despite scoring two less goals this season then last.
He has been a solid puck-moving defenseman and tends to always make a great first pass to start the rush.
No Pain, No Gain
On the injury front, Detroit has benefitted from an overall healthy lineup throughout the season. The Red Wings have had the luxury of seeing Nyquist, Tatar, Jonathan Ericsson, Drew Miller, Luke Glendening and Riley Sheahan play in each of their 73 games thus far.
In addition, DeKeyser, Niklas Kronwall, Darren Helm, Henrik Zetterberg, Brendan Smith and Kyle Quincey have all missed fewer than 10 games.
But lately, the injuries have been accumulating.
Detroit has struggled the past five games, which all have a common theme, no Pavel Datsyuk, who has been out with a lower-body injury. The quicker he can to return to action, the better.
Sheahan, who has posted career highs in goals, assists and points (12 G, 22 A, 34 Pts.), has already been ruled out of Saturday's game with an upper-body injury.
Babcock said Sheahan is out "for a bit" with upper body injury. Not sure how long. Didn't know if Datsyuk will play tomorrow.

— Ansar Khan (@AnsarKhanMLive) March 27, 2015
Deadline acquisition, Erik Cole, has been ruled out for Saturday and Sunday's games with an upper-body injury suffered against the Arizona Coyotes on Tuesday. Cole has six points (3 G, 3 A) since joining the Wings on a line with Zetterberg and Justin Abdelkader.
Then there are Johan Franzen and Jonas Gustavsson.
Franzen who has been limited to just 33 games this season (7 G, 15 A, 22 Pts.) due to separate concussion incidents. He hasn't played since January 6th when he and Edmonton Oilers forward Rob Klinkhammer collided at center ice.
Gustavsson, who has dealt with injuries during all three seasons with Detroit, has only seen time in seven games this year. In those seven games, "Monster" has three wins, one shutout, a .911 SV% and a 2.65 GAA.
You can credit him for allowing Mrazek to establish himself as the new back-up. Given that his contract is up following the season, the Wings will almost certainly part ways with him.
Statistics compiled form TSN, ESPN and NHL.com.
I offer opinions and insight on the Detroit Red Wings organization and its prospects.