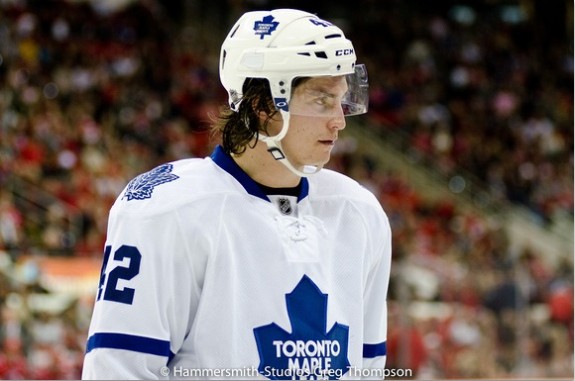 With the fantasy hockey playoffs beginning in less than two weeks in certain formats, free agent pools might be bone-dry at this point of the season, but for those that are lucky enough there are still a few gems worth plucking at this stage of the season. A strong offense can certainly propel a team to postseason success, so it might be worthwhile to take a look at the center position when searching for some late-season additions.
Since many leagues are now implementing new categories such as faceoffs won, the center position (especially in Yahoo! formats) has become a little bit more valuable. Finding a top-line center in one's fantasy league at this point of the season is highly improbable, but there are a number of depth options that one can consider for the stretch-run if they are running thin on productive pivots.
Here are a few options (going by percentage owned) that fantasy managers might want to look at over the next several days: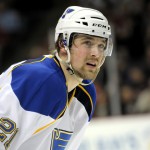 10.) Patrik Berglund (St. Louis Blues – C – 28% Owned) – During the month of March, Berglund has managed to record eight (5 Goals, 3 Assists) of his nineteen points (14 Goals, 5 Assists) and is currently sitting pretty on the Blues' second line. Even though Berglund has only registered two points (1 Goal, 1 Assist) over the last two weeks, fantasy managers must remember that Berglund has accumulated the majority of his points by going on hot streaks. 
Berglund has gone on goal scoring tears this season, so fantasy managers might want to keep track of the center's progress over the next few games to see if he shows some increased signs of life. Since Berglund is only 28% owned, fantasy managers in need of some goal scoring help might want to take a flier on the forward in the coming days as the Blues look to strengthen their playoff positioning in the Western Conference.
9.) Mike Fisher (Nashville Predators – C – 23% Owned) – The Nashville Predators might be lacking on offense, but Mike Fisher has been providing some much needed scoring power as of late. Colin Wilson's upper-body injury has certainly hurt the Preds' offensive attack, but Fisher has registered ten of his eighteen points over the last month.
With five goals and five assists in twelve contests during the month of March, Fisher has helped keep Nashville in the Western Conference playoff hunt with his strong play. Fisher might not be playing on the most offensively gifted team, but as long as the team is without the services of Colin Wilson, Fisher is the next best option for fantasy managers to consider – especially those playing in deeper leagues.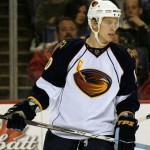 8.) Bryan Little (Winnipeg Jets – C – 23% Owned) – Bryan Little has tallied eight points during the month of March, and if the Jets are to have any chance of making the postseason, then Little will have to continue the production that he has maintained over the last fourteen games played. While Little hasn't hit a solid scoring streak over the last month, his last two months of play have been fairly solid after a somewhat lackluster start in January.
As of late, Little has been playing on the Jets' first line alongside Blake Wheeler and Evander Kane, so fantasy managers that are willing to take a shot on Little might just be rewarded if the center clicks with his new linemates. Unlike Patrik Berglund, Little won't deliver a plethora of goals, but he is a more than reliable option for a fantasy manager that needs help in the assists/faceoffs won department.
7.) Derek Roy (Dallas Stars – C – 22% Owned) – Derek Roy seems to be adjusting quite well to life in Dallas. Despite the fact that Roy has only scored four goals this season, he has registered sixteen assists and has recorded a +6 rating thus far.
The month of March has also been fairly generous to Roy as the center has recorded half of his goals and nearly half of his overall point totals in eleven contests. Considering the fact that Roy is playing alongside talented players such as Jaromir Jagr, fantasy managers should expect the center to steadily rack up points for the rest of the fantasy season and should certainly consider the pivot for addition if he is available in the free agent pool.
6.) Tyler Bozak (Toronto Maple Leafs – C – 17% Owned) – Tyler Bozak has been a force for the Maple Leafs and his play for Toronto this season has more than justified the center's stay on the team's top line. Bozak is currently being flanked by Joffrey Lupul and Phil Kessel and the fantasy managers should expect the center to keep on producing as long as the Maple Leafs are fighting to get into the playoffs for the first time since the 2004-2005 lockout.
Over the last month, Bozak has recorded eleven points (5 Goals, 6 Assists) and has put the puck on net 27 times. Bozak is yet another sparsely owned center that is manning his team's top line, and he can certainly provide fantasy managers with a legitimate offensive threat if Lupul and Kessel remain on his right and left side. Fantasy managers, especially those in deeper leagues, should strongly consider stashing Bozak for the playoffs as Toronto will need the center and his linemates to perform during the last weeks of the regular season.
5.) Travis Zajac (New Jersey Devils – C – 16% Owned) – Travis Zajac is yet another top-line center that is under 20% owned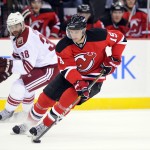 in Yahoo! formats, but there is a reason for the center being so poorly owned. Zajac did not have the best start to the 2012-2013 NHL season as he only recorded six points (4 Goals, 2 Assists) over the first two months of play. However, Zajac's fortunes have changed as of late as the center has registered seven points (1 Goal, 6 Assists) in thirteen March games.
With Ilya Kovalchuk being out for the upcoming weeks, players such as Matt D'Agostini and Travis Zajac will have to step up in order to keep the Devils in the playoff hunt. Fantasy managers might be deterred from adding Zajac because the center has registered an unsightly -6 rating over the last month, but those in deeper formats could potentially benefit from adding Zajac as he will see plenty of ice-time as one of New Jersey's top-six forwards.
4.) Matt Cullen (Minnesota Wild – C – 14% Owned) – Matt Cullen has been on a tear throughout the month of March as he has tallied more than half of his totals points over the last thirteen contests. Cullen has 23 points (6 Goals, 17 Assists) so far this season, but twelve of those points (3 Goals, 9 Assists) have been scored since March 1st.
Not only has Cullen been racking up the points, he has been shooting the puck on goal quite often as he has 32 shots on goal over the same time span. It remains to be seen if Cullen can sustain the level of play that he has shown over the last several weeks, but there has certainly been a reason for managers to notice the center's contributions, especially over the last two and a half weeks.
3.) David Legwand (Nashville Predators – C – 6% Owned) – David Legwand is yet another Nashville Predator to make this list, but as long as Colin Wilson is out, the pressure will be on the Predators' veteran centers to produce in his absence. Legwand has certainly carried his own weight this month as he has recorded ten points (5 Goals, 5 Assists) since March 8th, and the center's veteran know-how can come in useful for the Predators as well as fantasy managers.
Legwand is only six percent owned in Yahoo! formats, so he might be available in a number of shallower leagues. Managers in deeper leagues should definitely check their league to see if Legwand is available for pickup as he has been a valuable asset for the Predators over the last month.
2.) Jarret Stoll (Los Angeles Kings – C – 6% Owned) – For most of the fantasy hockey season, Jarret Stoll might have fallen into the "fantasy lame" category, but the center has come back with a vengeance this month. Stoll has doubled his offensive output over the month of March as he has recorded ten points (4 Goals, 6 Assists) after only scoring five points (3 Goals, 2 Assists) over the course of the season's first two months.
Stoll has shown enough improvement to warrant an add in deeper leagues, but managers in shallower leagues might want to consider picking up the center as a depth option if they need some additional offensive production from the center position.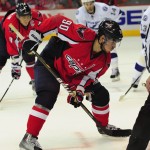 1.) Marcus Johansson (Washington Capitals – C – 4% Owned) – After missing a month with a concussion, Marcus Johansson has returned to the Washington lineup in stellar fashion. Johansson has tallied nine of his ten total points this season during the month of March, and at 4% owned he is an option that should be looked at in all fantasy formats.
Prior to missing a month, Johansson had only registered four shots on goal, but the pivot has quadrupled that total over the last ten games as he has sixteen shots on goal this March. Johansson is currently playing on the Capitals' top line and will have plenty of support on his side for the remainder of the regular season – something that could potentially make him a very valuable player for the remainder of the fantasy season.
Honorable Mentions
Frans Nielsen (New York Islanders – C – 4% Owned) – Frans Nielsen should get some consideration in deeper fantasy leagues as the Islanders' center has scored eight points (1 Goal, 7 Assists) in thirteen March games. Nielsen won't contribute points by the boatload, but he is one of the steadiest players on the New York Islanders and is very responsible in his own end.
Mika Zibanejad (Ottawa Senators – C – 3% Owned) – Zibanejad might be the least owned of all of the players mentioned on this list, but he certainly isn't playing like a player that is only 3% owned in Yahoo! formats. The young center has recorded nine points (3 Goals, 6 Assists) over the last month and should certainly be kept on the watch-list for the next few days, at the very least. Not only has Zibanejad contributed to the Ottawa offense, he has also used his body as he regularly shows up in the hits category. Whether Zibanejad will keep up his rate of production remains to be seen, but fantasy managers should certainly keep the young forward on their radar as the fantasy playoffs approach.
** If anyone has any suggestions or comments on centers that could have been missed, then feel free to leave a comment below! Good luck in the fantasy playoffs!