Last season was a shortened one, and as such, many players likely contributed more to your fantasy team than they would have been able to do over the course of a full 82-game schedule. Though many of the top point-producers were your typical cast of characters, there were other names among them that didn't really belong. Perhaps it was because of the shortened season, but perhaps not. Perhaps it was luck, an easy division, a ridiculous shooting percentage, or star linemates that helped vault their totals. Shortened season or not, these players are not likely to post similar numbers for the upcoming fantasy season. They may still be valuable, but don't overvalue them and expect an upward trajectory (or even a repeat).
This list is strictly points-only, and only looks ahead to this coming season. It also excludes goaltenders, because of the points system. Players are ranked based on estimated point drops from last year (pro-rated for 82 games) to this year.
10) PA Parenteau, RW, Colorado Avalanche
2012-13: 18 G, 25 A, 43 Pts in 48 GP–> 74 Pts pro-rated over 82 games
This is a perfect example of a good fantasy asset, and one who should not be overlooked, but one who also will likely not post 74 points next season. Parenteau is in a good situation as he clearly gelled very well with Matt Duchene, Colorado's undisputed number one center (at least for now), so he will be guaranteed top minutes. But there are a couple reasons why I feel he is more of a 60-point guy than a 75.
1) His shooting percentage was 17.1%, top-20 in the league and much higher than his career average of 12.3%.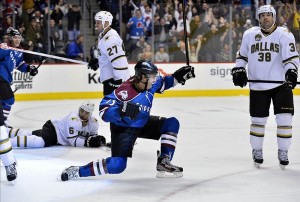 His 18 goals in 48 games, would translate to 31 in a full season and Parenteau doesn't shoot the puck enough to be a 30-goal scorer (2.2 SOG/Game last season, 2.0 SOG/Game in his career).
2) He has a habit of regressing as the season wears on. In 2011/12, while playing with John Tavares, Parenteau had 59 points in his first 63 games. In the final 17 games, he had just 8 points. Similarly, last season, he had 35 points in his first 34, only to tally just 8 points in his final 14 games. This kind of regression leads me to believe a longer schedule doesn't bode well for fantasy purposes.
3) The Avs are moving into a tougher division where their goal totals may very well drop. There is certainly a lot of potential in the lineup but their new division mates include the defending champion Hawks, Hitchcock's defense-oriented Blues, Rinne's Predators and the revamped Dallas Stars, who I think will surprise a lot of people, as well as the Wild. Yes Nashville gave up a lot of goals last year and there is also the Winnipeg Jets, who tend to do the same, but there will no longer be the Flames and Oilers to beat up on.
2013-14 Fantasy Prediction: 20 G, 43 A, 63 Pts in 81 GP (-11: 74–>63)
9) Troy Brouwer, RW, Washington Capitals
2012-13: 19 G, 14 A, 33 Pts in 47 GP–> 58 Pts Pro-rated over 82 games
Brouwer equalled his point total from the year before while playing in 35 less games. That's quite impressive. But can he improve on that? Probably moderately, but don't expect him to keep pace from last year with a 58-point campaign. Why?
1) His career-high is 40 points.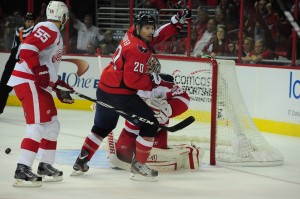 2) His shooting percentage last year was also 17.1% and his 19 goals in 47 games would be 33 in a full season. Taking Brower's 2.36 SOG/Game, and applying it over 82 games with a more accurate 13.5% shooting percentage, one that he had in 2011-12, and you see that Brouwer would score a bit less, at a more moderate 26 goals.
3) Washington is also moving into a tougher division, thus goals will be harder to find. There is no way they keep up their league leading powerplay of 26.8%. The former Atlantic (now "metropolitan" [can you believe it?]) division has long been considered one of the leagues toughest, and though Carolina and Columbus (who are joining them) are far from powerhouse teams, the Capitals may very well find it hard to make the playoffs. With Cam Ward (assumingly) healthy, Bobrovsky coming off a Vezina season, and the Flyers finding a seemingly suitable replacement for Bryzgalov (in addition to the powerhouse Pens and Rangers), Ovie and the Caps may find it quite hard to hit the back of the net.
2013-14 Fantasy Prediction: 25 G, 21 A, 46 Pts in 82 GP (-12: 58–>46)
8) Jakub Voracek, RW, Philadelphia Flyers
2012-13: 22 G, 24 A, 46 Pts in 48 GP–> 79 Pts Pro-rated over 82 games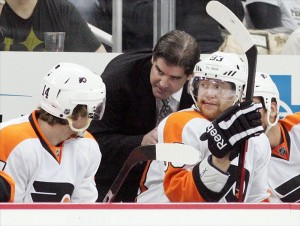 Voracek no doubt broke out playing alongside Claude Giroux, and that is not likely to change this year, but once again it seems unlikely he will post a point-per-game over a full season. He is a good own, as is Parenteau, but don't over-estimate his totals.
1) His career high is 50.
2) His 17.1 shooting percentage is WAY above his career average of 10.4%. Though he shoots enough (last year's 129 would mean 220 in a full year), he is NOT a 38 goal scorer. 220 SOG at his career 10.4% average, and he would only net 23 goals.
3) Philly's powerplay was very good for the shortened season but fell off a bit near the end. They finished third in the NHL and over 20% but in April went just 4-for-38 (10.5%). This indicates that teams began to figure them out so it is doubtful that they will maintain such a good powerplay for 82 games. Voracek's 17 PPP in just 48 games were outstanding, and won't continue at that pace.
2013-14 Fantasy Prediction: 26 G, 41 A, 67 Pts in 82 GP (-12: 79–>67)
7) Kimmo Timonen, D, Philadelphia Flyers
2012-13: 5 G, 24 A, 29 Pts in 45 GP–> 53 Pts Pro-rated over 82 games
Timonen is still a good fantasy own, but he's 38 and likely only has a year or so left in him. He finished 6th in the league in points for defensemen, something no fantasy owner should expect to happen again.
1) As mentioned above, Philly's powerplay fell off in April. Timonen had 17 PPP as well, so he might get that next year in a full 82 games, which would mean his overall points drop significantly.
2) He hasn't had 50 points since the 2006-07 season with the Predators. His career points-per-game with Philly is 0.52, which over an 82 games season would total 43.
3) He's old. Older players regress, especially in a full 82-game schedule. He also will likely be headed to Socchi for the Olympics to represent Finland, so although it is a 2-week break from NHL action, it won't really be a break for him.
2013-14 Fantasy Prediction: 7 G, 32 A, 39 Pts in 77 GP (-14: 53–>39)
6) Francois Beauchemin, D, Anaheim Ducks
2012-13: 6 G, 18 A, 24 Pts in 48 GP–> 41 Pts Pro-rated over 82 games
Beauchemin put up impressive numbers last season while anchoring the blueline in Southern California for a Ducks team that surprised many. It wasn't just the points, but also the plus-19 that gave fantasy owners something to cheer about, however headed into this season the same may not be the case.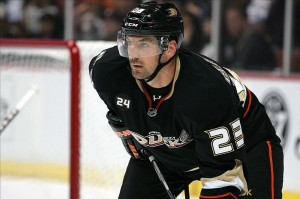 1) His career high is 34 points, coming a while back, in the season immediately following the 2005 NHL lockout. That is the only time he has topped 30 points, so how can you expect 40?
2) Let's face it, the Ducks over-achieved as a team last year. It won't happen again, not with without Bobby Ryan, no upgrade on defense and added division mates in the form of the high-flying Canucks. They are very much a playoff team but likely won't finish 8th in the league in goals for again.
3) At 33, Beauchemin isn't likely to start posting career highs. However, tell that to Lubomir Visnovsky, who at 34 years old, posted 68 points for the Ducks. In my mind, IF Beauchemin can solidify a spot on the top powerplay unit, as Visnovsky did a few years ago, then perhaps he can approach 40. Right now, he does get some time there (8 PPP last year) but he is certainly not an ideal candidate, and with Fowler maturing, he is likely the guy instead of Beauchemin.
2013-14 Fantasy Prediction: 8 G, 19 A, 27 Pts in 82 GP (-14: 41–>27)
5) Andrew Ladd, LW, Winnipeg Jets
2012-13: 18 G, 28 A, 46 Pts in 48 GP–> 79 Pts Pro-rated over 82 games
Ladd has really come into his own as a valuable fantasy player ever since leaving Chicago and getting more minutes and offensive responsibility.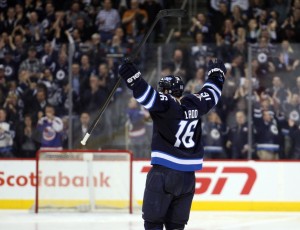 To keep pace at almost a point-per-game last year however was no doubt somewhat of a surprise. Can he do it for 82 games? I'd gander a guess as to no.
1) His career high is 59 points.
2) The Jets have a very balanced offense, which makes it unlikely that any one player will post 75+ points. With Evander Kane, Blake Wheeler, Olli Jokinen and now Devin Setoguchi and Mark Scheifele all in the mix for offensive opportunities, ice-time will be split and (as was the case in the past) 2 or 3 60-point players are much more likely than one player reaching 75 or 80.
3) Again, the new division thing. The Jets moving west will likely be the toughest of all the re-allignment, because although the travel reduction will be much in their favour, their new division mates are a drastic upgrade from the lonely (former) Southeast. Last season, their old division mates gave up an average of 3.16 goals-per-game, whereas their new "rivals" gave up just 2.64.
2013-14 Fantasy Prediction: 31 G, 32 A, 63 Pts in 82 GP (-16: 79–>63)
4) Paul Martin, D, Pittsburgh Penguins
2012-13: 6 G, 17 A, 23 Pts in 34 GP–> 56 Pts Pro-rated over 82 games
Yes, his season was cut short by injury, but it was such an anomaly in my opinion that I felt I had to include him.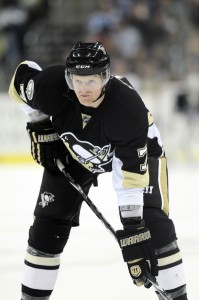 Martin has never finished better than 40th in the league for points by defensemen, yet last year he finished 24th, despite missing 14 games. If he was the number one guy in Pittsburgh, than he wouldn't be on this list, but, um…well, he isn't…
1) He had 9 PPP in just 34 games and played over 3 minutes per game on the powerplay. With Letang healthy, that won't happen all season long. He also tied his career high in goals with 6, while firing just 38 shots on goal, for a ridiculous shooting percentage of 15.8% (ridiculous for a defenseman). Yes it was only 6 goals, so it doesn't mean much, but this just goes to show you the kind of luck he had last year.
2) His career high is 37 points, coming back in 2005-06. He's topped 30 one other time, but has never hit 40.
3) He's a streaky player. He started last season with 3 points in 8 games, then had 14 in a 15-game stretch, before falling back to earth with 6 in his final 11 games.The year before, he had 3 points in the entire month of October before falling into a decent rythym, but then had just 1 in the entire month of February. Streaky players can't pile up good totals over 82 games because, well…they're streaky. (for more on this, scroll down to our #2…)
2013-14 Fantasy Prediction: 7 G, 26 A, 33 Pts in 79 GP (-23: 56–>33)
3) Chris Kunitz, LW, Pittsburgh Penguins
2012-13: 22 G, 30 A, 52 Pts in 48 GP–> 89 Pts Pro-rated over 82 Games
Ah the Crosby factor. Boy can it work wonders.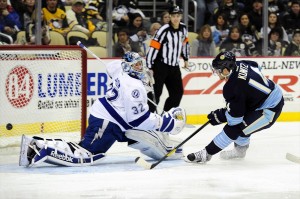 Here's a good player turned fantasy GOLD. Even so, there is NO WAY Kunitz keeps up what he did last year for a full 82 games. Why?
1) He finished 7th in the league in scoring… (This fact seemed such an anomaly that I felt it deserved a point all on its own)
2) His 19.5% shooting percentage was top-10 and well above his career average of 12.8%.
3) His career high in points is 61, which came playing alongside Evgeni Malkin. With Crosby last year, Kunitz had 44 points in 36 games, and then just 8 in 12 games with Crosby out of the lineup, so clearly a healthy Crosby means better production. But will Crosby stay healthy a full 82 games? Something in my gut says no, but the production when both are hitting their stride is still quite compelling. A good own, but sorry not 80+ points.
2013-14 Fantasy Prediction: 27 G, 39 A, 66 Pts in 82 GP (-23: 89–>66)
2) Thomas Vanek, LW, Buffalo Sabres
2012-13: 20 G, 21 A, 41 Pts in 38 GP–> 89 Pts Pro-rated over 82 games
Say hello to the "streak-onator". Perhaps the most accomplished player on the list (he's actually topped 80 points in his career before), Vanek is well-known for his unbelievable highs and undeniable lows.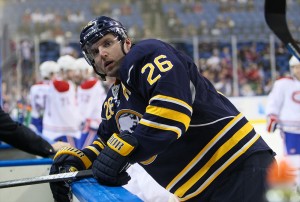 And rightly so, that streak-iness is the first reason that Vanek will likely see regression this season.
1) His 23 points to kick off the first 11 games of the 2012-13 campaign probably had fantasy owners triple checking the stats were true, but his subsequent 18 in the next 27 games must have felt awfully ordinary. As has been mentioned, streaky players are bad. It's the consistent ones that are the top performers and the ones to go for, and Vanek's history tells us his high's and low's are far from being over.
2) The Sabres are rebuilding, and are likely in for a tumultuous season. Heck I may be wrong, but with Pominville gone, Vanek and Ryan Miller's name constantly being in the rumor mill, and virtually no immediate off-season changes being made (other than a very good entry draft), Vanek will have trouble keeping up at a point-per-game.
3) Excluding last season, his average points of the last five years is 63, which seems a much more likely total than 80+.
2013-14 Fantasy Prediction: 28 G, 35 A, 63 Pts in 81 GP (-26: 89–>63)
1) Mike Ribeiro, C, Phoenix Coyotes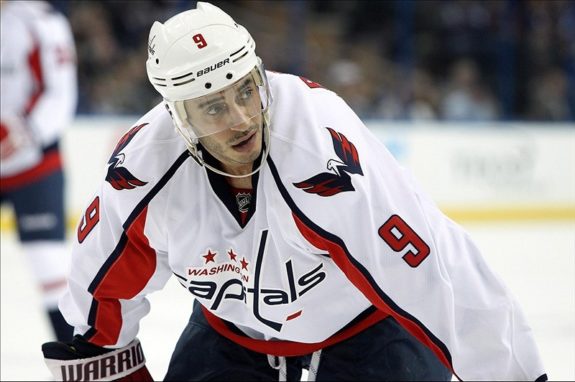 2012-13: 13 G, 36 A, 49 Pts in 48 GP–> 84 Pts Pro-rated over 82 games
Mike Ribeiro. Every year I have him on my "over-rated" list and every year he makes me look bad. This year though, it's almost impossible not to have him somewhere in the top-3. Despite scoring almost 400 points the past six seasons, at a 0.93 points-per-game rate, his new situation in Phoenix is anything but a delight for fantasy owners. Yes, he got his pay-day, and a first-line gig, but let's be real, its PHOENIX. Which brings us to point number 1…
1) Dave Tippett has coached the Coyotes the past 4 seasons and only once has any player eclipsed 65 points. That person was Ray Whitney, and Ribeiro will not be lucky enough to have the aging wonder on his wing. Instead it will be, ugh…Mikkel Boedker and Radim Vrbata? Yes Ribeiro had success with Tippett in Dallas, but he also had Eriksson and Morrow (in his prime) to play with and it was a very different system. In Phoenix, offense goes to die.
2) He shot a ridiculous 20.6%. Yes his career average of 14.8% is also a bit high, but c'mon, 20% over 82 games? Not gonna happen.
3) He had 27 PPP thanks to Ovie and co. and the league's top powerplay, which is all but a distant memory now. Phoenix last season was 25th in the NHL and below 15% efficiency. He'll be lucky if he gets 20 next season.
2013-14 Fantasy Prediction: 17 G, 41 A, 58 Pts in 82 GP (-26: 84–>58)
Honorable Mention(s):
1) Cody Franson: 29 points in 45 games in 2012-13
2) Pascal Dupuis: 38 points in 48 games in 2012-13
3) Derek Stepan: 44 points in 48 games in 2012-13
Nathan Kanter covers the Vancouver Canucks and Toronto Maple Leafs for The Hockey Writers. He received his master's in journalism from Western University in May of 2015 before serving as the first ever Digital Managing Editor at Western's university newspaper, The Western Gazette, in 2015-16. From 2016-18, he served as the radio play-by-play voice of the Battlefords North Stars in the SJHL. His work has been published in The Hockey News, at Sportsnet.ca and at Dobber Prospects.