During the 2011-12 season, I traveled to Nashville, Tennessee to cover a Blues – Predators game. I was taken aback then by the amazing love for hockey in the South. I had this feeling come over me yet again… this time in Dallas, Texas.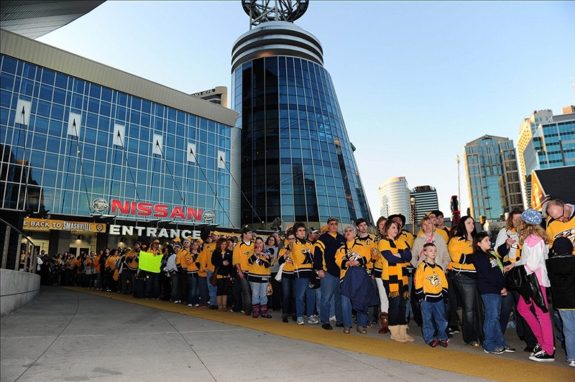 [See related: Hockey is Alive and Well in the South]
I know, you are probably thinking what I was thinking: Texas and hockey just do not mix.
After all, people in Texas are too busy riding horses and watching Cowboys football, right? Well, I am here to tell you to stop being so judgmental, Mr. naysayer.
Allow me to tell you about my journey to Texas, which as of July, I now call "home."
I was born and raised in St. Louis, Missouri. For 28 years, I have only left the area for short stints (vacations, out-of-town hockey games, etc). So when I was offered a great job opportunity, I jumped at the chance. The only drawback, you ask? I had to move to Dallas, Texas.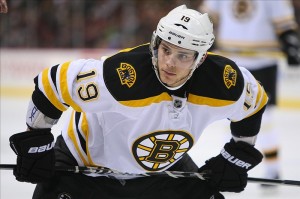 My only knowledge of Texas was that there was a lot of flatland, the heat is miserable and the Stanley Cup was awarded to a team in Texas before a certain team in Missouri. Oh, and Tyler Seguin just recently relocated to Dallas.
Needless to say, my life journey to Texas was exciting but frightening at the same time.
One of my first thoughts about Texas is the hockey community. Although I write about the NHL, I also consider myself a huge fan of all things hockey. I play, watch and live the game.
I was lucky enough to get chosen by a company in Dallas. Obviously, the Stars are located here and the Texas Stars, the AHL affiliate of the big club, play in Cedar Park (about 20 miles from downtown Austin and about 180 miles from Dallas). The AHL Stars ranked 19th in the AHL in terms of attendance for 2012-13, filling the Cedar Park Center 75.0% of the time (average 5,146 fans per game). That was about what you may expect hockey to do in Texas.
The NHL Stars sat around the same spot among their NHL foes. They ranked 21st in average attendance in 2012-13, bringing in an average 17,063 fans per game (92.1% capacity on average). Here is where the did you know comes in.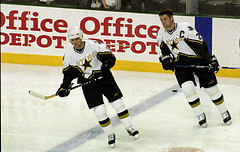 The season the Stars won the Stanley Cup, 1998-99, the team averaged 16,907 fans per game, which ranked 11th in the league (keep in mind that new rinks now have more seating available).
When discussing these numbers with my new co-workers, they have all agreed that you need to be "a winner" in order to succeed in Dallas. Having heard that excuse before when talking with Coyotes and Thrashers fans, I put their theories to the test with the Texas Rangers of Major League Baseball.
In 2003, the Rangers posted an AL West-worst 71-91 record, putting them 25 games back from the division lead at the end of the season. The Rangers averaged 25,856 in attendance, ranking them 18th in all of the 30-team league.
At the time of this post, the Rangers have a division-best 68-50 record in 2013. They are currently ranked fifth in MLB attendance with a 39,271 average.
Okay, maybe being a winner will help the Stars' attendance. Maybe Seguin and Gonchar can help thrust this team back into playoff discussion.  But that still doesn't help the fact that I need a place to play hockey.
I reached out to a random Dallas Stars message board to figure out what I can do to find a hockey rink in the Dallas/Fort-Worth area. I was surprised to be contacted by a familiar name: Brian Roe, the THW Nashville Predators Lead Writer, told me to come check his team out in Arlington (about 20 miles outside of Dallas). They play roller hockey and could use a defenseman.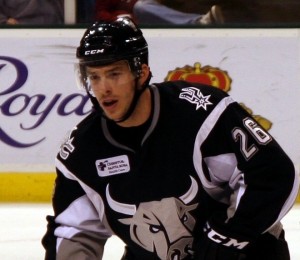 I play roller and ice. I figured that Dallas ice hockey was probably just as good as St. Louis ice hockey. After all, 2007 Stars draftee Austin Smith and Florida Panthers 27-year old Jonathan Rheault are from the Lone Star State. These names do not jump out at you, but it shows that hockey does have a slight presence where everything is apparently bigger.
But how would the roller hockey scene shape out? Did these people really put together a solid league with solid players?
I pulled up to the Elzie Odom Athletic Center to find a large building with a side door labeled "Hockey Arena." I entered through the door to find a set of bleachers in front of a set of boards and glass. The kicker? The floor was a basketball court. It was easy to see that this "rink" was converted from a basketball gymnasium. My heart sank.
I arrived early so that I could watch the talent playing before my game. The very first play I saw was a man skating the puck up on his off wing and then falling without a player near him. I wanted to turn to the exit and make a Jeff Ponder-shaped hole in the door and sprint to my car.
Give it a few more minutes I say. I am glad I did. The next play I watched was a two-on-one with the puck carrier finding his teammate through an outstretched defenseman. The player cradled the puck and ripped a shot top-shelf over a goalie who was in good position. All of a sudden, I saw a real hockey game.
I suited up and prepared myself for the game ahead. I still had no idea what to expect.
I stepped on the rink to find that this basketball floor was actually as easy to grip as the tile floors that I am used to in St. Louis. I grabbed a puck and much to my delight, it sailed on the floor very well. Wrist shot, slap shot, it all felt the same as a tile floor.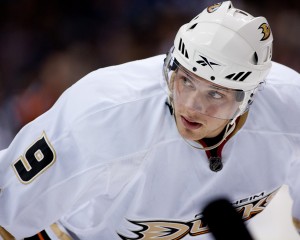 The game started. Holy cow, one guy on the other team is the roller version of Wayne Gretzky. He's flying up and down the rink, dangling everyone he meets and picking the corner on the goaltender. One guy on my team is feisty and attempts to lay him out. Another guy on my team is stealing the puck and creating an odd-man rush in our favor.
We lose the game but it wasn't until the very end that I remember I'm in Texas. All of my worries about the talent pool, the determination and dedication from my peers dissipated as soon as the game started. This league did have great players (as well as your prototypical average and below-average players). Either of these teams that duked it out for an hour would slide into a St. Louis men's league just fine. What was I worried about?
Hockey is hockey, wherever you go. Obviously, there will be better teams in Canada or Minnesota, but there are still extremely good teams in Dallas, Nashville or St. Louis. Dedication to the game is not just found in the north, but wherever there is a hockey rink. This goes for the fan aspect as well.
This is something that is always forgotten in the "traditional" hockey markets. We must remember that people love this sport for what it is, not where it should be played.
Y'all better believe that hockey is alive and well in Texas.