It's that time of year again. Members of fantasy hockey pools are flipping through every pool guide to find out who will be the best suited pick to help their team reach fantasy glory.
But as any fantasy expert knows, it's not the first or second round selections that make a team stand out. It's those late round, forgotten-about players that we like to call sleepers of the draft.
Every year, players slip through the ranks – whether it's because of an injury or simply inconsistent play the previous season.
Heading into the 2013-2014 NHL season, fantasy drafts will be no different. Sidney Crosby, Steven Stamkos, or Evgeni Malkin will go first overall and the big names will be thrown out as the first few rounds continue.
But here's a list of the top five sleeper picks that you may not have thought about going into this year's draft.
Ryan O'Reilly, C/LW – Colorado Avalanche
When the Avalanche picked Nathan MacKinnon with the first overall selection in this year's NHL draft, it gave head coach Patrick Roy a chance to test out O'Reilly on the left side.
O'Reilly, who began the season overseas last year, finished with the Avalanche and made his presence felt by racking up 20 points (6g-14a) over a 29-game span.
The reason O'Reilly is among this year's sleepers in most drafts is because the Clinton, Ontario native held out into the start of last season before Colorado was forced to match an offer sheet  put in by the Calgary Flames.
This year, however, he will be in the lineup on opening night – barring any sort of preseason injury. In fact, if Roy decides to keep him at left wing, he'll play on the top line with Matt Duchene centering him and P.A. Parenteau or Steve Downie.
O'Reilly should see some powerplay time – even if he slips to the second unit – and could add some speed to the team's penalty kill. Look for him to play a big role in Colorado's offensive game this season – with no distractions in the back of his mind.
Projected Stats: 78GP, 19G, 38A, 57PTS, minus-8, 18PIM
Dustin Penner, LW – Anaheim Ducks
It's a welcome home party in Anaheim with Penner heading back to the hot weather and  back to his projected line-mates Corey Perry and Ryan Getzlaf. And with his second go-around in a Ducks uniform, look for Penner to come close to duplicating what he did the last time he was there.
Playing with the Ducks in 2006-2007, Penner put up 29 goals and 16 assists in 82 games before signing a big contract and heading north to Edmonton.
But with Bobby Ryan headed to Ottawa, there's an open spot on the first line alongside Perry and Getzlaf which should increase Penner's fantasy value.
Even if Penner gets bumped to the second line, Anaheim's addition of Jakob Silfverberg alongside the consistent play of Saku Koivu and Teemu Selanne should allow him to put up some good stats.
Projected Stats: 75GP, 12G, 27A, 39PTS, minus-5, 41PIM
Danny Briere, C/LW – Montreal Canadiens
Finally, he's arrived in Montreal. Next to Vincent Lecavalier, Danny Briere might have been the most rumored player to end up in a red, blue, and white jersey.
This offseason the Gatineau, Quebec native decided it was time to join the only existing Quebec franchise.
While Briere could go early in some drafts – simply because of his history of performing consistently – chances are he'll be taken in the later rounds. After falling below the 50-point plateau for the first time in two seasons in 2011-2012, Briere only put up 16 points (6g-10a) in 34 games last season. That alone should cause Briere to fall under the radar in most pools.
Now, don't expect the 35-year old to put up 95 points like he did during the 2006-2007 season. Yet, playing on a line with Max Pacioretty and David Desharnais will certainly help the newest member of the Canadiens in the offensive zone.
Look for Briere to fit into Montreal's top six and – barring injury – get back to the level of play that saw him set a Philadelphia Flyers record for points in a single Stanley Cup Playoffs (30 points).
Projected Stats: 73GP, 19G,  34A, 53PTS, plus-13, 22PIM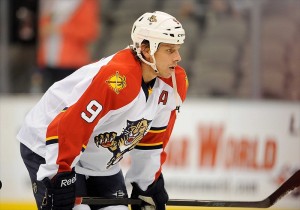 Stephen Weiss, C – Detroit Red Wings
Watching the Detroit Red Wings this year will be like watching Sweden's Olympic team from 2010 – with a few exceptions. One of them is Stephen Weiss. For 11 years, Weiss played in the warmth of Florida which came with only one trip to the postseason.
However, come October, he'll have a chance to suit up with a team that will look to make it 23 straight years in the playoffs.
Having played for the Panthers, Weiss might go unnoticed by many due their, at times, inconsistent offense. But this year, Weiss – who is expected to play alongside Johan Franzen – will get a chance to be a part of an aging offense that hasn't missed a beat over the past few season.
Weiss will be a big part of the Wings powerplay and at the age of 30 will look to up numbers similar to his career-high 61 points which he accomplished in 2008-2009.
Projected Stats: 80GP, 20G, 32A, 52PTS, plus-12, 38PIM
Brent Burns, RW – San Jose Sharks
Meet Brent Burns the forward. No longer stuck on the blue line, Burns will look to improve on his stats from a year ago when he put up 20 points (9g-11a) in 30 games after making the shift to right wing.
[Also: What Can We Expect From Brent Burns This Season]
So far, the Ajax, Ontario native has been lined up with Joe Thornton and Tyler Kennedy through the preseason – a line that could work quite well with both Thornton and Burns able to play an aggressive forecheck.
Burns will slip in draft position because of the uncertainty of his play at the right wing position. It will be his first full 82-game season at forward with no guarantee on where he'll be playing in the lineup.
But Burns played a big role physically in San Jose's first round playoff series last year and should be a force up front again for the Sharks this season.
Projected Stats: 79GP, 23G, 29A, 52PTS, plus-8, 52PIM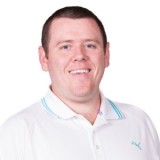 Andrew is in his 8th year reporting for The Hockey Writers covering the Toronto Maple Leafs. He began his broadcasting with CBC's Hockey Night in Canada team as well as being part of their coverage of the 2014 Winter Olympic Games in Sochi. He's the former play-by-play voice of the London Jr. Knights for Rogers TV and currently hosts the Sticks in the 6ix podcast. You can follow him on Twitter at @AndrewGForbes.