With the fantasy hockey season well under way, managers have undoubtedly tweaked their lineups by this point of the hockey season. Dealing with injuries and/or inconsistencies, there have probably been a number of roster changes that have either benefitted or hurt a fantasy manager's team thus far.
In particular, one can find their team in a world of pain if their primary goaltender experiences a rough stretch of play or winds up getting injured for an extended stretch of time. Since good starting goaltending is hard to come by after draft day, fantasy managers might be relegated to snagging a backup netminder in order to fulfill their minimum weekly requirements for goalie appearances. While such a scenario might sound like a death knell to some, there is quite some value to be found when employing a backup goalie – especially at this point in time when some of these number two options have been standing on their heads for their respective teams.
Backup Beasts or Busts?
Michael Hutchinson (Winnipeg Jets – G)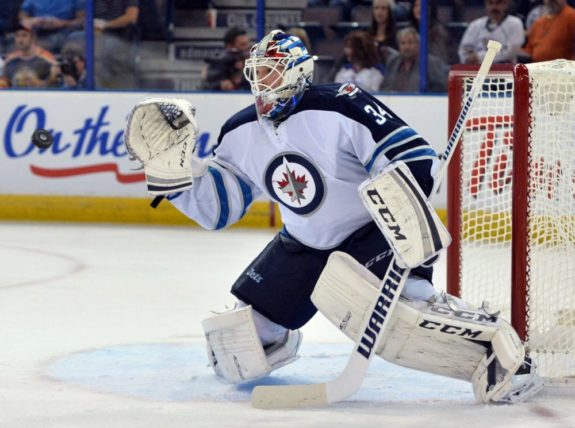 Last month, THW omitted Michael Hutchinson from a list of backup goaltenders to monitor because of his relative inexperience in the NHL. Since that time, Hutchinson has done everything to prove such aforementioned inclinations wrong with some stellar play in the Jets' crease.
Playing to a 6-1-2 record since November 2nd, Hutchinson has done everything in his power to wrest control of starting goaltending duties from Ondrej Pavelec. To put Hutchinson's play into perspective, the goalie allowed three goals in a game for only the second time this season in his last match-up against Anaheim – with the first time being his first game started this season.
With Ondrej Pavelec holding his own right now (9-8-4, 2.32 GAA, .914 Save Percentage), Paul Maurice must have quite a dilemma on his hands when it comes to choosing his starting netminder on any given night. Seeing as how Hutchinson's ownership rate has increased to a season-high 30% in Yahoo! leagues, fantasy managers should snag the goalie while they can as he is a valuable commodity in most any fantasy format.
Antti Raanta/Scott Darling (Chicago Blackhawks – G)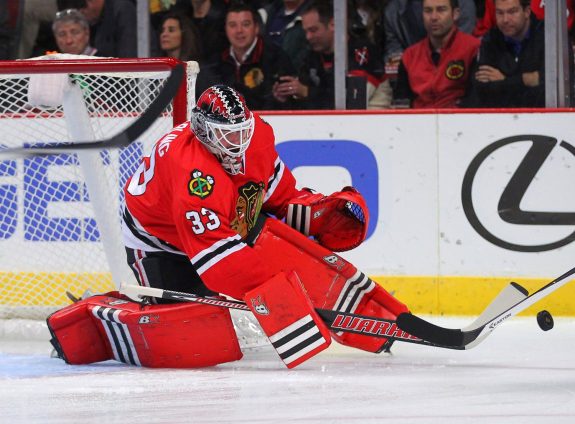 Despite playing without Corey Crawford, the Chicago Blackhawks were able to go on an eight-game winning streak thanks to the combination of Antti Raanta and Scott Darling. Raanta and Darling have been stellar in between the pipes for the Blackhawks while Crawford has been sidelined, but one of the goalies will undoubtedly be sent down to the AHL once Crawford returns to Chicago's lineup.
Raanta and Darling are currently 26% and 23% owned in Yahoo! leagues and it is no surprise that their ownership rates have gone up as the duo has made Crawford's absence almost unnoticeable. On the one hand, Raanta has played three games since December 3rd, allowed five goals, and has recorded three wins. On the other hand, Darling has played in four games since December 6th, allowed eight goals, and has registered three wins in that span – something that will make it extremely difficult to decide who has to go back down to Rockford once Crawford can return.
Fantasy managers should definitely try to stash at least one of the aforementioned goalies as they have shown that they can get the job done in the Blackhawks' crease if anything happens to Crawford down the line.
Calvin Pickard (Colorado Avalanche – G)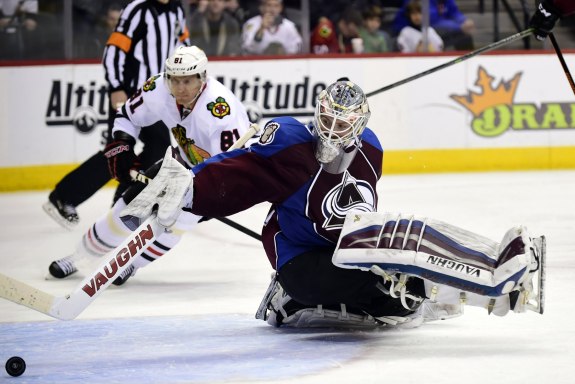 What hasn't Calvin Pickard done for the Colorado Avalanche while Semyon Varlamov has been recovering from a nagging groin injury?
So far this season, Pickard has played in ten games for the Avalanche and has been brilliant despite a win-loss record (4-5-1) that might mislead some when it comes to the goalie's talents. Much like Annti Raanta and Scott Darling, Pickard has made it seem as though Varlamov was never sidelined to begin with.
Pickard has gone 1-1-1 in his last three games and has allowed a total of seven goals in that span – which might not be that attractive, but it was good enough to earn three out of a possible six points during the Avs' three-game home-stand. With groin injuries being very tricky – especially for goaltenders – fantasy managers should definitely keep a very close eye on Pickard as his ownership rate increased by 8% (from 1% owned in Yahoo! leagues to 9% owned) in the span of one day. Playing against the likes of the Penguins, Red Wings, Blackhawks, and Blues in the next four out of five games, fantasy managers should have a better idea of how Pickard can handle the rigors of an NHL job by the time that Christmas passes.
Alex Stalock (San Jose Sharks – G)
Most goalies would probably need to be eased back into an NHL lineup after being sidelined for a month without play, but that doesn't seem to be the theme for Alex Stalock.
Returning to the Sharks on December 7th after not seeing game action since November 8th, Stalock appeared in three straight games for San Jose and posted a 2-1-0 record. More importantly, Stalock didn't allow more than two goals in any of his three starts as he helped his team gather four out of a possible six points.
Owned in only 18% of Yahoo! leagues – a drop-off that could be attributed to the goalie's one-month absence – Stalock could be a very good addition to any fantasy lineup. Fantasy managers – especially those playing in deeper leagues – should check out Stalock's availability as he could be a valuable add that could very well challenge Antti Niemi for playing time in San Jose's crease for the rest of the NHL season.
Devan Dubnyk (Arizona Coyotes – G)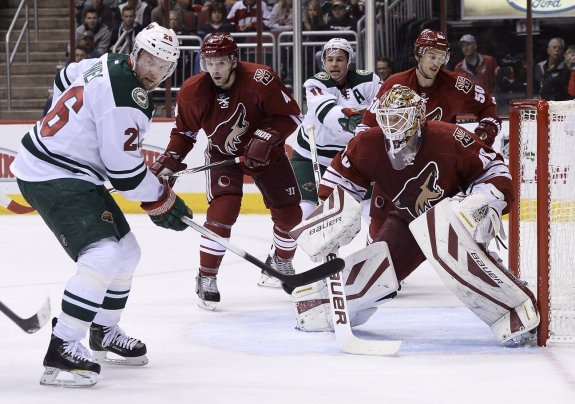 Mike Smith has been brutal for the Coyotes as of late, and Devan Dubnyk is taking advantage of the netminder's inconsistencies. While Dubnyk hasn't recorded a win since being victorious in four straight starts from November 2nd to November 22nd, the goalie has been playing better than Smith, and has given his team a better chance to win those games.
Being only 10% owned in Yahoo! leagues, Dubnyk should be available in a lot of leagues, but fantasy managers should still try to see how the goalie responds to more starts. With the Coyotes facing teams such as Los Angeles, Vancouver, and Anaheim in their next several contests, Dubnyk might just face his truest tests of the season when matching up against some of the better teams in the Western Conference.
For now, fantasy managers should take a wait-and-see approach with Dubnyk over these next few games unless they are in urgent need of goaltending help.
Honorable Mention
Cam Talbot (New York Rangers – G)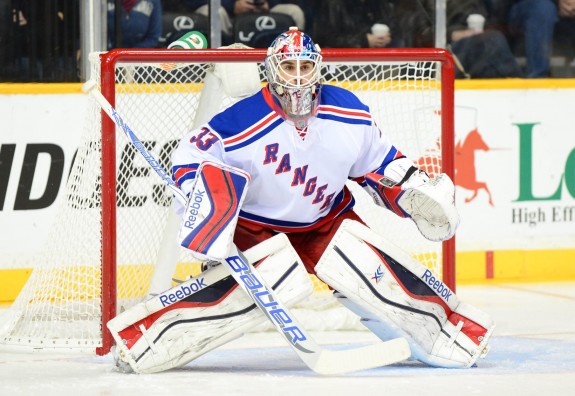 After a solid rookie season in which Cam Tablot played in 21 games (12-6-1, 1.64 GAA, .941 Save Percentage) for the New York Rangers, the goalie has followed up in his sophomore campaign.
Although Talbot (9% owned in Yahoo! leagues) has a 2-3-1 record so far this season, he has not disappointed when his number has been called – something that was evidenced when the netminder shut out the Philadelphia Flyers in two consecutive late-November (19th & 28th) starts. Talbot also had a respectable showing against the Detroit Red Wings (31 saves) in a tough 3-2 loss, so fantasy managers should expect the goalie to play with confidence in his next few games, and should monitor his progress through the end of December.
In his third year with The Hockey Writers, Toli covers all things related to the New York Islanders. Focusing on the Islanders, the NHL Draft & draft-eligible prospect goalies, and hockey history, Toli can be contacted on Facebook by searching/messaging Toli Metter and on twitter by searching @ToliMetterTHW.