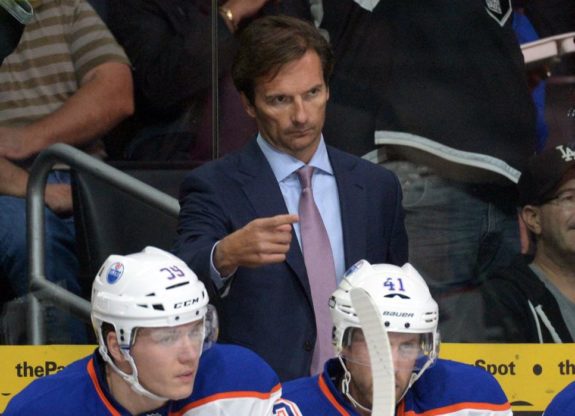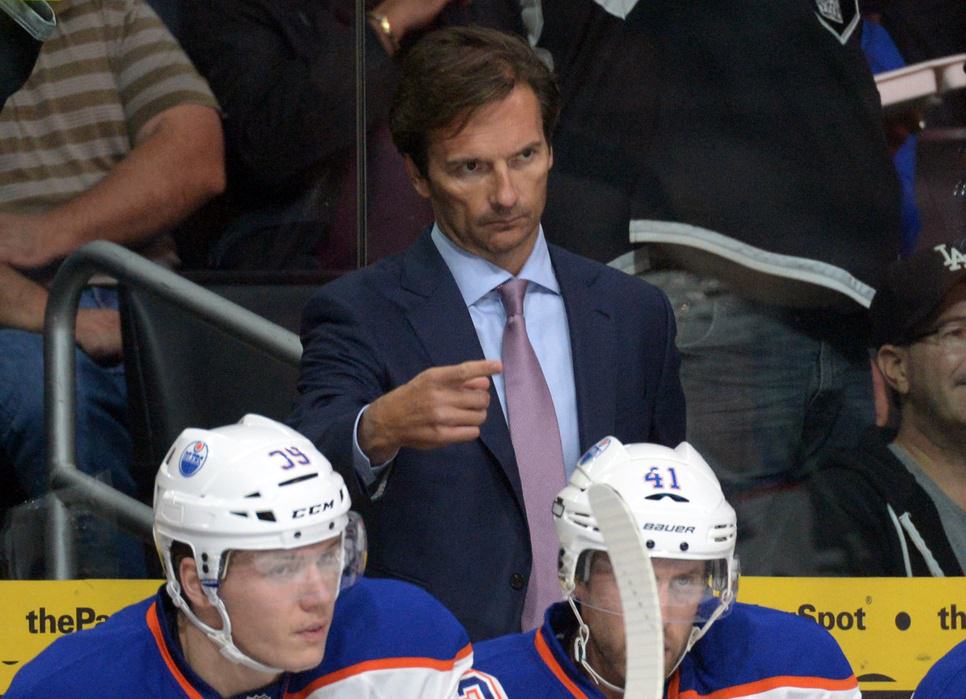 Things were supposed to be different this year for the Edmonton Oilers.
Sure, nobody except the most oil-tinted-glasses-wearing fans of the team thought that Edmonton actually had a good shot at making the playoffs this year. Not in this brutally tough Western Conference, and not with that roster void of both talent and experience.
Even without the playoffs, though, things were supposed to be different this year.
The Oilers haven't made the playoffs since 2006, by far and away the longest streak in the NHL. Not only have the Oilers been consistently missing the playoffs, but they've been spectacularly disastrous in that span of time. They've been one of the league's ten worst teams each season since 2008-2009, finishing dead last twice and in the bottom three two more times on top of that.
The one silvering lining for the franchise, however, was that each abysmal season awarded the team more and more high draft choices that were used to accumulate elite young talent. With skilled former first round draft picks like Taylor Hall, Jordan Eberle, Ryan Nugent-Hopkins, Nail Yakupov and Leon Draisaitl all now in the mix, maybe this year would be the year where the Oilers finally started their long, grueling crawl out of the NHL's basement and into league's upper-echelon of teams. After all, the same rags-to-riches climb worked incredibly well for recent Stanley Cup-winning teams like the Los Angeles Kings, Chicago Blackhawks and Pittsburgh Penguins.
And yet, with more than a third of the season already concluded, things couldn't be further from the truth.
The Oilers are currently dead-last in the NHL, with a record of 7-19-5. The team is 29th in goals per game, 29th in goals against, 28th on the powerplay and 20th on the penalty kill. In short, absolutely nothing is going the team's way right now. Again.
Even more distressing is that the team's prized young stars, who were all supposed to grow as players and be leading the team, are all struggling. While some are simply spinning their tires, others have flat-out regressed from the level that they were at last season.
Instead of taking one step forwards this year, the team appears to have somehow taken two steps backwards.
When it comes to dissecting the issues of this perennially struggling franchise, from the front office all the way down to the bench there's no shortage of blame to go around. When articles like this one start to become a common theme from your local media, well, that's when you know you've really hit rock bottom.
It was one personnel decision back in 2013 in particular, however, that truly broke the camel's back, directly putting the team into it's current tailspin from which it now might need nothing short of a miracle to recover from: the hiring of Dallas Eakins as head coach.
Fixing What Wasn't Really Broken
Eakins was officially hired by the Oilers on June 10th, 2013, replacing Ralph Krueger. Eakins was the shiny new toy on the shelf that summer, an accomplished young minor league coach that was coming off of two great seasons with the AHL's Toronto Marlies and seemed primed and ready for his first NHL gig. His name had been making its rounds in the NHL rumor mill all season. Multiple teams had reportedly contacted Eakins about a coaching job that summer, but it was the Oilers that courted him the hardest, salivating at the chance to sign a young and aspiring head coach to align with their young and aspiring roster.
The move came as something of a surprise, as the former coach Krueger was only given less than a year with the Oilers after replacing Tom Renney in 2012. He led them to a respectable 19-22-7 record during the lockout-shortened 2013 season, their best record since 2008-2009. Taylor Hall scored 50 points in 45 games, Sam Gagner had a breakout season with 38 points in 48 games, electrifying rookie Nail Yakupov led the team with 17 goals and Devan Dubnyk posted a solid .921 save percentage in net.
The young Oilers weren't perfect, but by all means they were trending in the right direction under Krueger's tutelage. He was doing his job, and in the process became well-liked by his players and by most of the fans. There was a lot of sentiment at the time of his firing that he was given a raw deal by the organization, that he wasn't given enough time to produce the results that the higher-ups wanted to see.
"Ralph and I at the end of the year spent the better part of a week discussing that we would add a veteran assistant coach or associate coach," general manager Craig MacTavish said at the time. "During the process of me conducting those interviews, I recognized I was trying to add a coach that was more closely aligned with the way I wanted to run the team and less about supporting Ralph in the head-coaching role. It was at that point when I contemplated making the change if, in my opinion, I found the ideal fit for our hockey club."
Headed In The Wrong Direction
Instead of carrying on where they left off with Krueger, the Oilers' first season with Eakins was disastrous. The coach's new team system was an abject failure, as Edmonton became a puck-possession black hole and hemorrhaged shots, scoring chances and goals against. Dubnyk's numbers plummeted and he was eventually shipped off to the Nashville Predators for a lackluster return. Core youngsters like Gagner, Yakupov, Justin Schultz and Jeff Petry all regressed. Hall and Eberle continued to produce points, but they were the only bright spots for a team that routinely looked lost, disorganized, and utterly defeated. They finished the season 29-44-9.
As bad as the 2014 Oilers were, the 2015 Oilers are shaping up to be even worse. They've shored up their possession game a bit, but the team's scoring has gone bone dry. Hall is well below his previous point-per-game pace, with only 18 points in 25 games. Eberle has been disappointing, with only 18 points in 30 games. Yakupov's infectious ear-to-ear smile has disappeared, and so has his scoring: eight points in 31 games. Any confidence that the team once had is long, long gone.
The Oilers were prepared for their team to have issues in the present, but if the organization's young talent has stopped improving it puts their entire future in serious jeopardy. All those struggles of the past, all of those years of failure, might have no light at the end of the tunnel if their current course is not somehow corrected.
Now, all of this isn't to say that Eakins is a bad coach. I truly don't believe that. He says a lot of right things and comes off as a guy that's not only has a lot of good ideas about the game, but also able to connect well with his players. The Oilers' struggles long predate Eakins, so he doesn't deserve all of the blame for the current mess.
The Perfect Storm
At the same time, however, his hiring by the Oilers couldn't have been a worse match for both parties. It was a perfect storm that turned into a state of emergency for everyone involved.
The young Oilers needed a lot of things out of their coach. Experience. Leadership. Consistency. Eakins has good qualities, but those aren't the ones that he brought to the table when he got hired. Eakins, meanwhile, needed a better team to start his NHL coaching career with, one that had enough veteran players that could help step in and lead the team when he went through the normal growing pains as he got used to the job.
MacTavish made a huge gamble by hiring Eakins at the time, and he lost. Young players need consistency and stability to grow, so firing Krueger and naming Eakins as the franchise's fifth head coach in six seasons was the worst possible thing to do. How can young players be expected to learn and develop with that level of turnover? While there's a lot of fan pressure for the team to now find another new head coach to right the ship, firing Eakins at this point would just cause more instability and might make things even worse for the Oilers, as strange as that sounds.
Some mistakes can be fixed. But when it comes to the current state of the Edmonton Oilers, their management's desire to find the perfect head coach has put themselves into a hole that they might not be able to climb out of, and that's something that should have everyone involved very, very concerned.