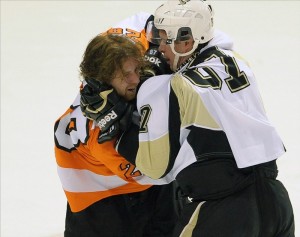 Can anyone believe we are at the midpoint of the 2012-13 NHL regular season? Fantasy hockey has four weeks until the playoffs but to be fair most teams have played at least 24 games so far. It is clear who has led the way among the forwards position. The goal today is to come up with a top three in all three phases — forwards, defensemen, and goaltenders. If anyone remembers the old horse racing references we have win, place, and show. Then there will be the inevitable "Best In Show".
Are you ready to touch the forwards first? We are. Here comes our best three in each group. And now the nominees……..
The Top Three Fantasy Hockey Forwards……
WIN — Sidney Crosby — Pittsburgh Penguins
The Penguin pivot leads all the NHL land with 39 points in just 24 games. Sidney Crosby is  over a point and a half per game pace and that is impressive in the shortened season. Crosby leads in assists (28) and points (39). He is also second in goals created at 13.6. If you add in the nine even strength goals then the only pet peeve is the two power play goals. Even then the Center has eleven power play assists. Either way, there is no better forward right now, period.
PLACE — Steven Stamkos — Tampa Bay Lightning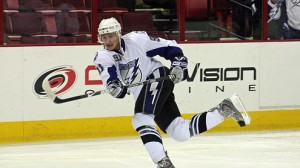 All in all, Stamkos has just been a beast for Tampa Bay this season, and not just early on. In the rare category of goals created, the sniper is also number one at 13.9. He is nearly in the top ten with assists at 17. If you want to top that off, Stamkos leads all the NHL in even strength goals with 12. There are few players in the game that can put fear in a goalie's eyes like #91. That one timer is probably the most dangerous since a guy by the name of Brett Hull. Yes Tampa Bay did cool off considering from that red hot seven game start but Stamkos is too good to be contained. The bottom line is that Stamkos is the likely favorite to win the Rocket Richard Award. Hey, he is one awfully good forward for your fantasy team.
SHOW — Chris Kunitz — Pittsburgh Penguins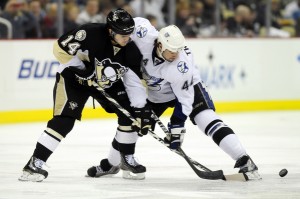 Damn! This was one I could not believe when we started plugging through all the numbers in the first half. Yet here we are and Chris Kunitz has 31 points on the young season. Kunitz is third in goals created and amazingly has played with both of Pittsburgh's top two lines and flourished under each one. One of the stranger stats is that Kunitz is a whopping +17 through only 24 games played. There is no one that expected that and I mean nobody. Can he continue to shoot at 26.3%? That answer is no but Kunitz has shown the ability to keep that number in the high teens. He has done that twice in Pittsburgh. That would translate into numbers in the second half that would be good enough to keep him in the top ten or better among fantasy forwards. In my line combinations column at Dobberhockey, Kunitz is still the only player in the last three years to top a week on two different lines in one month. That speaks volumes.
================================================
The Top Three Fantasy Hockey Defensemen
WIN — Kris Letang — Pittsburgh Penguins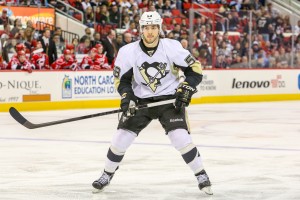 All anybody knows is that with the Erik Karlsson injury, somebody had to take this spot and in the end, it was Letang's spot to lose. There was some stiff competition but in the end, 19 assists was just too hard to ignore from a player whose team leads the league with a whopping 86 goals scored. The argument against is that Letang is not always the most adept defensively but the ability he possesses is just too noticeable. He is also the only defenseman averaging at or over a point a game. He does only have six power play points but that is the only big fantasy knock on his game. Pittsburgh plays a high risk-high reward style and that fits right in to what Letang specializes in. That means Kris Letang is going to get his chances at a 45 point season and that might be enough to take home some hardware.
PLACE — P.K. Subban — Montreal Canadiens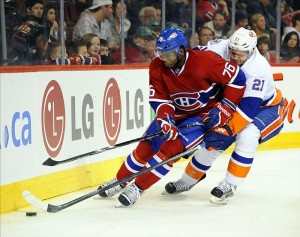 Wow! There were some doubts as to what this defenseman was worth on the open market or as an RFA. Can we put an end to the doubt now? P.K. Subban is on a seven point tear over his last four games and now has 11 special teams points for Montreal. Sometimes when you look and see that he has six goals in just 18 games and then realize he averages nearly three shots a game, you just know. Also his ice time keeps steadily rising as he has been logging 25+ minutes on a regular basis lately. Anyone you talk to in Montreal has said the same thing, he is a workhorse who is worth every penny that Marc Bergevin paid him and then some. It is clear that those few games early were just a mirage. Now the real production has begun and honestly a point a game (or very close) from here on out would not surprise anyone at all as a fantasy projection.
SHOW — Niklas Kronwall — Detroit Red Wings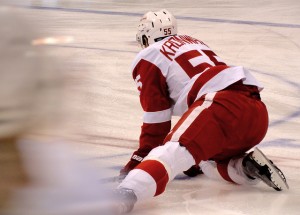 All Niklas Kronwall had to do was fill the shoes of a certain guy named Lidstrom. No pressure, right? Wrong! Despite some noticeable bumps, Kronwall and Detroit have managed to stay the course for the most part. He has more than ten power play points and 18 points overall. Obviously he is one of the biggest hitters if not the best in the NHL, period. He plays the game the right way and players like Henrik Zetterberg and Pavel Datsyuk owe a little of their offensive resurgences to Kronwall who does open the ice. Let's be honest! The only question may be can Kronwall sustain the offensive pace? That answer lies in Detroit itself. Do they run out of gas or does this team find a way to keep the tempo high? It is something that will play out in the second half.
==============================================
The Top Three Fantasy Hockey Goalies
WIN — Craig Anderson — Ottawa Senators
All anyone will ask out of Ottawa is will Craig Anderson come back the same goalie he was before the injury? For a goalie who has eight wins, a 1.49 GAA and a .952 save percentage, he kept Ottawa in the playoff hunt until he went down with a lower body injury. It was thought not to be too serious and Anderson should be back soon enough. There is a likely regression on the way but wins may go up for Anderson especially if Jason Spezza returns even sooner from a back injury. Stay tuned because there are many question marks.
PLACE — Antti Niemi — San Jose Sharks
I could not fathom this one either. Yet, Antti Niemi has a sparking 1.83 GAA and a .935 save percentage for the San Jose Sharks who after week one, cannot score to save their lives. It almost seems every game is a defensive struggle as Niemi tries to keep San Jose in it. The weird thing is San Jose had a long losing streak where the goalie played well enough to win almost every single game. He has ten wins on the year but probably should have 13 or 14 at least. The second half question is does Niemi regress, does San Jose start scoring, both, or something in the middle? No one knows.
SHOW — Kari Lehtonen —  Dallas Stars
It just seems the only thing that Kari Lehtonen cannot do is stay healthy and it is a shame. The goalie is an elite talent but just has to put the games together without falling to the injury bug. He has a .930 save percentage on a team that just has an abysmal core for a defense at times. Lehtonen has nine wins on the year but could have 12 or 13 easily. It is just scary that some teams have too much of a platoon or a 1a-1b to really get the fantasy engines cranked up. That is a shame too. Again, can Lehtonen stay healthy or will someone else jump into the discussion here?
===============================================
Now we picked our "Best In Show" and the choice was Sidney Crosby. Our question to the readers is who would you have picked. Basically let the debate begin and make your voices heard. Thanks for reading.