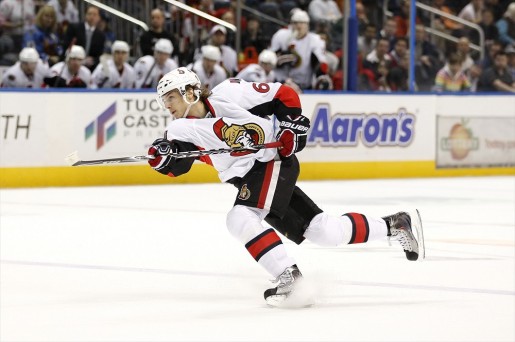 The injury bug bit the Ottawa Senators hard again Wednesday night in the form of a sliced achilles tendon for star defenceman Erik Karlsson.  Last years' Norris Trophy Winner, Karlsson, was off to another great start this year with a team leading 6 goals as well as 4 assists for 10 points, putting him only one behind team leader Kyle Turris.  He had played in all 14 games to this point, was a team high plus 6 and was continuing the climb up the list of the league's best players.  Unfortunately those numbers will likely be his final stats for the campaign, as he'll miss nearly 4 months following surgery and as Ottawa General Manager Bryan Murray was quoted as saying via the Senators official twitter feed, his season is for all intents and purposes over.
"Erik Karlsson's season is effectively over." – #Sens GM Bryan Murray

— Ottawa Senators (@Senators) February 14, 2013
The loss of the offense that Karlsson provides is an obvious blow for the Sens considering the start he was off to this year and coming off his incredible 78 point performance in the 2011-2012 season.  It is especially significant with the team's number one center and offensive leader Jason Spezza already out nearly 4 months himself.  The loss on defence will be as significant as Karlsson has really improved his game in the defensive zone from the start of last year and has really embraced playing against the other teams' best.  Even more important, he has played the most minutes of any player so far this season, and averages the 5th most time on ice per game in the National Hockey League.  Those who have followed the Sens this season have seen that Karlsson's game has grown another level as he's taken on the role of the team's main facilitator with Spezza out.  He seems to have the puck on his stick the entire time he is on the ice, from retrieving it in the defensive zone to rushing it up the ice and setting things up in the offensive zone, he is always involved in the play.  It's safe to say that the team asks more of him at this point than any other player on the roster, including star goaltender Craig Anderson, and his injury changes the entire look and philosophy of the team going forward this season.  Simply put, there is no replacing him on the blue-line and as TSN's Bob McKenzie notes, it's a big loss for not only the team but all of hockey and its' fans.
Karlsson's loss a devastating blow to OTT but also big loss for NHL/hockey. Karlsson has been best/most exciting NHL player so far this yr.

— Bob McKenzie (@TSNBobMcKenzie) February 14, 2013
The focus for the season now shifts to Senators General Manager Bryan Murray and what he may or may not do.  The loss of the team's two best players to injury for the majority of the season, have put Murray in a very difficult situation with both the team and the fans.  Entering the season expectations were high after last year's surprise success and the team appeared poised to take the next step in its development as a Stanley Cup contender. However following the injuries, especially the Karlsson injury, the team looks significantly different and so the expectations must be adjusted.
When looking at the Ottawa roster the decision on what to do becomes a dilemma.  As a young team, they are in more of a building mode and therefore do not have many veteran pieces that playoff teams look for down the stretch run, however as a playoff team last season they would consider a low finish to be a big step back.  However as previously stated, the Karlsson injury really changes everything for Ottawa and the team's plans for the season.  They may no longer be looking for a rental to help fill the void at the top line center spot, a move that would cost them some of their young pieces and may no longer make sense at this point.
Sens fans will remember that Bryan Murray didn't hesitate to make moves a couple seasons ago with the team struggling.  He saw the need for a rebuild and began shipping out veteran skilled players like Mike Fisher and Chris Kelley, to acquire young assets and picks, however this is not the same situation and his job will be much tougher.  He has shown the ability throughout his career, including recently in Ottawa, to draft well and for a young rebuilding team that will be very challenged to make the playoffs, there is value in picks.  You can expect that there will be some calls about a few players including defenceman Sergei Gonchar, the veteran defender whose time in Ottawa has been relatively quiet, although he has put up 7 points in his first 11 games this year.  Gonchar is in the final year of his deal with the Sens and could bring experience and some offense to another team in return for more youth.  Chris Phillips will also be inquired about, the solid stay at home defenceman who has shown some offensive touch this year with 3 early goals.  The 34 year-old career Senator is a fan favourite and is in the second year of the extension he signed late in the 2011 season, when it was thought he may be on his way out of Ottawa.  However with only one year remaining on the contract after this season at slightly over $3 Million he will be attractive to many teams.  Both Gonchar and Phillips have No-Movement Clauses built into their contracts, with limited exceptions, and would likely have to agree to a move.  The other big trading piece the team has is Chris Neil.  Another career Senator and fan favourite in the Nation's Capital, he brings a game sought after by every team, combining physicality and nastiness with an ability to score.  Neil would be the least likely of the three to be moved however, having signed an extension this past summer at a favourable cap hit of $1.9 Million per year.
Certainly it's far too early to concede the season, and you won't hear any of that talk from Head Coach Paul MacLean, GM Bryan Murray, or the players themselves, but in a year where every point is so critical and every team has an increased chance of making the postseason, it's difficult to imagine a team without its' two best players being a contender.  The two things that the Sens and their fans can hang their playoff hopes on is the continued stellar play of Craig Anderson and the outstanding work ethic that coach Paul MacLean and the staff demand of the young group.  However it's apparent the team will need that effort all year along with new offensive career highs and great play from their entire lineup if they are to make a second consecutive post-season.  The team knows this is yet another opportunity for others to step up and show what they can do with a lot still to play for.
The coming weeks leading into March will be critical for the Senators and their GM as to the direction of this season and whether they become buyers or sellers, but Murray knows he will get his two star players back at some point, certainly in time for next season, and they are well positioned for the future.  Whatever direction Murray and the Sens go they will continue to be an exciting team to watch both on and off the ice this year and there is still plenty of reason to be excited in Ottawa.