There are plenty of gems (owned in less than 30% in Yahoo leagues) out there just sitting in free agency in your league, and you're getting impatient with an underachiever on your roster. Here are some names to keep in mind when your patience runs out.
Jiri Tlusty (28%):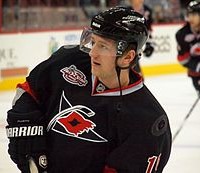 With 9 points in 12 games, Tlusty is scoring at an unusual rate based on his career stats. His highest point total for a season was 36 points in 79 games, but there's a silver lining: those 36 points came last season, and that tripled his total from the season before that. Averaging 2.66 shots per game (1.3 career before this season) has helped him find his way on the scoresheet more often than ever before.
He's been right at home on the top line with Eric Staal and Alexander Semin, and the line's been developing scoring chances galore. Even if Tlusty were to get moved to the second line, he could play with Jordan Staal and Jeff Skinner. Aw, darnit.
Brayden Schenn/Matt Read (27%):

What do Jakub Voracek, Kimmo Timonen, Matt Read, and Brayden Schenn have in common? All of them have more points this season than Claude Giroux (for now). Lucky for you, Schenn and Read could be sitting on your waiver wire.
The Philadelphia Flyers have been offensively challenged this season, but these sophomores have been holding their own. Read leads the team with 5 goals, and Schenn has an impressive 35 hits to go with his 9 points.
Chris Neil (18%):
 Chris Neil is a very valuable fantasy asset. Compare his stats to Tyler Seguin, owned in 98% of Yahoo leagues: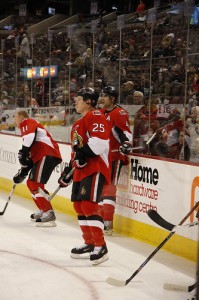 Neil:  3G, 1A, +1, 36 PIM, 0 PPP, 34 SOG, 44 Hits.
Seguin: 2G, 4A, +8, 6 PIM,  2PPP, 34 SOG, 8 Hits
I'm not saying that Neil is more valuable than Seguin, but he deserves a place on your roster.
Carl Hagelin (6%!!):
There were some that thought that Hagelin could be poised to break out with Artem Ansimov and Brandon Dubinsky leaving the New York Rangers top six. Unfortunately, most of them gave up on him after an extremely slow start (2 points in his first 10 games).
Now? He is firing on all cylinders. Playing alongside Rick Nash, Hagelin has hammered home 4 goals on 14 shots in his last 3 games. A whopping 94% of you have a chance to ride out this hot streak.
Lubomir Visnovsky (41%):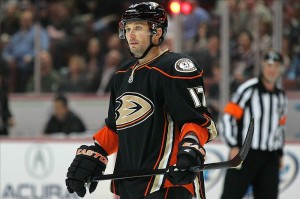 I know I set the "gem" status as owned in less than 30%, but give me a break here – it's not everyday you find a defenseman that's surpassed 60 points twice in his career owned in less than 50% of leagues. Sergei Gonchar has done it thrice in his career and is two years older, but is 66% owned.
After initially going all "Evgeni Nabokov" on the New York Islanders, Visnovsky finally found his way to Long Island. Now he should find a way onto your fantasy squad.
If you're looking for a blueliner that can really contribute points – especially on the power play- and you can risk a setback in +/-, then Visnovsky is your man. He's been a breath of fresh air to the Islanders' power play, already tallying 2 power play points in 3 games.
Growing up in Levittown, PA, Matthew learned to love the Philadelphia Flyers and NHL hockey at a young age. He now writes his analysis of all things hockey for The Hockey Writers.