With the apparent complete breakdown of talks between the Colorado Avalanche and their unsigned RFA centre Ryan O'Reilly, there is a strong opinion forming that the likelihood of the Flame's divisional rival trading O'Reilly is now a likely possibility.
Due to the Flames being a divisional rival, it is highly unlikely that the Flames have a chance of acquiring the young two-way centre.  The Avalanche are also reportedly asking for a roster player as well as a notable prospect as a return for O'Reilly and given that the Flames share the basement with the Avalanche it is hard to imagine there are too many players not named Bartschi that would encourage Colorado to trade within the division.  Naturally, the last thing Calgary needs is to trade their best young offensive player in years who is poised to become a keystone of the franchise's future.
That being said, can the same value be attributed to Calgary's 1st round pick at this year's upcoming draft?  While it is unlikely that the inclusion of high draft pick still would not be enough to sweeten the pot, that doesn't stop it from changing hands if Calgary were to successfully sign O'Reilly to an offer sheet that rewards the young centre with what he is reportedly asking (a longer-term deal in the range of $4-4.5 million per year), they would be required to compensate the Avalanche with their 1st and 3rd round pick at this year's upcoming draft.  The Flames are seemingly not a franchise in the position to trade away high draft picks, but players with value like Ryan O'Reilly don't often become available at this point in their career.
Now, there has been much made of this year's upcoming draft class that features a dominant offensive centre in the form of the Halifax Mooseheads' Nathan MacKinnon and a stalwart defenceman in the Portland Winterhawks' Seth Jones.  These two are certainly top-notch talent that will likely go 1-2 this June, and the eligible players behind them aren't particularly drop-offs.  If the Flames continue to be a middling team, they could potentially fall off in the standings and find themselves relegated to a team with a high chance of picking one of these two gems, especially when considering that the new CBA guarantees all non-playoff teams a chance at drafting first overall and Miikka Kiprusoff is going to miss significant time in a shortened season with an MCL injury.
While this is certainly a possibility, the O'Reilly situation is simply too good of an opportunity for Jay Feaster to ignore.  It is no secret that the Flames are trying to win now with an aging roster, evidenced by the hiring of Bob Hartley as coach this past summer as well as adding veteran offensive presence in the form of Jiri Hudler and Dennis Wideman- promptly signing them to 4-year and 5-year deals respectively.  While this Flames group is certainly veteran heavy with a focus on winning now, adding a centre like O'Reilly has a two-fold benefit: this is a player that can help them win now and is just 22 years old.  If the Flames were to sign him away from the Avalanche, he would be a consistent factor in the franchises' present and future plans.
This also addresses Calgary's most glaring on-ice weakness: strength down the middle.  While adding O'Reilly certainly wouldn't solve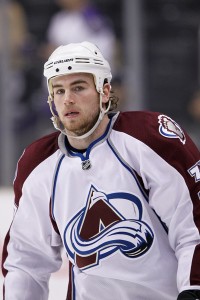 the Flames' center ice woes, it gives them a legitimate player that is coming of a career year of 55 points while playing top 6 minutes- playing at both ends of the ice proficiently and in all situations.  That certainly beefs up a centre corps that Calgary currently boasts natural winger Alex Tanguay, Matt Stajan, Roman Horak, and Blair Jones.  There could be other names added to this list, such as Paul Byron and Mikael Backlund (both currently on IR) have all been used as pivots so far this season, giving weight to the argument that Calgary is desperate for a bona-fide center.
Financially, the prospect of signing O'Reilly to a deal he reportedly seeks ($4-4.5 million) is doable with the Flames current cap situation but is difficult.  The Flames currently have about $4.6 million in cap space to play with, so it would be a tight fit.  However, this is a team that is not only a consistent to-the-cap spender but their payroll shrinks this summer to $49.4 million this summer with the expired contracts of Jarome Iginla ($7 million), Roman Cervenka ($3.8 million if he makes his bonuses), Blake Comeau ($1.25 million), Steve Begin ($525,000), Anton Babchuk ($2.5 million), and Joey MacDonald ($550,000) who are all UFA eligible.  While the salary cap also shrinks to $64.3 million next season and there is a concern to resign to Iginla, a drop in Iginla's salary is likely if he is to stay.  Thus a brief financial headache for the remainder of a shortened season is manageable due to the massive drop in payroll slated to happen this July.
Frankly, the likelihood of the Flames finishing with a high chance at a top-tier pick in this year's draft is unlikely- especially if the goal still remains to be a bubble playoff team.  While it is impossible to predict which move will ultimately serve the franchise better, both signing Ryan O'Reilly to an offer sheet and hoping for a top pick in the draft are gambles.  The only difference is that with the offer sheet the Flames know exactly what player they are getting and that is worth arduous contemplation at the very least.