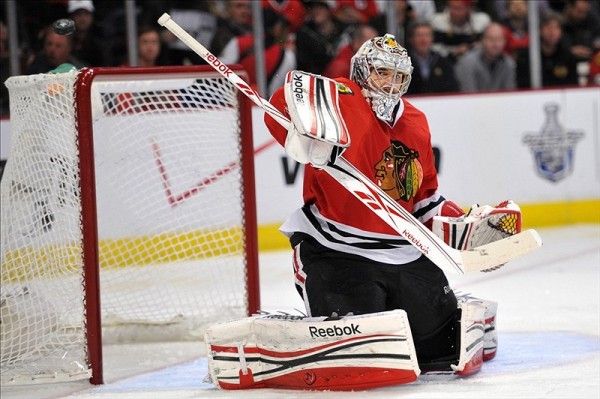 After Thursday's practice, head coach Joel Quenneville met with members of the media and stated that Ray Emery had earned the start against the San Jose Sharks.
"Ray hasn't had a home game yet and he's played very well for us," Quenneville said. "This gives him a chance to get the net in Chicago, and he deserves it for how he's played."
Peachy, almost sounds like a feel good story. But, what may have sounded like the spark of a goaltending controversy has been put out with the truth: Today we learned that Corey Crawford suffered an upper-body injury at some point between Wednesday nights game and Thursday's practice. As a result, goaltender Henrik Karlsson has been recalled from the Rockford IceHogs of the American Hockey League, and thus uncovering the real reason that Emery is getting the nod.
Since it is being reported as an upper-body injury, immediately what comes to mind is the moment that Bobby Ryan bulldozed Corey Crawford late in the third period during Wednesday's 3-2 shootout loss with the Anaheim Ducks. There was no penalty charged on the play. Quenneville didn't really give much details on the extent of the injury or when it happened, it's all just a dangle: "[Crawford] didn't feel great after practice. I don't know if it was a defining blow," he explained.
The good news is that Crawford's injury is only listed as day-to-day, although we all know how well the Blackhawks are at stringing along the public in regards to injuries. Hopefully what Joel means by "feeling great" has nothing to do with his head, because Chicago is all too familiar with that day-to-day tag after the organization tucked away Steve Montador's condition from the public eye, and perhaps even Jonathan Toews at times. Quenneville didn't know if Corey would be ready for the Los Angeles Kings on Sunday. On the other hand, Ray Emery is also playing particularly well as of late so its a good opportunity to see if he can handle any extended workload.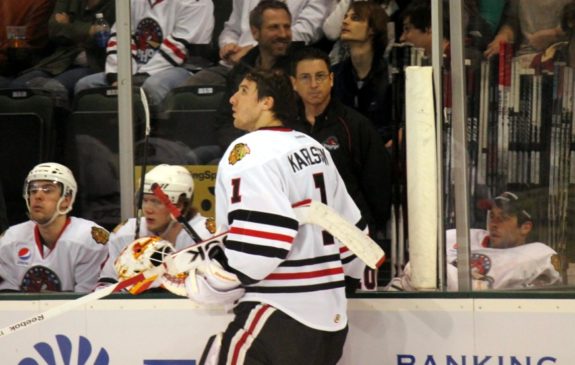 Karlsson, 29, was acquired in a trade with the Calgary Flames last month and has appeared in four games for the Rockford IceHogs, compiling a 2-2-0 record along with a 0.919 save percentage and 2.23 goals-against average. Over the course of his NHL career, Karlsson has appeared in 26 games with a 5-9-8 record, 0.905 save percentage, and 2.79 goals against average, all with the Calgary Flames. He isn't really expected to see any action, if any at all, unless Crawford's injury lasts a couple weeks which is fairly unlikely at this point.