When the Washington Capitals welcomed back forward Eric Fehr to add some grit to the lineup prior to the beginning of the season, management certainly didn't expect the 27 year old forward to become such an integral part of their offense. Fehr has three goals through eleven games on the season, all coming during even strength play. His three even strength goals are good for third on the team, behind only Troy Brouwer and Joel Ward, who both have four.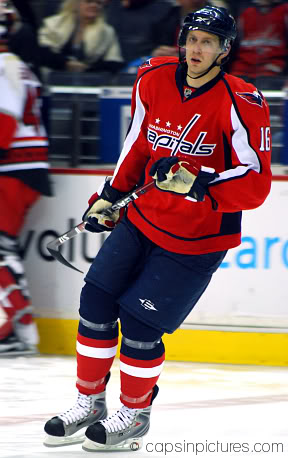 He tallied two goals in Washington's 4-3 victory over the Tampa Bay Lightning on his only two shots, and earned a plus one rating along with 13:17 of ice time. Fehr saw an increased level of ice time last night, increasing his season average to 9:15, last for any forward on the team.
"He looks like he's got really good jump," Capitals head coach Adam Oates said after Washington's win over the Lightning on Thursday. "He's got a good stick; he's played better and better every game. Obviously he got rewarded tonight, that line's been good for us the past couple weeks. I'm glad they're getting rewarded."
Oates has compiled a third line that includes Fehr and Joel Ward on the wings, centered by playmaker and the sometimes inconsistent Mathieu Perreault. You can view the Washington Post's thoughts on the Capitals third line, here.
"You need a third line that can go out there and provide some offense, be reliable and that's what they're doing. They've got a little rhythm going right now so it's good for them."
"I definitely want to help contribute," said Fehr. "I wasn't happy with how the season went at all last year and really wanted to turn it around. I'm feeling pretty confident right now and happy with the way we've started the season."
It's still unclear if this third line and the Capitals can keep this going, but they have a huge contest Sunday night against the New York Rangers. The Rangers knocked Washington out of the playoffs in the second round of the Eastern Conference finals last year, hanging on in game seven.
Loose Pucks
Washington Capitals defenseman Dmitry Orlov continues to skate in Hershey, but is at least a week or two away from playing in any AHL games. He'll likely play around five games before any thought of returning to the NHL to help out the Capitals blue line.
Hershey Bears coach Mark French told Tim Leone of the Patriot News that Orlov's been cleared to skate in a non-contact jersey.
"What I know is he's been cleared to skate and do practice and just be non-contact," Bears head coach Mark French said to the Patriot News. "What the next step is, I'm not sure."
Capitals defensive prospect Cameron Schilling has impressed with the Hershey Bears of the AHL, and has become more assertive on the offensive side of things.
"He scored two Saturday nights in a row now by activating," said Hershey Bears coach Mark French of Schilling. "We want to play defense, we want to play the blue line. But if they're going to go, we want them to be decisive about it and go at good opportunities."
You can follow Matthew on twitter @m_speck and email him at mspeck21@yahoo.com with any questions or comments.