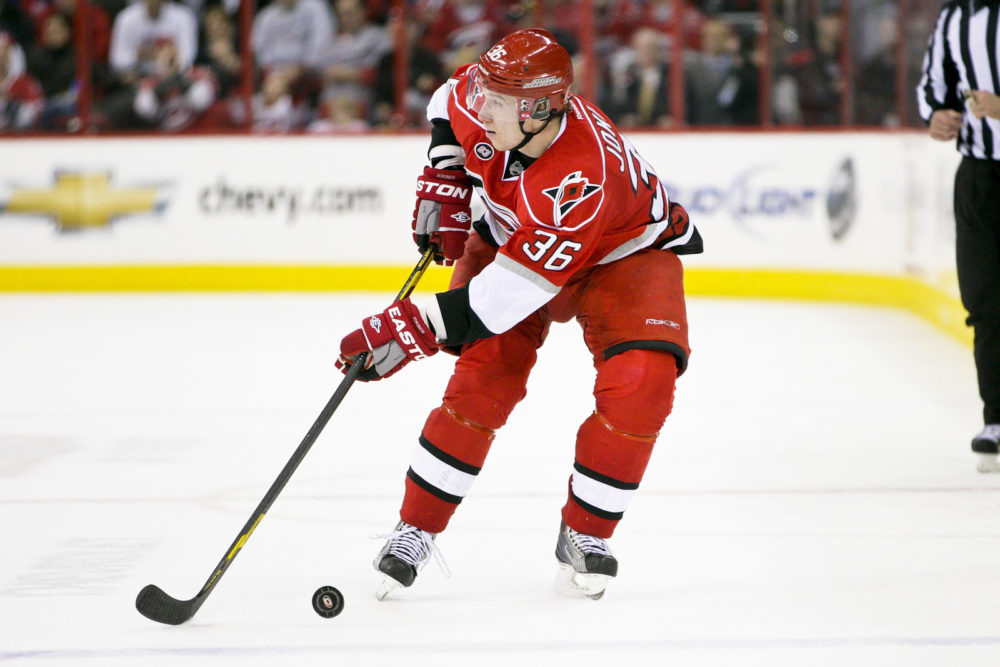 RALEIGH, N.C. — The Carolina Hurricanes entered the 2013 season with enough star power in tow to give the team a stronger foundation — or set of "cornerstones," as Jim Rutherford would say — than they've had in quite some time. What the Canes didn't know heading into training camp, however, was whether or not they had enough depth to compliment their high-budget players.
Now that we have a sample size of 13 games to analyze, it's beginning to look like the Canes are not only deep enough to clinch their first postseason berth since 2009, but perhaps deep enough to make a serious run, as well. That is, of course, contingent on whether or not they can continue at a similar pace that they've been going at in the past few weeks.
With a 8-2-1 record since Jan. 24, Carolina has been playing some of the best hockey in the NHL of late. While this success is largely due to the contributions from guys like the Staal brothers, Alex Semin and Jeff Skinner, the performances of the team's role players is equally (if not more) important to the Canes' recent ascension.
And given the condensed schedule the NHL is operating under due to the recent work stoppage, having a strong sense of depth is as important now as ever.
"With so many games close to each other, you can't have the same guys being the heroes every night," said Kirk Muller. "Our leaders are leading right now, but the role players have to chip in. I think we had a really good balance of four lines. The last two or three games, I think that's the best we've had for production as far as having four lines and six D.
"Everyone feels as if they're contributing, and every night we need a different hero. And that's where we're getting right now, the guys are finding different ways to win."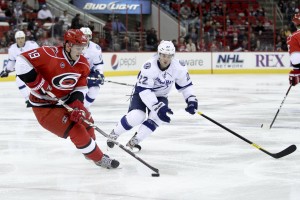 Over the last several games, as Muller alluded to, Carolina's offense has come from all over the depth chart — from guys like Eric Staal and Skinner to lesser-known commodities like Tim Wallace, Jiri Tlusty and Jay Harrison.
Carolina's last two wins, which came against New Jersey and Toronto, were two of the most impressive we've seen from this team in a while — particularly the victory over the Devils. In those two contests, Jordan Staal chipped in for one goal; the rest of the scoring came courtesy of Tlusty, Joe Corvo, Patrick Dwyer and Jussi Jokinen.
While it's important for a team's most expensive assets to earn their hefty paychecks, it takes a well-rounded roster to win at the rate the Canes have been in recent weeks.
"As a team you need to find different ways to win a game. Some times it's special teams, other times it's the top line," said Jokinen, who's scored in two straight. "But other nights you need your role players there to step in and get goals here and there. That's gonna take some pressure off the top two lines — and that's what we've been able to do the last few games."
Beyond the Scoring
While the statistics tell a large part of the story here, the strength of the Canes' depth goes far beyond whether or not skaters are putting up big numbers. Just ask Dan Ellis.
"Obviously we have star players, but we have that grit and that energy from other guys," the 32-year-old netminder said. "Just because they don't show up on the score sheet doesn't mean they aren't important and that they're not effective. A lot of times its those guys who win you the game because they're the guys keeping the other team's star players off the score sheet.
"We have great trust and great abilities with our big names, but our gritty guys put in an effort night in and night out and that's what's helped us win games."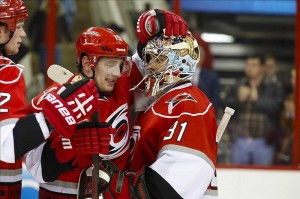 Strength in Net
Speaking of Ellis, the stalwart play Carolina has received from him between the pipes has been a pleasant surprise in the early going. The former Nashville Predator has won three of four starts thus far in 2013, posting a 1.00 goals against average and 0.922 save percentage in five games played.
Having a reliable backup net-minder is important in any year, but it's especially vital this year, when all 30 NHL teams have less off-days than normal in a 48-game, truncated season.
"You need two good goalies to be able to get to the playoffs this season with the schedule we're playing," said Jokinen. "And Ellis is doing a good job right now."
—
Andrew Hirsh is a credentialed NHL writer based in North Carolina. You can follow him on Twitter @andrewhirsh or email him at ahirsh3@gmail.com. 
Andrew Hirsh is a graduate of Elon University and is entering his fourth year as a credentialed NHL writer. He founded SunbeltHockey.com in 2012 and serves as the site's managing editor. Andrew can be reached via email at ahirsh3@gmail.com.