The Detroit Red Wings have experienced more lows than highs during the 2016-17 season. Currently, the team sits four points out of a playoff spot, behind the Toronto Maple Leafs, though they have two games in hand over the Wings.
Still, that does not mean the team is void of fantasy-relevant players, especially in leagues with a larger number of roster positions. For the purposes of this article, I will stick to Yahoo Fantasy leagues, and discuss both standard scoring and peripheral statistical categories.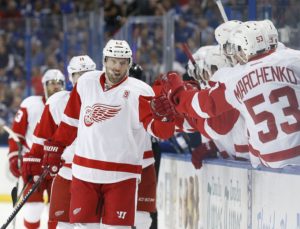 Thomas Vanek – LW, RW
Arguably, Thomas Vanek has been the Red Wings' most consistent player this season. Despite missing 11 games due to a hip injury he sustained in late October, the 33-year-old sits tied for the team lead in scoring with 31 points, while his 0.91 P/GP leads all Red Wings. His dual-position eligibility gives his fantasy value an added boost, too.
While his impact diminishes a bit in leagues that account for peripheral stats, such as hits and blocked shots, his ability to generate offense still makes him a solid option on either wing. Vanek is the Red Wings' most attractive bargaining chip, and they could be in full selling mode at the deadline. Depending on the landing spot, his fantasy value could jump considerably.
Anthony Mantha – LW, RW
Like Vanek, Anthony Mantha's dual eligibility allows for some freedom in a crowded lineup. While he started his season down in the AHL with the Grand Rapids Griffins, the hulking winger has scored at a consistent pace since the Red Wings recalled him. The 22-year-old has collected 22 points through 30 games, scoring at a 0.73 P/GP pace over the course of the season.
His fantasy value has been especially high over the past month, with Mantha scoring at a point-per-game pace and averaging more shots on goal and hits than he did earlier in the season.
Henrik Zetterberg – C, LW
Though his ability to generate offense has diminished over the past few seasons, Henrik Zetterberg still holds value in deeper leagues.
Despite scoring just four points in his first 10 games, the 36-year-old forward has amassed 31 points through 45 games this season. His 0.69 P/GP may not blow anyone away, but he has hovered just below the 0.80 P/GP over the past month.
His dual-position eligibility comes in handy, especially if you are using him as a left-winger in a league that accounts for faceoff wins.
Mike Green – D
As the only Red Wings' blueliner with any real fantasy value, Mike Green is a solid option on defense, especially in leagues that focus on standard scoring categories. While he does not offer much in terms of shots on goal, hits or blocked shots, the 31-year-old rearguard is the top offensive weapon on the Wings' blueline. His 0.57 P/GP scoring pace places him in the top 20 for defenders who have played in 30 or more games this season.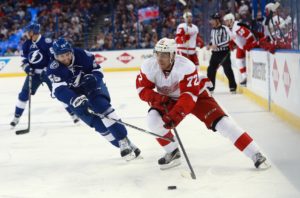 Andreas Athanasiou – C, LW
Andreas Athanasiou's fantasy value has spiked over the past month, especially in the past couple of weeks. Ever since Red Wings' head coach Jeff Blashill scratched him for a game earlier this month, the 22-year-old forward has gone on a scoring tear.
Athanasiou has scored at a 1.14 P/GP pace over the past two weeks while averaging 2.86 shots on goal per game. While his center/left-wing position eligibility will not help with faceoffs (he has taken just 61 faceoffs this season), it will give you some extra flexibility when setting your lineup.
It's difficult to say whether Athanasiou will continue to score at his current pace, but he is definitely worth considering as a "band-aid add" until his offensive production cools off.
Honourable Mention: Jimmy Howard – G
Though he remains sidelined with a MCL sprain that he sustained in a Dec. 20 loss to the Tampa Bay Lightning, Jimmy Howard has been one of the more consistent Red Wings this season. Through 17 games, the 32-year-old netminder has just five wins, but boasts an impressive 1.96 goals-against average and .934 save percentage. Howard skated on Monday, and should return by early February, barring any setbacks.