Last week, The Hockey Writers' The Grind Line column discussed potential trades for the Detroit Red Wings as the 2017 NHL Trade Deadline nears. With an 18-19-6 record, it still has yet to be determined how the Red Wings will approach the deadline.
If Detroit reels off a few wins and Ken Holland can find a deal to improve team defense, the Red Wings could make a run at their 26th consecutive playoff appearance. But if the Red Wings continue to falter, it would be wise to consider selling at the deadline to improve next year's team.
If the Red Wings choose to sell, they'll find themselves as one of the few able to address the high demand for team-improving assets across the NHL. Considering the high number of teams still in the playoff hunt, opposing general managers will need to pay more for those key pieces that could facilitate a Stanley Cup run.
Let's take a look at a few players that could hit the market if the Red Wings do indeed decide to sell heading into and at the deadline.
Thomas Vanek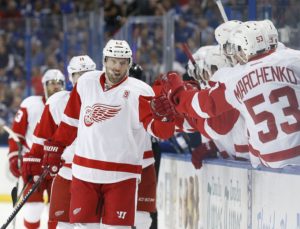 Of the players on the Red Wings' roster, Thomas Vanek conceivably has the most value to contending teams. Simply put, he's the perfect rental.
Through 32 games this season, Vanek has amassed 11 goals and 29 points and is scheduled to become a free agent at season's end. He also has a lightning quick right-handed shot and plays a physical game near the opponent's net.
On a playoff-bound team, Vanek would slot in well in the middle-six and second power play. His $2.6 million cap hit should be easy for most teams to add to the payroll as well.
Potential Destinations: St. Louis, Montreal, Tampa Bay, Chicago.
Jimmy Howard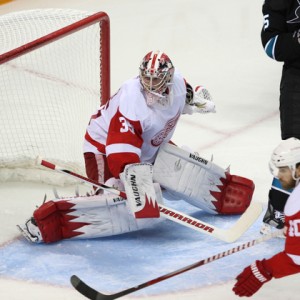 Once he returns from injury, Jimmy Howard could play himself into a starting role…on another team.
As the deadline approaches, teams are building for the playoffs and keeping this summer's Vegas Golden Knights Expansion Draft in mind. With the Red Wings likely protecting Petr Mrazek despite his less-than-stellar performance this season, they have to make Howard available to the Golden Knights. So why lose him for nothing?
Instead, the Red Wings could look to deal Howard to a contending team needing to solidify their goaltending. And because Howard is signed for two more seasons, the acquiring team would have a starting goalie moving forward.
Potential Destinations: Calgary, Vancouver, New York Islanders, Winnipeg.
Mike Green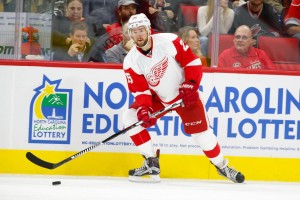 If the Red Wings decide on an all-out rebuild, Mike Green could become available. Contending teams would be chomping at the bit to acquire a puck-rushing, right-handed defenseman who's having a breakout season. Though he's 31-years-old, Green is on pace to score 17 goals this season — his highest total since his 19-goal, 76-point 2009-10 season with the Washington Capitals.
Acquiring Green would be costly though, as Detroit knows his value and would request a lot in return. He also has another year on his contract, so this would not be a rental acquisition.
Potential Destinations: Edmonton, New York R., Tampa Bay, Los Angeles.
Other Detroit Red Wings on the Block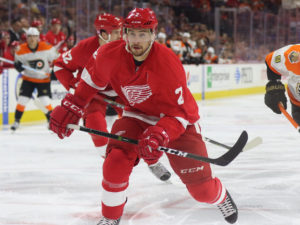 Though not as attractive on the market as Vanek, Howard and Green, other Red Wings players could find themselves shipped elsewhere to facilitate the rebuild. A contending team could see Steve Ott as a locker room presence and the grit factor needed for a long playoff run. Brendan Smith could be a Plan B option for teams that miss out on the top tier defensemen at the deadline. Drew Miller and Jonathan Ericsson might also become available if teams need to add spare parts.
When it comes to a full rebuild, the only Red Wings players who are off the table would be Dylan Larkin, Anthony Mantha, Henrik Zetterberg and Andreas Athanasiou, plus their 2017 first round pick. Everyone else would generally be available at the right price.