The Dallas Stars have been riddled with injuries, and will hopefully be able to play better the further we move into the season. Here's a look at some of the Stars' scoring problems and the skaters that are disappointing most in your fantasy hockey league.
Below is the top-ten scorers for Dallas last year.
Jamie Benn – 41-48-89
Tyler Seguin – 33-40-73
Jason Spezza – 33-30-63
John Klingberg – 10-48-58
Patrick Sharp – 20-35-55
Jiri Hudler – 16-30-46
Ales Hemsky – 13-26-39
Cody Eakin – 16-19-35
Mattias Janmark – 15-14-29
Valeri Nichushkin – 9-20-29
Depth Scorers Disappeared
Starting at the bottom, Valeri Nichushkin decided not to re-sign with the Dallas Stars this offseason, and instead took his talents to CSKA Moscow of the KHL. Not ideal for the Stars, but the situation wasn't the rosiest, and the Stars showed last year that they had a wealth of offensive talent to fill the gap. Next up on that list, is a long-term problem because Mattias Janmark is done until at least April. He had knee surgery at the end of September and due to a genetic joint disorder, there are many questions surrounding if or when he will return. Ales Hemsky also had surgery and is lost for a similar amount of time, while Cody Eakin is out with a knee injury and a mystery illness has kept Jiri Hudler out of all but four games.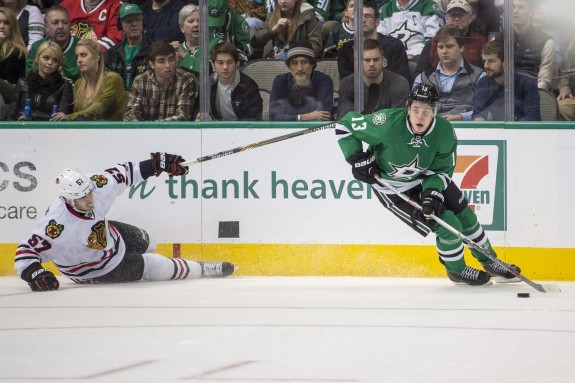 Top Five to Carry Team?
Unfortunately, it isn't just the depth scoring that has been bitten by the injury bug. Patrick Sharp is dealing with a concussion, and Jason Spezza has missed some time due to a lower-body injury. Tyler Seguin had a preseason scare with a hairline fracture in his heel during the World Cup of Hockey but has thankfully been a bright spot for the downtrodden Stars. His seven goals lead the team, as do his 13 assists. Jamie Benn and John Klingberg have added a little scoring, but with Benn on pace for only a 21-51-72 campaign, the Stars need more firepower.
Now's Your Chance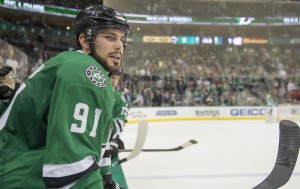 Injuries create opportunities for players to step up, and the Stars desperately need players ready for the challenge, but are any of them succeeding? Dallas is just outside a wildcard spot in the current standings and will need to play better in general. Part of the strategy to stop the bleeding caused by injuries is to split up Benn and Seguin. This means there isn't the solid 3rd piece to their line you can look to for fantasy value, but it also means more players are getting the benefit of playing on the same line as one of these stars. Patrick Eaves and Antoine Roussel each have four goals and are currently up on Seguin's wings. On the opposite side of Jamie Benn is Lauri Korpikoski, who also had four tallies.
None of the three offer long-term value, although Roussell does pile up penalty minutes. Sharp hopes to return soon, the addition of Spezza also creates more balanced lines as he slots back into the first powerplay unit.
While the fantasy upside of the Stars hasn't been obvious so far, there is no real single beneficiary, especially given that some players could be back at any time. As hard as it may be, you may need to give them some time to mend instead of getting too active on the waiver wire.
A lot of this team looks somewhat bleak right now, but with a return to a somewhat healthy roster, they can still be very dangerous.