Well the beginning of NHL free agency sure was a whirlwind. In the span of roughly 30 minutes, professional hockey was in a state of unadulterated chaos. Up was down. States with no personal income taxes were the equivalent of plush bungalows. And franchise cornerstone defensemen were being swapped like spare auto parts at a salvage sale. There really was no way to fully comprehend all the moves that were made in such a short period of time.
One move went under the radar nationally, but will have an enormous impact on the hockey club that calls the Staples Center its home arena. The Los Angeles Kings were worried that they would lose bruising winger Milan Lucic to the open market, and their skepticism proved correct. Lucic signed with the Edmonton Oilers, a team looking for offensive help after dropping off an NHL all-star forward at the New Jersey Devils doorstep (the Delta Tau Chi fraternity in "'Animal House" was more responsible). He was an important piece on an efficient L.A. offense last season, and now Lucic is gone, with no clear replacement on standby.
This is such an interesting set of circumstances for the Kings. L.A. is strapped with cap issues out the wazoo, hindering any major acquisitions. The returning set of forwards is a capable group, but one that might struggle offensively with a depth-related issues. Are any prospects waiting in the wings? Can the Kings rely on their remaining stars to add to their scoring workload? And last but certainly not least, do they really want to replace everything that maniacal Lucic accounted for on the ice? Let's go to the drawing board for some answers.
Lucic's Value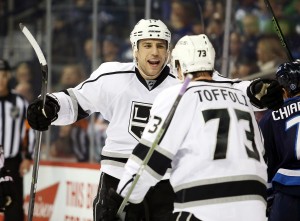 Evaluating a hockey player's worth revolves around two things: numbers and the eye test. Statistically speaking, Lucic was an above average contributor with 55 points (20 goals) in 81 games. But anybody that's ever seen this guy play knows that his point production is only part of the story. Let's start with 81 games. Lucic missed just one game for disciplinary purposes (more on this later), never got bogged down by injuries, and brought it every single night. There's value in that at every level of hockey, and the Kings were the beneficiaries of his relentless play last season.
Here's where the eye test comes into play. It's not so much that Lucic scored 20 goals, but rather where and when those goals took place. Lucic found a way to get to the gritty areas of the ice, where many grown men cower in fear. Showing sneaky speed and a scorer's touch, he was able to bury several pucks like this:
Let me throw out another number for you: 244. That's not his curse world total each game, or the means to a drinking trophy of some sort, it is the amount of hits Lucic registered in the 2015-16 season. Everything that he saw, big #17 demolished.  If you don't believe me, you can ask poor Nazem Kadri, who had his eggs scrambled on this gem:
Lucic's hits altered the way his fellow L.A. forwards could play, giving them more puck possession and time to set up with the puck. In his absence, they will either have to do more of the physical lifting themselves, or find somebody else to step up and deliver the boom.
But if we're being honest here, not every Lucic physical encounter was smart.
Or legal.
Or helpful at all.
That one game Lucic missed this season? Well it was for deciding to pound on some unsuspecting facial flesh with his bare hands:
Yeah, you can't do that. The Kings may have difficulty replacing Lucic's unique ability to score while also staying committed to physical play, but they no longer have to worry about a top forward losing his mind and taking a costly penalty. And they said I was a "glass is half empty" kind of guy.
As far as replacing Lucic is concerned, there are three courses of action the Kings can take.
Outside Additions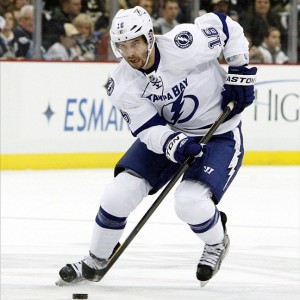 As previously stated, the Kings salary cap situation is very dire. Lucic is gone, Vinny Lecavalier has retired, and Kris Versteeg remains unsigned. Unless major buyouts/trades take place (ahem, Dustin Brown), there isn't much wiggle room to add a proven player to the mix for the coming season.
That said, L.A. did make one interesting signing during the NHL free agency frenzy, inking 30-year-old winger Teddy Purcell to a modest one-year contract. Purcell broke into the league as a King in 2007 (apparently the services of Marcel Dionne and Dave Taylor were unavailable), and was a potential target at the most recent trade deadline. He is by no means a direct suitable replacement for Lucic, but as far as complimentary wingers go, I think he'll fit in just fine. Purcell can play on both sides of the ice, has a keen knack for setting up teammates with his passing, and is a very smart hockey player. Hitting, unfortunately, is not something he has ever been known for.
The fact that they got Purcell for cheap is a blessing for the Kings, because quite frankly there isn't much room for anyone else. If Versteeg is allowed to walk (and I think that they will let him do just that), there may be room for one more veteran player. But why bother using up that cap space now? L.A. will probably wait until trade season again, and swoop in while they have any room to operate. It's the good old fashioned "Lombardi way," and the formula usually nets positive results.
Promoting from Within
It's likely that the Kings will take a Kanye West style approach, and beg Mark Zuckerberg to help look for no new friends to replace Lucic's spot. Let's assume, for the sake of my sanity, that Anze Kopitar, Tyler Toffoli, Jeff Carter, Tanner Pearson, and Marian Gaborik are locks for five of the six top forward spots. Does Trevor Lewis become the next man up? Look, as far as hard work goes, nobody puts more sweat into their game L.A.'s very own Swiss Army Knife. But I strongly prefer Lewis on the third line, where he can prosper into a role more suited for his individual skillset. A warrior he most certainly is, but a goal scorer, he regretfully is not.
That also goes for the captain formerly known as Dustin Brown. As long as he's still on this team, Brown can contribute something through his physical brashness and underrated sense of hockey timing. But his offense isn't anywhere near acceptable top two line levels, and I doubt it ever will be again. The same can be said about Dwight King, Kyle Clifford, Andy Andreoff, and Jordan Nolan, who can't skate at the same consistent level of their would-be linemates.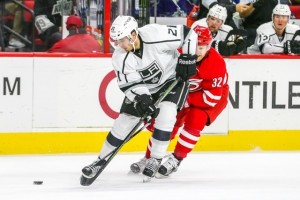 There are however two players that should get a chance in training camp to compete that sixth spot up front. Nick Shore and Nic Dowd, two young centers, are both worth a look when it comes to that missing puzzle piece. I like the respective versatility of each, and their minor league calling cards as two-way players is a definite plus. Remember, defense is a must for any Darryl Sutter forward, let alone a center. Shore came through the prestigious United States National Development ranks, while Dowd migrated west from St. Cloud State University. Despite coming from completely different schools of hockey, each center has shown brief glimpses of being able to play with elite NHL talent.  Is there some sneaky Mike Richards potential here? I wouldn't rule it out.
Prospect Potential
The last, and perhaps direst option for the Kings would be to dive deep into their minor league ranks. I won't lie to you and say I have an evaluation spreadsheet of L.A.'s prospects on my refrigerator, but I have kept tabs over recent drafts and player development. And even a novice like myself can see that the cupboard isn't exactly stocked with goodies and treats. Hockey's Future ranks the Kings as having the 26th best (more like worst) prospect talent in the entire NHL. It's not that there aren't solid, capable NHL bodies flowing through the organization, but rather no true blue chip talent ready to skate onto the scene with a pocket full of green.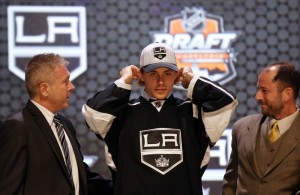 I have my eye on one prospect though, as a potential impact NHL player someday. Hailing from Sweden, Adrian Kempe is just scratching the surface of his hockey potential. The Kings took him 29th overall in 2014, and the 19-year-old recently completed his first full AHL season in Ontario.  Kempe has a blistering shot, a smooth stride that gets from point A to point B in an instant, and figures over time to add weight to his 6ft 1' 178lb frame. I thought it was interesting that he wanted to come right over to the NHL as a teenager, instead of playing in Europe for a few seasons to hone his professional craft. And judging by these highlights, I think it worked out quite nicely:
Kempe has all the potential to fit in fine at the NHL level, but I just don't know if it's this year. Sutter will make every newcomer earn his stripes, and Kempe will be no different. Remember this kid's name, because you might see him lighting up the Pacific Division sooner than you think.
Milan Lucic is one heck of a hockey player, and his absence will pose a big challenge to the Kings. But there's no need to panic. The next Stanley Cup Final is eleven months away, and past experiences indicate that this team will be up for the challenge. The beauty of this great game is that the effort of the group outweighs that of an individual. Los Angeles is about to witness that firsthand.