The murky waters surrounding the Winnipeg Jets starting roster are becoming a little clearer every day. As the season inches closer, so do the final cuts from Jets camp.
Every day, Paul Maurice's job gets simultaneously easier, as the numbers in camp are whittled down, and harder, as those who remain are the most deserving players. Some players are making his job very easy, while others are going to give Maurice and the rest of the Winnipeg Jets staff some headache-inducing conundrums.
The first eleven names have already been scratched off the list, and general consensus there were no real surprises. Sure, it might have been nice to see Jimmy Lodge or Axel Blomqvist get into an exhibition game, but they were always destined for the AHL. While it's a relief to see fans agree with Maurice's decisions for the most part, it also means the easiest set of cuts are now behind us without the competition for roster spots having gotten any clearer.
Andrew Ladd and Bryan Little still have yet to play a game. Ditto for Tyler Myers. Meanwhile, the Jets stiffest test of the preseason so far comes against the Oilers tonight, though reports indicate phenom Connor McDavid will not be in the lineup.
Tonight's rosters for #NHLJets vs #EdmontonOilers. No McDavid pic.twitter.com/jRptHVCvaG

— Brian Munz (@BrianMunzTSN) September 25, 2015
So What Have We Learned So Far?
Aside from the fact that 3 on 3 overtime is awesome, the first two exhibition games didn't give us much to read into about the Winnipeg Jets, but there are a few points that stand out.
For one, Nic Petan does have the incredible vision we've so often heard about, as evidenced in the first game by his breakaway pass to Thomas Raffl, but the Jets seem to think he's destined for the AHL. Sticking him between Chris Thorburn and Thomas Raffl wasn't exactly giving the kid a chance to show off his passing wizardry, and given that he saw almost no power play time I'd say the Jets didn't come into that game looking to see Petan first and foremost. He was also held off the ice during the 3 on 3, which baffles me. After all, 3 on 3 was built for players like Petan, who could pull moves like this.
We knew Nikolaj Ehlers was fast, but watching him display it against NHL defenders for the first time in a year was highly encouraging. The Winnipeg Jets have a gem on their hands here, and I'll stand by what I said in my earlier piece on him that he deserves to make the team out of camp.
While he lacks the flash and dash of Ehlers, Joel Armia is very mature and poised. He was one of the better players in the less-than-stellar lineup the Jets iced Wednesday night, showing patience with the puck and a hunter's mentality on the forecheck. While he scored no goals, he created plenty of chances, and his mixture of size and skill entices. If he can continue his solid play through the rest of the exhibition schedule, there's a spot on the bottom six that is Armia's for the taking.
In the second game, which was decided by a penalty shot we got a look at how the Jets look without, well, basically everyone. Yet this game was still a teaching tool in its own right. As mentioned, Joel Armia looked good, but so, perhaps surprisingly, did Ben Chiarot. Chiarot is the kind of defenseman you just aren't meant to notice, the kind who is at his best when he's going about his business quietly. Yet he was noticed for all the right reasons on Wednesday, scoring a goal to get the Jets back into the swing of things and rushing the puck all night. He threw his weight around in the corners, and generally looked like he was trying to build on a strong rookie season. He looks like he's been working on his skating too.
Adam Lowry looked like a veteran in the game against Edmonton, even though he is still very much in a support role with the Jets. He shouldn't be asked, at this stage of his career, to shoulder too large of an offensive load. Rather he should grow into that role as time progresses. That said, his sneaky wrister to tie the game reminded me strikingly of Andrew Ladd. It's no surprise to anyone that Lowry hits hard, skates hard, and works hard, but his shot is perhaps an underrated aspect of his game, and it was on display in that instance.
One other player who stood out in that game was J.C. Lipon. Much has been made of the agitating ability of Brendan Lemieux, and while he is no doubt a prominent pest, Lemieux is likely on his way back to the Barrie Colts by virtue of his youth. The older and more experienced Lipon went out with a mind to make his mark on the game, and did so with several jarring hits. He got under the skin of the Oilers all night long, drawing them into scrums and undisciplined penalties. A team with both Lemieux and Lipon on the roster would drive its opponents bonkers.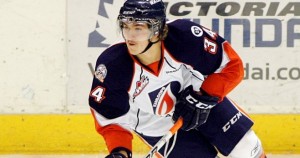 It's Only Exhibition, But…
This is the time of year where jobs are won and lost, and while it's early to read too much into things, what with veterans being rusty and maybe a little disinterested in the games, there are still things to be noticed. The analyst in me is tempted to dissect every aspect of these games, and while nitpicking and over-analysis are unhelpful, patterns do emerge (or persist) in these early games.
We've learned a bit from the first two games. Hopefully the picture becomes even clearer very soon. I'll be attending the third game live tonight, and afterward I'll have some impressions from my live look at some of the players. One thing is for sure: if the exhibition schedule produces this much intrigue, we're in for one heck of a ride this season.