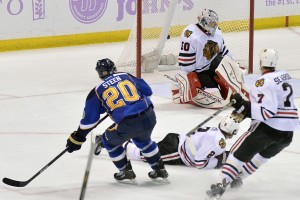 Surprise is the greatest gift which life can grant us — Boris Pasternak
The 20th century Russian novelist's ridiculous hyperbole notwithstanding, there have been a number of fascinating early storylines so far this year in the National Hockey League. Included among them are the Maple Leafs' cool 10-5 record, Josh Harding's microscopic 1.10 G.A.A., Kyle Okposo (mind you, this is a guy who had just 21 assists in 79 games two years ago) dishing out as many helpers as Joe Thornton, and many, many more.
That being said, there has to be a cutoff point to get to the most interesting surprises, and since I'm penning this piece, I get to make that call. Thus, the following are the five biggest early surprises so far this season. Wind up the debate clock.
#5: Surprise! Giggy just bathed in the fountain of youth
Once upon a time in a city far, far away, J.S. Giguere was one of the premier goaltenders in the NHL. At age 36, however, his days as a starting goaltender appear long over, as he hasn't played in more than 33 games in any one season since 2008-09. He was lit up pretty good that year for the Ducks, giving up 3.10 goals per game and kicking aside the puck at just a .900 clip. He also managed two measly shutouts.
As a backup for the Colorado Avalanche this year, he's started the season as if his glove hand were on fire: four games, four wins, a crazy .75 G.A.A. and an equally ridiculous .977 save percentage, stopping 130 of 133 shots. He's recorded a pair of shutouts, tying him for the league lead with guys that aren't drawing Social Security yet: Antti Niemi, Josh Harding, Roberto Luongo (ok, he's close) and Henrik Lundqvist.
Given that he's nearing the sunset of his career, Giggy's awesome start qualifies him as the #5 ranking on this list of early surprises.
#4: The Bolts bolt out of the gate to lead the Atlantic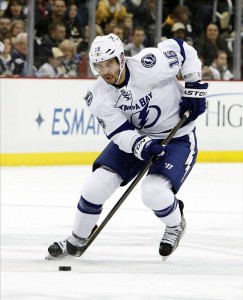 Sure, they have Steven Stamkos, Martin St. Louis, Valtteri Filppula, Victor Hedman and a solid blend of role players, but after having missed the playoffs the last two years (sinking to 18-26-1 last season), nobody expected the Lightning to be top-ten in literally every significant statistical category except shots taken. Heck, if anything, you'd have thought that's the one area they would excel at.
With a 10-4-0 record, Tampa Bay is a hair's breadth ahead of the 10-5 Leafs and the 9-2-2 Red Wings for Atlantic division supremacy, all three tied with 20 points. Toronto made the playoffs last year and Detroit is consistently (if not annoyingly) always near the top. With their sudden rise to uber-relevancy, Tampa ranks as the #4 surprise to start the season.
#3: The New York Rangers' offensive offense
To quote Jeff Goldblum in Jurassic Park, boy, do I hate being right all the time. Of course, that's merely tongue-in-cheek, as I completely blew it with respect to the Sharks. I did pretty much call the New York Rangers correctly, though, as they sport a pedestrian 6-7 record and have given up 13 more goals than they have scored.
Speaking of scoring, the Rags do so at a pathetic 1.92 goals per game clip, a shockingly low total considering they were reasonably respectable (15th) just one season ago. Injuries have played a big part in their demise, with Rick Nash, Carl Hagelin and Chris Kreider combining for just 12 games played between them. Regardless, only the Devils, Flyers and Sabres do it less frequently, and that isn't company you want to keep if you're smack dab in the middle of the big city's bright lights.
Everyone except me expected much, much more from the Rangers, so a #3 surprise ranking seems appropriate.
#2: The Colorado Avalanche's everything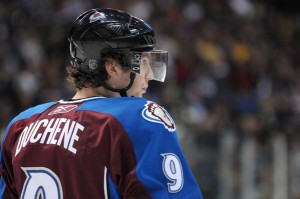 A 12-1 record, including an impressive six-game winning streak. Leading the league with 24 points. A +23 goal margin. The NHL's sixth-best offense and top-ranked defense. The best penalty kill on the planet. Is there anything these Avalanche aren't great at? Well, their power play is "just" 16th, so I guess that's it.
With Matt Duschene, Gabriel Landeskog and Paul Stastny all kicking frozen rear end and in the case of the first two, still years away from their prime, the rest of the West had better take note: the Avs are back. After three miserable non-playoff seasons, visions of the dominant Forsberg years have been resurrected in the Mile High city.
As arguably the league's best team, they clearly deserve a high ranking on this list of surprise starts.
#1: Move over, Steven Stamkos — here comes Alexander Steen
If you check out the list of leading goal scorers, there all sorts of names that roll off the tongue with familiarity: Steven Stamkos, Alex Ovechkin, Phil Kessel, Sidney Crosby, Corey Perry and many others. Sure, it's a bit odd seeing Jason Pominville up there with 10 goals, but he's scored at least 30 twice before, so it isn't that strange. Frans Nielsen is a bit of a head-scratcher with eight, but whatever — let's see where he's at after another dozen or so games.
And then there's Alexander Steen. Not only is his highest seasonal number just 24 (2009-10), but he's not just near the top of the list with an anomalous number, he's leading the entire league with 12 goals in 12 games. After a career of shooting below 10%, he's converting at an absurd 31.6% rate.
It's certainly possible Steen will tail off and end up with a ho-hum number, but for now, Alexander Steen's sudden sniper prowess earns him the title as the biggest surprise of the 2013-14 NHL season.
Any list is subject to debate or criticism, and there's little doubt this one will provoke both. Thoughts? Post them below, or send them to @McLaughlinWalt.
Walter McLaughlin is a Los Angeles Kings correspondent for The Hockey Writers. He is an avid sports fan, having followed the Kings since living in L.A. in the mid-1970's, as well as suffering through Seattle sports teams' general futility. He has a Bachelor's degree in Finance and has worked in community banking for over 25 years, specializing in SBA loans. He is married and has two daughters.