Like their parent club, the Charlotte Checkers have been stuck in neutral for most of the year. Though they're a respectable 5-4-1 on the year, their current 83-point pace would have seen them miss the playoffs a season ago.
Because of injuries in Carolina, the Checkers themselves are down to a dire situation. So much so, in fact, that they had to play a man down while in Rockford on Wednesday. Defensive stalwart and faceoff specialist Manny Malhotra was recently recalled to Raleigh, and others may make the trek before too long.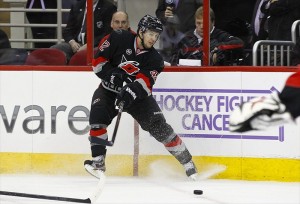 Perhaps the biggest absence for the Checkers has been captain Brett Sutter, who had made the 'Canes out of training camp. But after being waived Sunday afternoon, a return to Charlotte is in the works. Just in time, too, as the Checkers will being a four-game homestand Thursday against two 5th place teams — a great opportunity to secure some points and right the ship.
Though he registered 19 goals and 48 points last year, Sutter is not known as a scorer, even at the AHL level. What he brings is a veteran presence and NHL experience to a young team. At 26-years-old, he isn't the oldest guy in the locker room, but his 400-plus AHL games means he knows a thing or two about playing at that level.
While not as "fragile" as Kirk Muller's squad, the Checkers have had their own share of heartbreak in recent days. In three of their last five games, they've given up the game-tying goal in the third period, going 1-1-1. Sutter's voice in the locker room will help to keep his team focused on closing out the win.
Looks like Checkers will practice in two groups today. If Brett Sutter clears waivers, he might be able to sneak on for the second.

— Paul Branecky (@PaulBranecky) November 4, 2013
The demotion may come as a disappointment to Sutter, whose hard hits were a welcomed sight on the Hurricanes' fourth line. His brawl with Joe Vitale after a questionable hit will likely be played on highlight reels in Carolina for the rest of the season. But he was facing some stiff competition to keep a spot on the team. In Charlotte, he'll be relied upon for bigger minutes, but in the same physical role.
Given the influx of young talent — notably Victor Rask, Keegan Lowe and Danny Biega — Sutter's leadership will be invaluable if the Checkers want to return to the playoffs. Last season ended in disappointment after blowing a 2-1 series edge to the Oklahoma City Barons in round one. The goal in 2013-14 will be to surpass that, and Sutter will have a big say in whether or not the Checkers accomplish their that. Jeff Daniels had held off on naming a new captain on the young season, and now he won't have to.
Andrew Luistro graduated from Appalachian State University. An avid sports fan, he began beat writing for the Sunbelt Hockey Journal, part of The Hockey Writers Network, with a focus on the Carolina Hurricanes. Andrew also actively follows the Boston Red Sox and Carolina Panthers, among other teams. Follow him on Twitter @ndrewL7