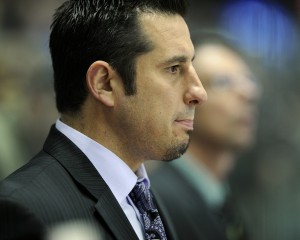 After three seasons outside of the Stanley Cup playoffs, the Calgary Flames head coach Brent Sutter will reach the end of his contract at the end of the regular season. Through his tenure in town, Sutter has compiled a record of 117-90-38 (with one game remaining this season). This season, however, ranks among the worst in club history; the Flames are guaranteed to have the fewest wins since the 2002-03 campaign, and the 45 combined regulation, shootout and overtime losses are easily the most in franchise history. Based on these facts, it seems unlikely that Sutter will be offered a contract renewal.
So if Brent Sutter won't be behind the bench next season, who will be? Here are five possible candidates.
TROY WARD
The head coach of Calgary's AHL affiliate in Abbotsford, Ward has also served as an assistant coach with the same group and has succeeded both in providing NHL-ready bodies for the Flames line-up and winning with a depleted AHL line-up. He's got a great reputation among former players as a very good coach (and one that cares about and gets the most out of his players). He's coached for roughly 20 years in the NHL, AHL, IHL, ECHL, USHL and NCAA. He's only in his fifth year ever as a head coach, and given how crucial Abbotsford's success is to the Flames' long-term success, it may behoove them to leave him on the farm for a couple years before bringing him to the NHL.
BOB BOUGHNER
The head coach of the OHL's Windsor Spitfires, Boughner isn't a stranger to the Flames or the NHL. He played 15 years in the NHL and during a two-year stint in Calgary, served as co-captain for a term with Craig Conroy. Since retiring from hockey in 2006, he's headed the Spitfires to a pair of Memorial Cups. He's a coach that knows how to instill a winning tradition and make sure that his players buy into what he's preaching. He served a year as an assistant coach with Columbus and may be itching to return to the bigs. That said, he's somewhat inexperienced coaching pro hockey and could be served with some experience as an assistant. Boughner topped the 2011 Hockey Night in Canada/NHLPA players poll regarding which assistant coach should be a head coach.
CORY CLOUSTON
An experienced coach, Clouston worked two years as an assistant with the WHL's Kootenay Ice before becoming head coach. He was the bench boss for Kootenay for five years, then moved to the AHL as the coach for Binghamton Senators. Then he served three years with the Ottawa Senators before turning to the WHL with the Brandon Wheat Kings. The Flames have followed the Wheaties very closely this year due to prospect Michael Ferland. What they've seen is a team that's very tough to play against, a quality that's been lacking in Calgary for many years. With a good amount of head-coaching experience in junior and in pro, Clouston could be a good fit.
BRAD SHAW
Presently an assistant coach with the surging St. Louis Blues, Brad Shaw had a respectable 15-year pro career. But since retiring, he's taken to coaching like a fish to water. He's been behind a bench continuously since 1999, with stints in the IHL, AHL and NHL. He's been an assistant and a head coach, most recently serving as interim coach of the New York Islanders and leading them to a .500 record over a half-season. Most importantly, Shaw has the respect of the league's players; he was voted the assistant coach who should be a head coach in this year's Hockey Night in Canada/NHLPA player's poll.
TONY GRANATO
Tony Granato was a pretty good hockey player; he played 774 games over 13 years with the Rangers, Kings and Sharks. Since retiring, he's become a pretty good coach. He has served primarily as an assistant, primarily with Colorado. He was with the Avalanche from 2002-2009, being thrown into the fire as head coach twice and never really being a great fit with the team. To be fair, the team was never any great shakes when he was there. He has since moved to Pittsburgh, where he has settled in and seems to fit better than he did in Colorado. He's a name that's respected throughout the league; he finished high on both this year's and last year's HNIC/NHLPA player polls regarding assistants that should be head coaches. While he's never been an amazing head coach, he's performed rather well given his circumstances (the 2008-09 Avalanche season was not his fault) and could thrive in the right circumstances.