The New York Islanders are on the verge of a season sweep over their bitter rivals from Manhattan, but tonight's game will feature two less stars than previous meetings. With Kyle Okposo and Henrik Lundqvist out of the game, each team will be forced to make do without some of their most important players. The Rangers are just four points behind the Islanders who sit atop the Metropolitan Division, and with two games in hand this is their opportunity to not only keep from being swept but to gain some ground in pursuit of the top seed.
Momentum
There's something to be said about the fact that the Islanders have won every meeting with their neighbors and biggest rivals this season. It's a rivalry that, even when one team has had a significantly better season than the other, always makes for some of the most interesting games of the NHL's regular season. With the tides turning so significantly in the Islanders favor, it'll be interesting to see if they're inside the heads of some of the younger contributors on this Rangers squad.
It's worth noting, however, that in their last meeting the Rangers were dominated possession. With a 58.1% Corsi for percentage and a 90.6 PDO (compared to 109.4 PDO for the Islanders) it's easy to say that their January 27th contest was one in which maybe the Islanders got a bit lucky. Either way, it was two points for the Islanders.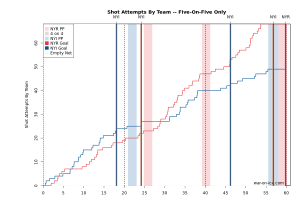 Special Teams
Ken Hitchcock's take on special teams is one that's proved true consistently over the years. "I've seen a lot of (teams) who have had bad power plays do really well in the playoffs, but I've never seen any team play worth a damn if you can't kill penalties,"
For the Islanders, the one thing they haven't been able to do all season is kill penalties. At 73.6% the team is still dead last on the penalty kill, while the Rangers have been in and out of the top 10 on their power play—they'll come into this game tonight 9th at an even 20%.
I'm a big proponent of the 100% rule for special teams: if your power play and penalty kill add up to 100% you're fine, anything lower is poor and anything higher is very good. At 92.7%, the Islanders special teams is better than only Edmonton, Buffalo, and Colorado.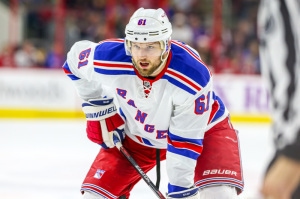 Cam Talbot
Jumping into action after Lundqvist took a puck in the throat, Cam Talbot has been serviceable in going 4-1-1 with a .900 save percentage in those 6 games, though his stats were clearly padded in his 34/35 performance against the Arizona Coyotes. Talbot has only reached .900 one other time since taking over the starting role. He hasn't been great, but he hasn't lost any games for the Rangers.
In his career against the Islanders, Talbot has stopped 66 of 72 shots he's faced across three appearances, good for a .917 save percentage. Not bad, but when considering his only experience with this Islanders group came in relief earlier in the season (12 for 12 on January 13th) it's hard to predict what the University of Alabama-Huntsville alum will be able to do against one of the top teams in the Eastern Conference.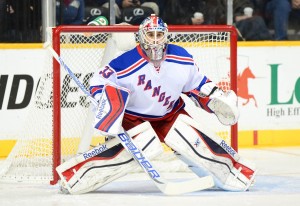 John Tavares
The Islanders Captain and one of the top players in the NHL has 10 points in 10 games since coming out of the All-Star break without his right-winger, Kyle Okposo. This sounds great, but when taking into account that four of those points came in the Islanders Saturday meeting with a struggling Blue Jackets team, it's actually been a rough couple of weeks for Tavares.
In the five games before hosting Columbus, Tavares managed just a goal and an assist against some of the bottom feeders of the NHL. While it's hard to pin anything on Tavares, who has had a hard time finding chemistry with a cast of wingers who are well below his level of talent, it's going to be important for the best player on the ice to be the best player on the ice to take down the Rangers.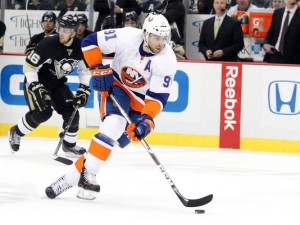 Home-Ice Advantage
It's no secret that when the Coliseum is sold out, which it will be tonight, it's one of the loudest and most raucous buildings in the NHL. An environment like Nassau Coliseum is tough to play in for road teams, despite the fact that crowds are generally pretty split in these cross-town rivalry games.
But more important than the crowd tonight is going to be Capuano's ability to make the last change. Outside of the top scorers—Nash, Brassard, Stepan—the Rangers have struggled to find consistency in putting the puck in the net. Players like Chris Kreider and Mats Zuccarello have performed well at times, but their inconsistencies have seen them shifted around in the lineup and at times in Vigneault's doghouse. If Capuano can get Leddy and Boychuk on the ice every time Nash's line is out, it'll be huge for keeping the Rangers high-powered offense in check.