It's opening night for the wild and it's time to take a look at some Minnesota Wild storylines for the first month of the season that you should be tracking.
1. The Magical Mystery Vanek
You might have heard that the Wild made a pretty big signing on July 1 in free agency. Thomas Vanek has been brought in to help alleviate the Wild's scoring woes. Last season the Wild averaged 2.43 goals per game, which ranked 24th in the league. They need to score more and Vanek should help. In October we'll start to get a sense of what he'll bring to the team.
His presence gives the Wild a set of top six forwards that may be the best the franchise has ever seen. His strong net-front presence should also help the team improve on the power play. (The power play was one of my September storylines and it looked great during the preseason.)
Though Wild fans should judge with reservation in the month of October. Don't forget that Claude Giroux didn't score at all in October last season and then finished the season ranked third in the league in points (28-58-86).
2. The Possession Game
One of the things the Wild need to improve on this season is their possession numbers. The team ranked 23rd overall in Fenwick For % last season and that will need to improve if they want to take a deep run, especially in the conference that features the teams that finished first and second in possession — Los Angeles and Chicago.
Adding a little intrigue to the situation is an interview that Zach Parise gave to the Star Tribune's Michael Russo during the preseason where Parise changes his tune a bit on possession. In the interview he talks about how important possession is and how a study he read has converted him into a zone entry believer, acknowledging that carrying the puck into the zone generates more opportunities than dumping the puck in. In fact the Russo's story starts with Parise saying, "I read a study this summer that showed shots generated off carrying the puck in as opposed to dumping it in, and it's like 4-to-1. It's not even close." (This is the study he was referring to.)
It will be interesting to see how deep that change of mentality runs for the team and if that coupled with the development of young players allows the team to become a positive possession team this season.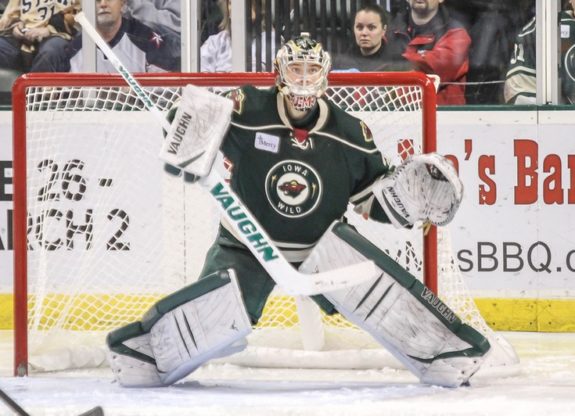 3. Kuemper vs. Backstrom
We've talked this one to death in the offseason. Now it's down to two goaltenders vying for the title of number one, at least for the first few months. The Wild did well in net last year despite the carousel of goaltenders, but they certainly would love to a healthy and definite number one goaltender there. Right now it's between Darcy Kuemper and Niklas Backstrom, with Kuemper getting the start on opening night.
With the Wild taking five days off between their second and third game, coach Mike Yeo has said that it's possible that the two of them just split the first two so that neither is taking a long stretch off, but if Kuemper can assert himself early he can take the job for his own. A shutout always helps there. Yeo has repeatedly stated that if a goaltender gets a shutout they get the next game.
4. Does the team get off to a fast start?
The Wild had a slightly different look to their preseason ritual with Yeo fielding three teams to start camp instead of the usual two. He also worked his top players into more preseason games this year. The goal? Getting off to a faster start. The team has not had great starts to their season any year under Yeo's tenure. (3-3-3 last year, 4-5-1 in 2012-13, 3-4-2 in 2011-12)
Will they be able to do do better this year? It's a tough schedule to start the year, including starting with a home-and-home against the Colorado Avalanche, who will be looking for revenge after getting knocked out of the playoffs by the Wild last year. And it doesn't get easier. After that they have games at Anaheim, at Los Angeles, vs. Arizona, vs. Tampa, at the Rangers, at Boston, vs. San Jose, vs. Dallas, and vs. Pittsburgh. It's tough opening schedule that features last season's Cup champs, Cup runner-up, Presidents Trophy winner, and ten of the first 11 games are against playoff teams from last season.
5. The I-35 Expressway
We make a lot of the opening night lineup, but changes are going to come, especially at the start of the season. Throughout October we'll be getting a better look at some players who are on the cusp of full time roles like Matt Dumba, Christian Folin, Ryan Carter, Stu Bickel, Nate Prosser, and Jason Zucker, to name a handful who are with the team right now.
The roster should start to coalesce a bit and we'll get a better picture of what this team will look like for the season. Changes will keep happening throughout the season, of course, but we'll get a sense if those named players are going to stick or if they're going to get their "cup of coffee" and then find themselves driving down I-35 to Des Moines.