When your team doesn't make the NHL playoffs (it's kind of hard not to as 16 of 30 teams qualify), the season is deemed as unsuccessful. When the New Jersey Devils don't make the playoffs (2 times in 16 seasons/2 of the last 3) changes will be made, as their mantra is: Stanley Cup or bust. The Devils started the season on fire, ran into injuries with about a month left to play and then fizzled at the end of it, assuring that they would be unable to defend their Eastern Conference Championship.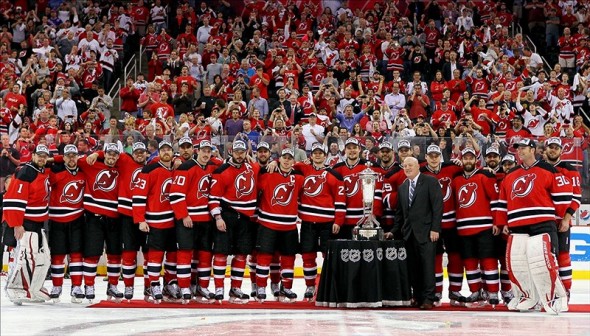 New Jersey has appeared in five Stanley Cup Finals since 1995, winning three times, but they haven't hoisted the large silver chalice since 2003. For most teams, that might be good enough, or settled for. But not for this franchise — after missing the playoffs with the championship pedigree that has been established there it would seem that not much good could come from such disappointing season. Changes will be made and if you were a betting man or woman I'd advise you to bet on seeing the New Jersey Devils in the 2014 NHL Playoffs.
The Hockey Writers breaks down the 5 positives for the Devils in what was a dismal 2013 season in New Jersey:
TRAVIS ZAJAC'S CONTRACT
Everyone can agree that Travis Zajac had a disappointing season (21 points in 48 games), but he was scheduled to be an unrestricted free agent this summer and his long-term deal means the Devils do not have to worry about him leaving to go home like they had to do last summer with a certain player who hails from Minnesota. No. 1 centers don't grow on trees and New Jersey now has one for the next eight seasons; Zajac was the Devils top face-off man and he was tied for 6th in the NHL (57.4%). In fact, his road face-off percentage (57.7%) was better than his record at home (57.2%) and in 881 total face-offs he won 506 of those.
Zajac makes this goal look easy, despite the fact there is a Vezina winner in the net:
After missing the majority of last season with a fluke, off-ice Achilles injury, the soon-to-be 28-year-old Zajac played in all 48 games. New Jersey has a plethora of other UFA's to worry about this summer (Patrik Elias, David Clarkson, Dainius Zubrus & Marek Zidlicky being the most prominent) and having Zajac's deal done means that more focus will be kept on piecing together the rest of the 2013-14 roster.
ANDY GREENE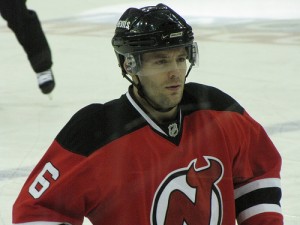 One of the pleasant surprises during this season was the emergence of Andy Greene as a top-pairing D-man on the Devils' blueline. Greene is now in his seventh NHL season (all with New Jersey) and the undrafted free agent is now the longest tenured blueliner on the team. His career has featured ups & downs, but the former RedHawk from Miami (OH) has been stellar for the Devs since last season's run to the Finals began in April.
Coach Peter DeBoer went out of his way after games this season numerous times to point out A) How well Greene was playing & B) That it was the best he had ever seen him play. "This is where I wanted to be and I'm very happy that everything worked out the way it did," said Greene, who could have jumped ship after last season as a free agent. "I'm happy to be a New Jersey Devil and be a big part of this team." Obviously he won't win a Norris Trophy anytime soon (or ever) but he fits well on this team; he's well-liked by his teammates and he is one of the smartest players on the team as far as hockey-sense goes. The instincts he has cannot be taught, you either have it inside you, or you don't.
THE ACQUISITION OF ANDREI LOKTIONOV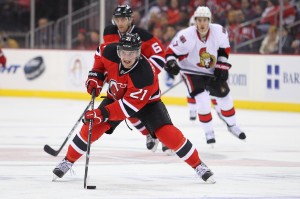 Devils GM Lou Lamoriello made a few 'tinkering moves' throughout the season, but no blockbuster trades, and none of them gave his squad the push to reach that next level. The best move he made though was acquiring 22-year-old Andrei Loktionov from the Los Angeles Kings for New Jersey's 2013 5th round selection. In 28 games Loktionov tallied 13 points (8g-5a), but he showed a lot of promise and could end up being a steal. Naturally he showed fans a little chemistry with his countryman Ilya Kovalchuk, which helped make his transition from the West Coast a bit easier; he also knew Adam Henrique, his teammate in Windsor (OHL) in 2008-09 and his roommate on the road now in New Jersey.
Watch as Loktionov first embarrasses Brayden Coburn and then Ilya Bryzgalov with this toe-drag/shot:
"He's a good young kid, he didn't play much in LA," Kovalchuk told THW at the end of the season. "They didn't give him much of a chance. Here, it seems like the coaching staff likes him and he can play in all different situations. He produces, which is the most important thing; he's smart, has good vision, and he can score goals. That's nice for us."
KOVY FOR SELKE
If we told you before the season started that the best penalty killer on the Devils would be named Ilya Kovalchuk, chances are you would have laughed and then closed the window and moved on to another website. We didn't think it was possible either but Kovalchuk was a constant threat on the PK and led the NHL in shorthanded goals with 4.
Kovalchuk made this shorthanded goal look easy:
We aren't quite ready to start the 'Kovy 4 Selke' campaigns (complete with buttons designed by our own Josh Smith), YET, but he has been eager to round out his game and to become more responsible defensively ever since the first day he arrived in New Jersey in 2010. A lot of that credit goes to former Devils coach Jacques Lemaire, who Kovalchuk learned a lot from. If you gave Kovy truth serum, he would likely admit he wishes Lemaire was still the Devils coach.
THE 9TH PICK IN THE NHL DRAFT
When NHL Commissioner Gary Bettman calls the Devils to the stage to announce their first round pick (in their home arena), there's a good chance you will hear super scout David Conte say something like this: 'With the ninth pick in the 2013 NHL Draft, the New Jersey Devils are proud to select Hunter Shinkaruk, Center, Medicine Hat Tigers.'
Here is THW's prospect profile of Shinkaruk by Andy Eide:
The Devils don't usually miss when they have top ten picks: John MacLean, Kirk Muller, Brendan Shanahan, Bill Guerin; and the jury is still out on Adam Larsson, but he looks like a keeper. You can expect that they will take the best player available (in their eyes) and he will be a large part of New Jersey's future successes or failures.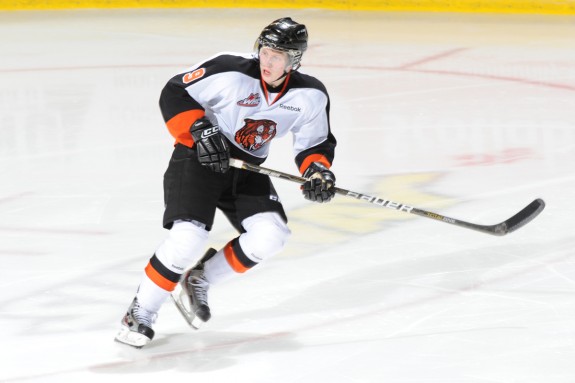 Whomever the New Jersey Devils choose with this draft pick, they had better hope he becomes really good because they will be forfeiting their first rounder next season as the final penalty for the Kovalchuk contract situation in the summer of 2010. We here are kind of hoping that this is the kid that New Jersey selects, just for the pure reason of being able to say/write about passes from Shinkaruk to Kovalchuk or vice-versa.
Dan Rice can be reached via Twitter: @DRdiabloTHW or via Email: drdiablo321@yahoo.com
Dan Rice is in his 9th year of reporting for THW & has covered NJ Devils home games for 15+ years at various websites. He began his journey working for legendary broadcaster/writer Stan Fischler from 2002-04 & completed an internship at the ECHL; he also has been writing features for the NWHL (nwhl.zone) website since 2016.