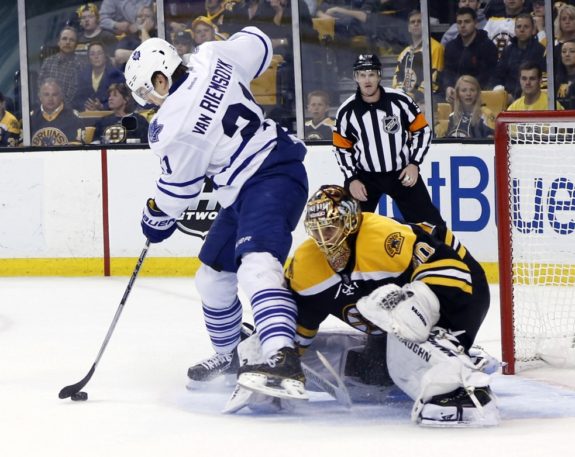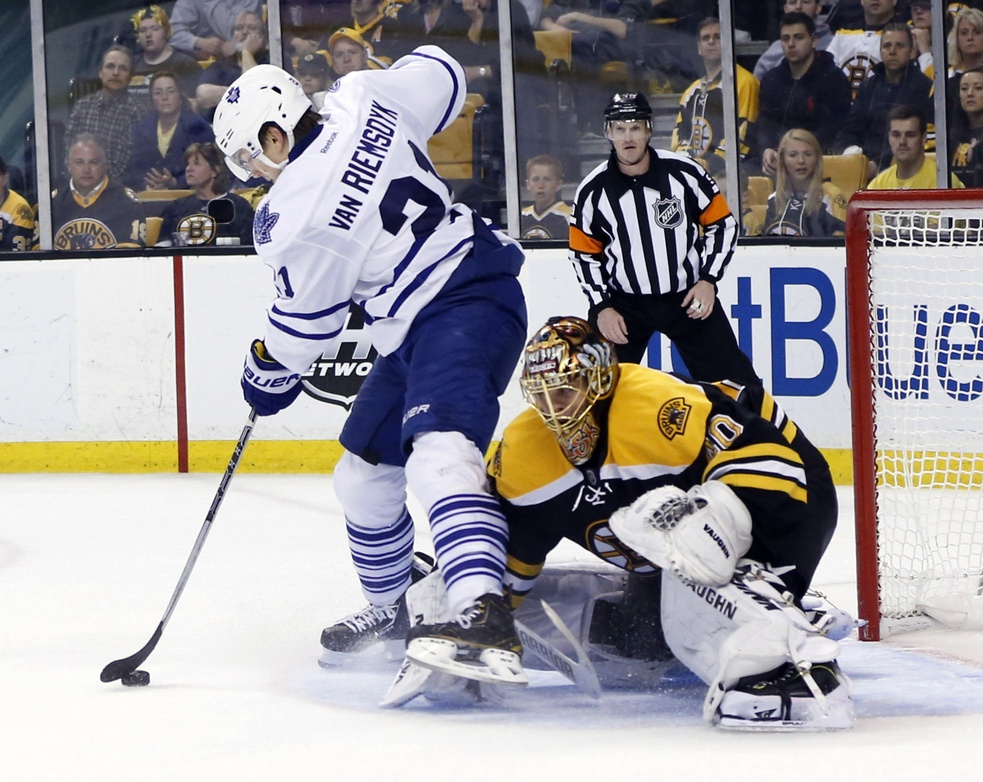 The Toronto Maple Leafs have captured the imagination of Leafs Nation during their first playoff appearance in nine years. Even though they head back to Boston with a monumental task of winning three straight in order to advance to the second round, there have been many positives in these playoffs.
The Maple Leafs have shown that they can handle the physicality and intensity of the post season. Since game one they have stepped up their emotional and physical response to the Bruins.
There have been no shortage of hits from Dion Phaneuf leading the team with 24 hits, to a player like Matt Frattin stepping up his game with 10 hits. The Leafs have not backed down and have shown they can play with the Big Bad Bruins.
Leo, You Drive Me Crazy…
Another positive has been the role of Leo Komarov in these playoffs. He has really gotten under the skin of the Boston Bruins. They are always looking for that extra shot on him and he does it in a way not to draw penalties himself. He is a very valuable type of player come playoff time.
Jake's Back
We have also seen some of the younger players emerge to a greater extent in these playoffs. Jake Gardiner has looked more and more comfortable as the series has gone on. It is also clear that Head Coach Randy Carlyle is trusting him more as well. Gardiner now has one goal and three assists in his three games. He is also averaging 22:15 in ice time per game, ranking him fourth on the team.
Hopefully he will be able to carry this experience into next season and become a full time NHLer.
Grabo's Emergence
Mikhail Grabovski finished the regular season with only 16 points in 48 games while averaging 15:34 per game. It appeared that his game had regressed, and there were those calling for the Leafs General Manager Dave Nonis to trade him and his bloated contract.
However he has been tremendous in this first round series. He has taken so many hits but he just keeps on coming. His tenacity and compete level has risen a great deal from the regular season. While the stats show only one assist and a minus five rating this does not tell the full story.
He has been a physical presence on the forecheck and has been very effective in causing havoc along the boards for the Bruins defencemen. His stat line shows only 10 hits but it is his speed to the puck that creates minimal time for the Bruins to think about their next move.
The affectionately nicknamed "Grabo" has also blocked five shots and Randy Carlyle has rewarded his higher level of play with 18:25 in ice time per game. That is an increase of nearly three minutes per game over the regular season.
JVR: In Front of the Boston Goal is his "Office"
I have also been very impressed with James van Riemsdyk. He is second behind Tyler Bozak in ice time among the Leafs forwards with 20:32 per game. He has been going to the net and has been rewarded with two goals and one assist in this series. He has amazing hands for a big man in tight of the net and his goal in game two was a thing of beauty. He is showing that he will be a solid top six winger for the Leafs in the seasons to come.
No Luongo, No Kipper, No Problem…
While James Reimer has not been spectacular by any means, his first playoff experience has shown that he has what it takes to handle the pressure of the post season. He is seldom rattled by anything happening during the post season, showing the poise required to be a good NHL goaltender long term.
His GAA is high at 3.33 but his save percentage has been respectable at 0.914%. He has put up these numbers while being extremely busy with an average of 40 shots on goal per game thus far. He has appeared to be tracking the puck well and looking around screens to see the shots coming.
Kessel Showing his Value
The last player that has truly impressed me is Phil Kessel. He has two goals (one game winner) and one assists thus far in the series. After his regular season with no points in four games against the Boston Bruins that is a great improvement for Phil.
His compete level has been high and his speed has been very evident in this series. He is getting his chances as well averaging four shots per game. Randy Carlyle has done a masterful job of getting Kessel away from Chara, even if only for a few minutes a night, it makes a difference.
Constantly the Bruins defence appears somewhat disjointed as Chara is having to jump over the boards whenever Kessel goes on this ice. This can take his teammates out of the game as they are focusing and looking for Kessel to come over the board and getting off the ice, rather than just focusing on their responsibilities on the ice.
Some want to see Kessel gone because of what he is not. He is not now, nor will her ever be, a Selke Trophy candidate. He is however an elite scorer with explosive speed and he has tremendous value in that role. The Leafs are lucky to have him.
Experience is Invaluable
Is this the Toronto Maple Leafs year to win a round in the playoffs? No. They should however have enough push back to bring this back to Toronto for a game six. The experienced gained in this first round against a tough opponent will be invaluable moving forward for all the Leafs.
It has also been great to see the response in Toronto to playoff hockey. The Air Canada Center has had a great atmosphere with 20,000 packing it every night. As well Maple Leaf Square just outside of the arena has been jammed full of bodies to watch the games on the big screen.
Finally we have playoff hockey here in Toronto and with the experience gained by the team this post season we should expect more next season.
Covering the Florida Panthers for The Hockey Writers. Women's Hockey news and statistics for Outlook Hockey.