The Tampa Bay Lightning return from the bye week with back-to-back contests against the Dallas Stars and Colorado Avalanche this weekend. With 26 games left to play in the regular season, they are six points behind the Toronto Maple Leafs for the last wild spot in the Eastern Conference playoff race.
The Lightning won three of their last four games leading up to the bye week — with victories over the Anaheim Ducks, Los Angeles Kings and Winnipeg Jets — but there are not shortage of questions Lightning general manager Steve Yzerman faces moving forward.
Here are five of the biggest ones he faces in the coming weeks and months:
Will the Lightning Make the Playoffs This Season?
While the Lightning have played better of late, arguably dating back to a six-game road trip that spanned from Jan. 13 to Jan. 26, the reality is that they face a tremendous uphill battle in order to earn a playoff spot.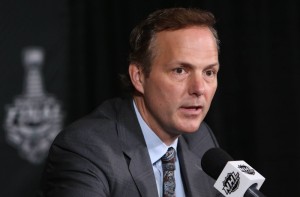 The Lightning have 57 points through 56 games this season and will likely need as many as 96 points to earn a sniff at the playoffs.  To put this into perspective, last year's team finished with 97 points and earned their third-straight playoff berth after their 80th game of the season — a close call, no doubt.
With 26 games left in the regular season this gives the Lightning the opportunity to earn 52 total points. To earn 39 points will be tough, but it's not impossible. They play 26 times in 51 days — a compacted schedule — but they are skating at Amalie Arena 15 times, including two separate four-game home stands. They are 14-10-2 at home this season, but will have to be much better at home down the stretch to stay competitive.
They have shown signs of being the team they have been in the past, but for one reason or another, one can't help but think it may have come too late.
Will Boyle be Moved Before the Deadline?
While a lot of the focus surrounding trade talks with the Lightning has involved Bishop's future, more recently some attention has turned to Brian Boyle.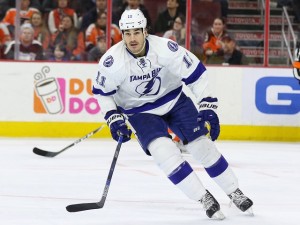 The 32-year-old center is in his third season with the team and his three-year, $6 million contact will expire this summer, making him an unrestricted free agent. His unique combination of size, leadership qualities and scoring touch make him a prime target for other teams in the league looking to add to their roster before the trade deadline.
In just 50 games this season, he's tallied 13 goals and seven assists — the same totals he had in 76 games last season. He's had great chemistry with Jonathan Drouin and Valtteri Filppula but more importantly, has been a player to turn to as a leader in the absence of Steven Stamkos and Ryan Callahan, each of which are out with long-term injuries. While Boyle has chipped in offensively, he's also a premier penalty killer — another skill that makes him a valuable commodity.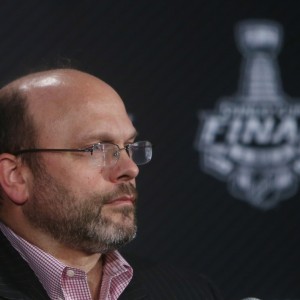 When Edmonton Oilers general manager Peter Chiarelli attended a game between the Lightning and Wild on Feb. 10, it helped fuel speculation that Boyle was a prime target for the Oilers. While he'd certainly be a good fit for the Oilers, it will take some real value in return to get Yzerman to bite. The cost to keep Boyle in Tampa is low (and will potentially need to be lower next season, given cap concerns), and from the player's perspective, he would likely want to stay here to play out his career if he can. His wife is from nearby Orlando and he's very involved with the Tampa Bay community off the ice.  That said, if Yzezman believes it's best for the team to make a trade now, perhaps he pulls the trigger.
Is it possible Boyle's moved now to play out the season as a rental somewhere and then returns to Tampa as an unrestricted free agent this summer if it's economically feasible?
Is Bishop Going to Play Out This Season in Tampa Bay?
It's a question that's been asked for many months now and one that still doesn't seem to have a clear answer.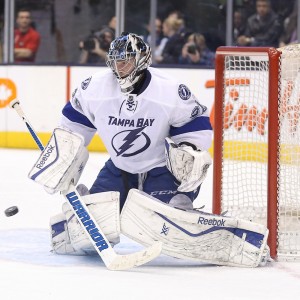 The 30-year-old netminder has arguably been the Lightning's most valuable player in the past three seasons. A two-time Vezina Trophy finalist, he was a major reason why the Lightning recovered from a slow start last season and managed make a deep run into the playoffs for the second straight year.
Bishop is set to become an unrestricted free agent this offseason and he earned $5.95 million this season — a figure the team simply can't afford right now — especially given that Andrei Vasilevskiy is waiting in the wings with a cap-friendly three-year, $10.5 million deal keeping him in Tampa through the end of the 2019-20 season.
He hasn't been himself at times this season, but has won his past three starts — posting one shutout and yielding just three goals — in what will seemingly play into his trade value if Yzerman finds a suitor. In a perfect world for the Lightning, they could keep both goaltenders, but a player like Bishop is the caliber of player it may take to find the top-4 defenseman the Lightning need. He's too valuable to lose for nothing this summer, absent a playoff berth this season.
With Drouin, Johnson and Palat set for Free Agency — Who Returns?
Drouin, Tyler Johnson and Ondrej Palat are each set to become restricted free agents this summer — one that also includes the NHL Expansion Draft and the uncertainty of next year's salary cap level.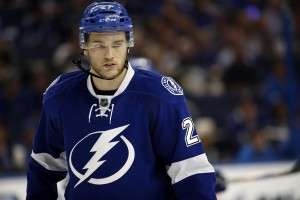 Each of these players will earn a big pay raise and have all been major parts of the Lightning. The harsh reality of today's financial landscape in the NHL, however, means keeping all three of these players is nearly impossible as it stands right now.
If Yzerman opts to protect seven forwards, three defensemen and one goaltender — the likely scenario in the draft — he will be forced to protect Stamkos, Filppula and Callahan (because of no-movement clauses).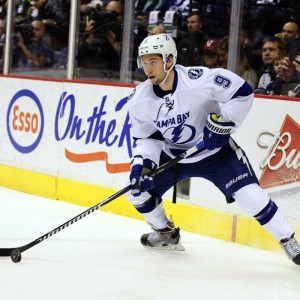 While it's possible Filppula could be moved before this season's trade deadline, or neither Filppula or Callahan are moved and each waives their NMC before the draft — allowing Yzerman to protect other, more likely picks — if they don't waive, it will create quite the scenario. The Lightning would be forced to protect just four of the following forwards: Drouin, Johnson, Palat, Alex Killorn, Nikita Kucherov, J.T. Brown and Vladislav Namestnikov.
If it's four of those first five names only, who is the odd man out?
The Lightning have a number of gifted forwards in their system — whether in the American Hockey League or juniors — so is it possible a player like Johnson is moved to make way for younger, cheaper alternatives at his position? All three of these players has been praised by head coach Jon Cooper at one point or another, but it's possible that Yzerman sees no other alternative financially than to move whoever is the most valuable asset he would have to expose in the draft.
Will Stamkos Play Again This Season?
Unless the Lightning are in the playoff picture when Stamkos heals up, it's seems possible that he doesn' play at all this season. It's important to note, however, that there's nothing indicating right now that he won't play this season.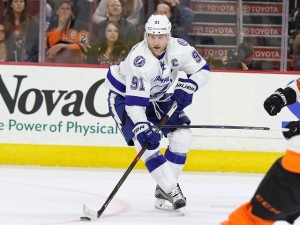 At just 27-years-old, he's shown the ability to heal up and return quickly from injuries in the past, but with an injury as serious as a lateral meniscus tear in his right knee, it doesn't make a lot of sense to rush back if it's a non-playoff season.
It's something the Lightning and their training staff have probably thought a bit about, given the circumstances.
After suffering the injury on Nov. 15, the initial prognosis was four-to-six months — which put him on pace for a mid-March return, in a typical best case scenario. At the time he went down, no one could have foreseen this sort of season for the Lightning, which makes this all the more plausible.
If the Lightning are still in the mix and Stamkos is healthy, it would give them quite a boost — on and off the ice — to have their captain back, but otherwise, it would give him some reps at game speed and little more. Recently, Wild forward Zach Parise — who suffered the same injury in Nov. 2010 — said he wasn't back to feeling 100% until the following Christmas after his surgery.
Obviously you need to play at game speed to get back to full strength, but his long-term health will be what continues to guide the timing of his return.
Looking Ahead
There is no way around it — Yzerman is in a tough spot (again). The Lightning are not mathematically out of the playoffs, although the odds are against them. Playoff berth or not, Yzerman is focused, as he's always been, on the long-term future of the organization and that's what makes right now hardest of all.
There are no shortage of questions Yzerman is facing, but these are some of his most pressing of all. Regardless of what happens on the ice, the answers to many of these will come in the next few weeks and will each have lasting effects one way or another.