Manny Malhotra salvaged a career that was supposed to be lost in Carolina this season. He contributed on the back six, and earned himself a nomination for the Masterson Trophy. With the Rangers playoff success Dominic Moore is most likely the lock for the Masterson Trophy. Even without the trophy, Malhotra can chalk up the season as a success and the unrestricted free agent has more reasons to be brought back by the team then just the nomination.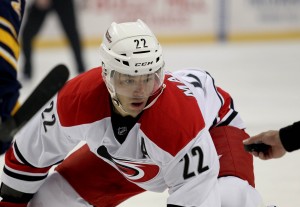 1) Bottom Six Depth Separates Good Teams from Bad
You can't be a successful team in the NHL without having four solid lines that you can throw out to eat decent minutes in the playoffs. The Rangers and the Kings both platooned four lines with those bottom six guys producing enough to allow for the star players to shine. If the Hurricanes want to be successful next year they are going to need their back six to take some pressure off of the Staal brothers, Skinner, and whoever else the team puts in the top six. Malhotra will give a veteran player that plays a gritty, smart style of hockey that can help push the team over the edge in a playoff race. Malhotra will be a strictly fourth line center. He won't put up a lot of points, but he is a better option on the fourth line then most teams have. He also will play his role without the ego of asking for more time, or wanting the puck on his tape more then he should.
2) This is a Small Salary Team
Malhotra was signed to a two-way deal last year for around $600,000.  He is an unrestricted free agent this year, and he deserves a raise. Signing him for a one-way deal for one year won't kill the teams salary. He is a veteran player they can get for cheap (most likely less than $1 million) and a deal for $700,000 will pay for itself if Malhotra lives up to the play from this past season. The Hurricanes can model the contract after the Craig Adams contract with the Pittsburgh Penguins. Adams makes $700,000 a year and that's more than enough for Malhotra. I argue that Malhotra brings more than Craig Adams since he is vastly superior in face-off ability.
3) Face-offs are really Important
Having someone you can put on the ice in any situation to win a face-off is always a good player to keep on your team . Last season he took 952 total face-off, and won 566 of them giving him a 59.5 face-off percentage. When you got a fourth line center that you can put out to win an important face-off in a close game, you got something most teams don't have. Not much persuading here, face-offs are important, and Malhotra is proven in that department.
4) Penalty Killers are Necessary in the Division
You got to score when you have a power play, and you have to kill when you are facing a power play. The 'Canes are in a division with teams like Pittsburgh, and Philadelphia who have great power play units. They need to shut down those power play units and having good penalty killers will help that. Malhotra is one of those leadership guys you can throw on the ice during penalties who won't try to do too much, and will sacrifice the body to stop a goal. Veteran leadership on the penalty kill will be important in pushing the team to have a successful season.
5) Character and Leadership Will Go a Long Way
The Hurricanes may lose some of the old veteran regime this off season. With a lot of young players the veteran leadership on this team will be important. Malhotra is a character guy who will lead by simply playing the role he is meant to have on the team. He's not going to lead the way with 40 goals, or tons of beautiful assists.  He will give you the gritty fourth line minutes giving a break to the younger more exciting players on the team. The Masterson nominee is a player that can give the 'Canes a calming veteran vibe to a team that is looking to climb to the top of one of the most dangerous divisions in the NHL.