The Calgary Flames have had a fairly high amount of roster turnover this offseason. Add a very solid draft to the equation and you have what has been a fairly exciting but frustrating offseason for Flames fans. Brad Treliving still has more to do considering Oliver Kylington is currently a restricted free agent, but any further moves — barring a shocking trade — would likely be minor ones. Now, let's take a look at what Treliving has done so far in the offseason. 
Connor Zary and Yan Kuznetsov
In the 2020 NHL Entry Draft, Treliving had an eventful first night as he traded down twice. He started with the 19th-overall pick, traded it for the 22nd- and 72nd-overall picks before flipping the 22nd pick for the 24th- and 80th-overall picks. Once they reached the 24th-overall selection, though, the Flames selected Connor Zary of the Kamloops Blazers.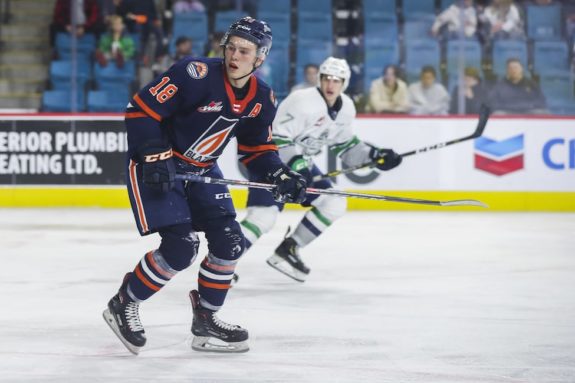 Despite moving down twice, a couple of off the board picks by the New Jersey Devils and Columbus Blue Jackets softened the blow in player quality at 24th compared to 19th, and the Flames were able to get a player who likely would've gotten consideration if they hadn't traded down anyway. Treliving showed great asset management with these two moves by essentially adding two additional picks without losing much value at all.
In the second round, the Flames selected defenseman Yan Kuznetsov from the University of Connecticut. (from 'Sacrifices pay off for Flames second-round selection Yan Kuznetsov,' Calgary Sun, 10/08/2020) Selecting Russians high in the draft is typically a risk, as many of them opt to stay in the KHL if they go that route. However drafting a Russian player who has already made the jump to the North American game is a very smart idea as it allows them to adjust prior to playing at the professional level, and it also prevents any drama of trying to bring them over. As soon as Kuznetsov is done in the NCAA, it should be easy to bring him into the organization.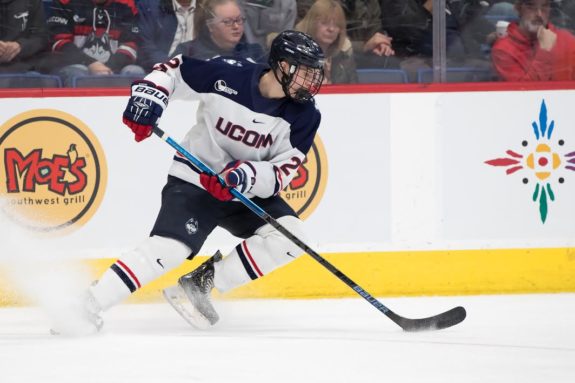 On the ice, Kuznetsov is a big-bodied defenseman with little offensive upside it seems like. While big, stay-at-home defensemen can be very useful, there is also a major risk when it comes to adjusting to the professional game as many of them fail to keep up. Kuznetsov has decent skating ability, though, so more than likely that shouldn't be an issue in the long run.
Jeremie Poirier, Jake Boltmann, and Late-Round Picks
Countering the Kuznetsov pick, the Flames added a smaller (albeit, not much smaller) offensive defenseman in Jeremie Poirier with the 72nd-overall pick. He has the potential to be a massive steal in the third round as he was projected by most to be a second-round pick, but some analysts even believed he was a first-round talent.
Just a few picks later, another defenseman was selected 80th overall, but this time it was the right-handed Jake Boltmann. Right-handed defensemen who make it to the NHL have very high value, so this could end up being another steal for the Flames depending on how he develops. Boltmann is likely the hardest to project so far as he only recently started playing in the USHL and previously had been in the high school hockey ranks. We'll almost certainly be able to see his potential ability much better once he starts playing with the University of Minnesota in the NCAA.
In the fourth round, they selected goaltender Daniil Chechelev from the Russian MHL. With the remaining picks, the Flames added forwards Ryan Francis and Rory Kerins as well as Belarussian defenseman Ilya Solovyov.
Final Draft Grade
Overall, the Calgary Flames had a very strong draft and with Treliving's asset management they added a couple additional players who could have an impact at the NHL level in a few seasons. I'd give this draft class a solid B+ at this point in time, mainly because I do think Kuznetsov is a bit of a risky pick for the second round. However, he certainly can become a solid NHL-level player with the correct development.
Departures and Jacob Markstrom
The Flames lost quite a few players to free agency on Oct. 8, albeit many weren't impact players, nor were they in the long-term plans. However, there were still a few big players who were lost in free agency. The biggest is undoubtedly T.J. Brodie and other notable names include Mark Jankowski, Michael Stone, Erik Gustafsson, Cam Talbot, Travis Hamonic and Tobias Rieder. While a couple of those players, namely Hamonic and Stone, are still on the market, it's very unlikely either are brought back to Calgary.
The first big free-agent signing for the Flames was Jacob Markstrom who will be a much better option in net than Cam Talbot was and will likely force David Rittich into a backup or 1B type of role going forward. The biggest concern to me with the Markstrom deal is the term — the salary is fair but there's always a large amount of uncertainty when it comes to goaltenders.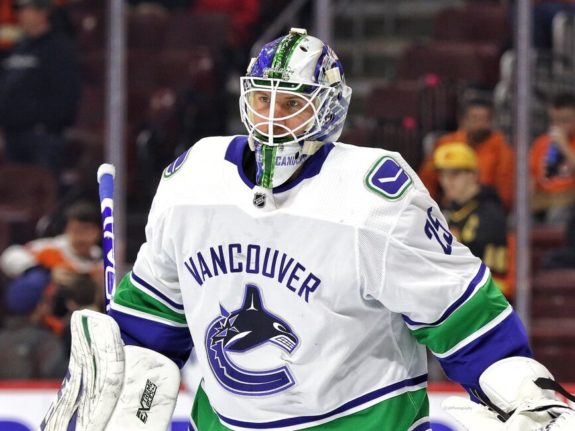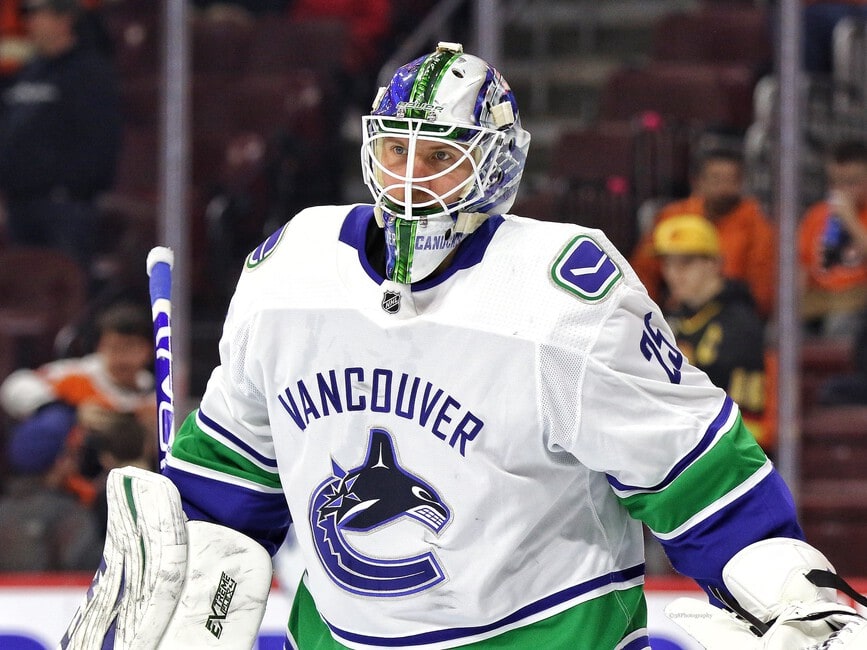 Cory Schneider, former New Jersey Devils goaltender, is a recent example of why it's dangerous to give goaltenders a long-term contract. He was a great goaltender for a few seasons and landed his big seven-year contract in 2014 with an average annual value of $6 million. He had a strong 2015-16 season following that contract, but he fell off quickly afterward, which led to him being bought out earlier this offseason.
Schneider fell off when he was nearly 30 years old, which would put him in the same age range as Markstrom is currently. It's tough to see him putting up the type of numbers that will keep him as a useful player for the next six years. Of course, there is always a chance that he can continue a strong level of play for the entire contract, but it will certainly be a wait and see situation. 
Chris Tanev and Depth
Treliving attempted to fill defensive holes by adding Chris Tanev to the mix, but he's another player who seems to be a massive risk to have on a long-term contract. He's a solid stay-at-home defenseman, but signing him for four years is certainly a risky contract. With that being said, if he does end up falling off, it's likely that it would only be one or two seasons of being stuck with the contract, so this term works fairly well.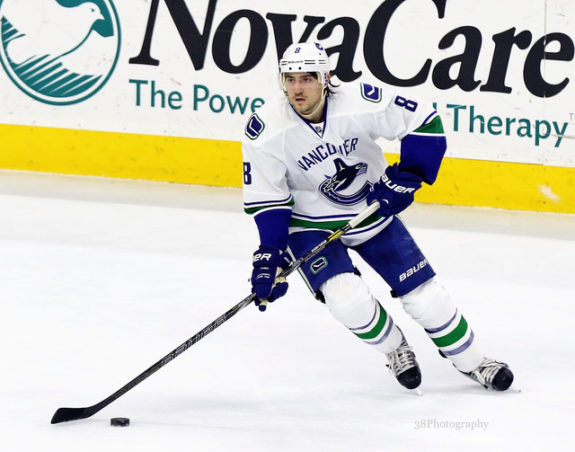 Tanev is certainly a downgrade from Brodie, but he does bring a strong defensive game to the right side of the blue line. Tanev isn't likely going to bring the level of offense that Brodie contributed, but he was around the same level offensively last season. Tanev is a more direct replacement to Hamonic, though, and he's definitely an upgrade.
Treliving also added a few depth options with Alex Petrovic, Joakim Nordstrom and Louis Domingue, which will certainly help in a tightly scheduled season. Depth will be more important than ever and the Flames are in fairly good shape in that regard. However, I wouldn't be surprised if he attempts to add a few more depth options just in case. Glenn Gawdin was also signed to a one-year contract extension and he will more than likely make the jump to the NHL this season to replace Jankowski going forward. Andrew Mangiapane's extension also has the potential to be a major steal within a few seasons as he looks to continue to develop.
Current Free Agency Grade
Overall, I would give the Flames a B for the free agency period. Adding Markstrom and Tanev are huge for helping keep the team competitive going forward, but the term on Markstrom's contract makes it a very risky one. On top of that, Tanev is a downgrade from Brodie. It will be a good opportunity to give some younger players an elevated role going forward, but it certainly leaves the team in a tough position for the upcoming season.     
---
---