At the press conference that followed the team's playoff elimination, Calgary Flames general manager Brad Treliving identified a few deficiencies in his National Hockey League club. Among the reasons that the Flames were dispatched in five games by the Anaheim Ducks were that the Ducks had more depth up and down their roster, and were able to get pucks out of their zone and keep the Flames hemmed in for stretches.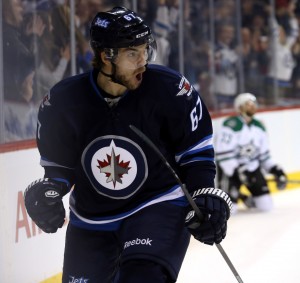 Over a series, the Ducks wore the Flames out physically and eliminated them from the post-season.
Over the course of a week, Treliving has managed to go a long way towards fixing those deficiencies.
Before the first round of the NHL Draft, Treliving moved three draft picks to land Dougie Hamilton, and signed him on June 30 to a very manageable six-year contract with a $5.75 million reported cap hit. He followed that move by signing winger Michael Frolik to a reported five-year deal with a $4.3 million cap hit. Along with the re-signing of goaltender Karri Ramo to a one-year contract, the deals go a long way towards shoring up Calgary's depth in three important ways.
First, the moves give Calgary some scoring depth. The Flames had six players amass 40 points or more this season. Those players were the top forward line of Sean Monahan, Jiri Hudler and Johnny Gaudreau, and the defensive trio of Mark Giordano, T.J. Brodie and Dennis Wideman. Outside of Wideman, who saw his career-high numbers powered by power-play time and a pretty great shooting percentage, that group represents Calgary's top line-up. You throw your best defenders against them, and avoid taking penalties, and you can shut them down. Add in Frolik to the top six, presuming alongside some combination of rookie Sam Bennett and two-way maven Mikael Backlund, and suddenly you have a forward group with some potency and depth. Add in Dougie Hamilton, perhaps alongside Kris Russell, and suddenly Calgary's defensive group has two strong pairings – and that's ignoring how potent Wideman could be at even-strength when moved away from other teams' top lines.
Second, the move improves Calgary's defensive play. Both Hamilton and Frolik are players that the advanced statistics community really values because they move the puck out of their own zone and up the ice, and they make their teammates more effective as a result. Treliving specifically mentioned the team spending way too much time defending in their own zone – something which really tires players out over the course of a game and throughout a season. When Hamilton was acquired, Treliving mentioned "puck retrieval" as one of the newcomer's biggest assets. Adding Hamilton and Frolik to a group that already includes some strong puck possession players like Backlund and T.J. Brodie can only help the club over the long term.
Speaking of the long term, the third big thing these moves for the organization is give them options. Right now, the Flames have momentum and money to spend in terms of available cap room. At the end of the 2015-16 campaign, the following key players will be looking for new deals:
Goaltender Jonas Hiller, the team's starting netminder
Defenseman Mark Giordano, the team's captain and best player
Defenseman Kris Russell, the team's most reliable defensive defender
Forward Sean Monahan
Forward Johnny Gaudreau
Forward Jiri Hudler
The majority of these players will be getting big raises. Adding Hamilton and Frolik on long-term deals gives the Flames a salary structure on which to base these future deals, as well as gives them some options in the event they wish to move an expiring contract at the trade deadline at the end of February.
Do these moves make the Calgary Flames a Stanley Cup contender? Definitely not. But with the Flames riding high after a very positive 2014-15 season, these smart, calculated transactions give the team the opportunity to continue to ride that momentum, rather than trapping them in salary cap jail now or in the near future.