It's been spoken and written about often, but in the game of hockey size isn't everything. While the rules have changed over time and that's allowed different types of players to succeed at different times, one thing has always been true: offensive talent is always in demand. In the case of the Calgary Flames, they've been a club that covets talented players both large and small. That said, the Flames had an awful lot of success accumulating tiny, talented players over the years and some of the players that have made the biggest mark on the franchise have been some of their smallest.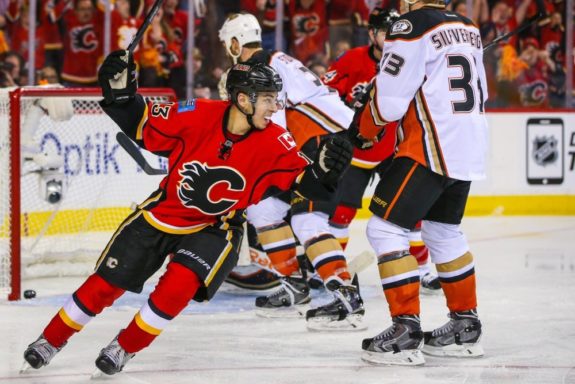 Here's a brief look at some of the small guys who've made the biggest impact for the Flames.
The Run-and-Gun '80s
The Flames moved to Calgary from Atlanta and ascended the NHL's power rankings during the run-and-gun 1980s. Teams played defense only in a nominal sense, players were big and strong and fast, and goaltenders wore small equipment. If you were a smaller player who could skate around the big guys, you could put up some serious offensive numbers. Three players exemplified this approach.
Arguably the first great Swedish player in the NHL, Hakan Loob (5'9″, 178 pounds) came to the Flames in the ninth round of the 1980 NHL Draft. He was lured over to North America by Flames general manager Cliff Fletcher for the 1983-84 season and immediately became known as an impact offensive player. He became the first Swede to score 50 goals, hitting that milestone in the 1987-88 season, and he won a Stanley Cup in 1988-89. His Cup-winning season was his final one in the NHL, as he returned home to play for his hometown team in Farjestads and spend time with his family.
One of the first great American-born college products, Joey Mullen (5'9″, 180 pounds) was acquired by the Flames in a trade with the St. Louis Blues in 1986 – the Flames got Mullen, Terry Johnson and Rik Wilson for Charlie Bourgeois, Eddy Beers and Gino Cavallini. The move paid off, as the Flames went to two Cup finals with Mullen on their roster – wining it all in 1989. Mullen played three very productive full seasons in Calgary, with his worst offensive output being 36 goals and 69 points. He was traded to Pittsburgh for a second round pick at the 1990 NHL Draft.
The Clutch-and-Grab Years
The game changed in the early 1990s. Player equipment became larger, especially on goaltenders, making it harder for smaller players to score or even survive in an NHL that was becoming known as the Land of the Giants. In what's also been referred to as the "Dead Puck Era," a reflection of the lack of scoring league-wide, a couple pint-sized Flames products ended up becoming producers. Unfortunately for the Flames, one of them blossomed away from Calgary.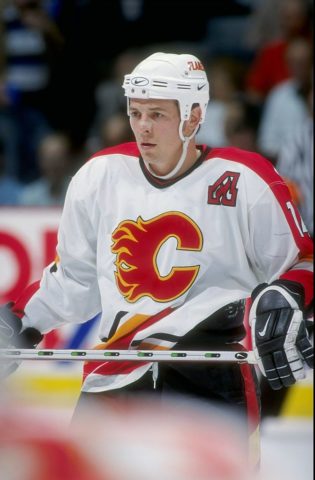 Theoren Fleury (5'6″, 175 pounds) may be one of the most unheralded success stories in NHL history. Drafted in the eighth round of the 1987 NHL Draft, with the thought that he might become a draw for the Flames' IHL affiliate in Salt Lake City, he was recalled to the team in December 1988 to produce some energy and never left. He won a Stanley Cup as a rookie in 1989 and retained the type of combative, living-on-the-edge playing style that made him successful in the Western Hockey League. He served as team captain and leading scorer for a few years, until economic pressures led to a trade to Colorado in February 1999 – a deal that gave the Flames Robyn Regehr, who'd eventually become their preeminent shutdown defender.
Martin St. Louis (5'8″, 175 pounds) joined the Flames organization roughly a year before Fleury was traded away. A very productive college player with the University of Vermont, perhaps Flames management thought he would be a suitable replacement for Fleury. St. Louis wasn't a world-beater right away, splitting time between the Flames and their minor league team for two seasons before the team decided to cut bait and try other options for offense. The Tampa Bay Lightning signed him instead and he found his scoring touch, going on to play over 1,000 games and score over 1,000 points.
The New NHL
Following the 2004-05 lockout – an event preceded by St. Louis' Lightning beating the Flames for the 2004 Stanley Cup championship – the NHL's rules drastically changed. While it was still a land of big bodies, obstruction penalties such as hooks, holds and trips began to be called with a renewed vigor – opening the door for some smaller players to come out and play.
Veteran winger Mike Cammalleri (5'9″, 185 pounds) was arguably the first prominent smaller Flame of this era. Acquired by the Flames at the 2008 NHL Draft in a trade for a first rounder, Cammalleri was a point-per-game player and scored 39 goals for the Flames during his single-season stint. He left the organization as a free agent, but was re-acquired a couple seasons later in a mid-season trade from the Montreal Canadiens. He was a little bit less productive, but he still scored consistently and was a dangerous presence on the power play.
Paul Byron was acquired from the Buffalo Sabres at the 2011 NHL Draft in a swap that sent Regehr to Buffalo. He had been a promising fringe body for the Sabres, bouncing between the NHL and AHL but never quite sticking. With the Flames he became a useful bottom-six player, a fixture on the penalty kill and an absolute marvel at generating breakaway opportunities (but not at finishing them). Faced with a roster crunch and juggling three goaltenders, general manager Brad Treliving put him on waivers to open the 2015-16 season with a hope that he'd sneak through in the glut of waiver submissions. The gamble backfired and Byron was claimed by the Canadiens, where he's become a productive middle-six player.
The Flames acquired another smaller forward at the 2011 Draft, selecting USHL scorer Johnny Gaudreau in the fourth round. After three seasons with the NCAA's Boston College Eagles he went pro and he's since become established as one of the NHL's most dynamic, productive offensive players.
Small Guys On The Horizon
The Flames have two more smaller forwards in the pipeline who could, with some time and some luck, potentially become NHL contributors.
Andrew Mangiapane, Mike Vecchione and Thatcher Demko have been named CCM/AHL award-winners for the month of October.https://t.co/hYn34PzLTS pic.twitter.com/qALPHvmwK6

— American Hockey League (@TheAHL) November 1, 2017
2015 sixth round pick Andrew Mangiapane (5'10", 180 pounds) was a productive OHL scorer, hitting the 100-point mark twice. His size scared teams off in his first year of draft eligiblity, and allowed the Flames the snag him late in 2015. Since his selection, he has posted a 50-goal, 100-point junior season and had a successful first pro season in the AHL. Early in his second AHL season, he's among the league leaders in scoring. He's stylistically resemblant of Byron in the sense that he mucks around in the corners and doesn't rely on time and space to create offense.
2016 sixth round pick Matthew Phillips (5'7″, 150 pounds) is a Calgary native and product of the WHL's Victoria Royals. Selected in his first year of draft eligibility, he slid to the sixth round despite scoring over a point per game. His first post-draft season saw him become one of the WHL's leading offensive players, with 50 goals and 90 points. He's averaging nearly two points per game this season and scored at least one point in each of his team's first 17 games of the season. He's a bit more like Gaudreau in terms of relying on his speed to create distance from opposing players in order to make plays.