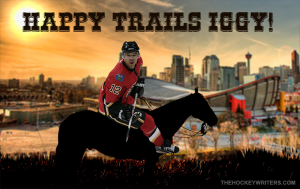 The Jarome Iginla Trade is in the books. Announced late Wednesday night in Calgary – and in the wee hours of Thursday morning for the rest of North America – the Calgary Flames traded captain Jarome Iginla to the Pittsburgh Penguins for college forwards Kenny Agostino, Ben Hanowski and a first round pick in the 2013 NHL Entry Draft.
The Iginla trade gives the Flames more prospects in their system and gives the team a bit more size in the pipeline. Hanowski is a senior at St. Cloud State University and will be done school following the NCAA's Frozen Four Tournament in early April. Agostino has one more year of college left at Yale University. Both players join a stable of Flames college prospects that include 2012 first round pick Mark Jankowski, 2011 fourth rounder Johnny Gaudreau and 2012 third round pick Jon Gillies.
The announcement came on the heels of a game that was, to be blunt, somewhat of an afterthought. With Iginla announced as a healthy scratch prior to the game, many of the fans in the Scotiabank Saddledome intermittently chanted "Iggy" during the contest and rumours circulated on Twitter and in the media that Iginla was going to Boston for a package that included prospects and a conditional draft pick. The Flames came away with a 4-3 home win – their eighth win at the 'Dome in a row – but improving their record to 13-15-4 likely didn't significantly change the team's playoff fortunes, or making dealing Iginla to a contender less tantalizing for Feaster.
Feaster shared that the process involved three teams negotiating for Jarome Iginla's services – teams that were named on a list that Iginla submitted of places he would accept a trade to – and began during the Flames' disastrous three-game trip through California during early March that ultimately toppled the club's fledgling playoff hopes.
"The final decision was made this evening," noted Feaster. "Ultimately it all came together during the game tonight. I seem to be developing a penchant for trades during games. I think we did the Cammalleri trade during a game. Again, that's not the way I'd write it up or draw it up, but that's the way it transpired. Literally it was just tonight."
Feaster noted that he has not spoken to either of the players the team acquired, noting that both of them are preparing for key games in the NCAA national championship tournament.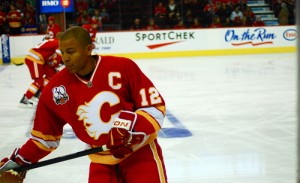 "We have not had a chance to do that yet," shared Feaster. "I felt that I was pushing it enough having to wake people at the NHL Central Registry office to do the trade conference call tonight at the hour that it is on the east coast."
It was noted that, with both acquired players being in college, the Flames will be recalling a player from the AHL's Abbotsford Heat to fill Iginla's roster spot. The move drops the Flames down to 48 professional contracts (of their limit of 50) and may give the team some flexibility heading into a trade deadline Feaster characterized as being busy for his club.
Ultimately, though, Feaster conceded that it was the team's lackluster performance in recent years that prompted the team to explore trading away their franchise player.
"I told Jarome, I said, 'this is not why I came to Calgary, to be the guy that traded Jarome Iginla.' I came because I wanted to win a cup with Darryl [Sutter] as the GM and Jarome as the captain," said Feaster.
Following the announcement of the trade, Feaster expressed appreciation for Iginla allowing the team to move him – particularly when the player had a no-trade and no-movement clause in his contract. Rather than lose their captain to free agency for nothing, the team that he played with for his entire pro career was able to swap him for future assets, while Iginla himself gets a chance to chase that ever-elusive Stanley Cup.
"We as an organization owe a tremendous debt of gratitude to Jarome," said Feaster. "Not only for what he did for the franchise during his tenure as a player here, and as our captain, but also for the fact that now.. As we recognize that despite our best efforts and despite the work that we've put in, we've fallen short of the goals we have set for ourselves as an organization, and in recognizing that, recognizing that it's time that we move on to another chapter, and we respect very, very much the fact that Jarome worked with us to enable this to come about."
Ryan Pike has covered the Calgary Flames and the NHL Draft extensively since 2010 as a Senior Writer for The Hockey Writers and Senior Contributing Editor of FlamesNation.ca. A member of the Professional Hockey Writers Association, he lives in Calgary.