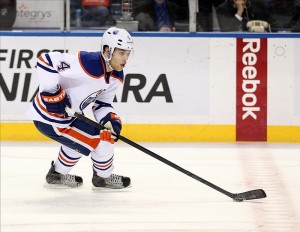 What does the typical hockey fan want to see from their favorite team? A deep playoff run followed by years of inconsistency? Or a perennial contender who has a chance every season. Everyone dreams of their team winning the Stanley Cup. But building a successful franchise doesn't have a clear blueprint. Developing high level prospects and hanging onto them is obviously a good start. Piling up a lot of young talent so that you can make important trades when the time is right helps too. The Oilers are doing both of those things.
Some teams give their fans hope. Others leave people wondering when they will ever turn things around. Consider the Columbus Blue Jackets. They don't have any "superstars", but they have  a great group of players who have bought into the system, are playing well together and are clearly over-achieving this season. They have benefited from outstanding goaltending by Sergei Brobovsky, but many wonder when this Cinderella story will end.
Consider the Calgary Flames. They have struggled mightily the past few seasons. They very likely will be forced to trade their franchise player Jarome Iginla. They don't have a lot of top tier prospects in their organization, and not a lot of hope for immediate success.
Now consider the Edmonton Oilers. They are lacking consistency. They look like world beaters one game, and under-achievers the next. But make no mistake. The talent on this team is among the best in the league. Just watch closely when guys like Jordan Eberle and Taylor Hall go to work. They are gaining experience, they're learning how to fight through adversity, and though sometimes they're frustrating to watch, there is an immense level of skill on this team.
You can't rush a players development. You can't force a team to have chemistry or accelerate their development. You can't control when injuries or illness occur. Therefore you simply can't predict when a team will find success, or how quickly they will reach that next level.
Consider the New York Islanders. They have some talented young players in their line-up. Watch John Tavares for a bit -and you'll see some world class talent. The speed of Michael Grabner is mesmerizing.  The hard-work and soft hands from Matt Moulson makes him the kind of player every team wants. They have accumulated a lot of first round draft picks over the years. But it has yet to materialize into a playoff appearance.  They are in the race this season, but it will still be a tough climb.
Now, a fan of a struggling team might read all that and feel very discouraged. They see the trade deadline approaching and hope that their team makes some kind of significant move. Sports is a results based business. But you can't always measure those results in wins and losses. The Oilers are growing. They're learning. They are starting to gel as a unit, and that will only make them stronger.
So who, if anyone, should the Oilers be targeting at the trade deadline? They have a lot of veteran voices in the locker room, they have a lot of skilled forwards. They acquired some grit when they traded for Mike Brown earlier in the season. But what about goaltending? The price for Roberto Luongo or Ryan Miller might be too high. The Kings would probably ask a lot for Jonathan Bernier. The Ottawa Senators might be looking to unload one of their three goalies. If so, maybe the Oilers might consider that route.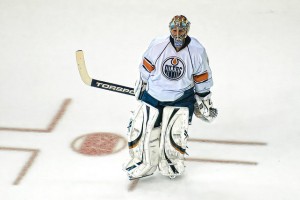 There have been rumors that defenseman Ryan Whitney is on the trade block. With an expiring contract and improved play as of late, it's hard to say what sort of return he may fetch. Nikolai Khabibulin will not likely re-sign. A team looking for some security in net for a playoff run may be asking about him.
The Oilers have no need to sell the farm or give up a lot to make a playoff push. But there are probably a few minor deals that may help this club for the future. And make no mistake that future is bright. It might not be showing so much this season, but the Oilers have great things ahead. The key now is to give them some time to get there.
Marcy, a former hockey player, is a hockey correspondent on CTV News and TSN radio. She began her career as a Sports Journalist in 2009 and has been part of The Hockey Writers since 2010, where she is currently a senior writer and editor.