The 2020-21 season has been an interesting one in all hockey leagues around the globe. Due to the COVID-19 pandemic, many seasons were forced to start late, while some outright cancelled. By now, however, the majority of leagues have resumed play, meaning many of the Calgary Flames top prospects are back in action. Here is a look at a few who have had notable seasons so far.
Sidenote: I elected to not include those who have gotten in NHL games this year, which explains why players like Glenn Gadwin and Conner Mackey were left off this list.
Pro Prospects
Matthew Phillips (2016 6th round, 166 overall)
Heading into the 2020-21 season, many thought that 22-year-old Matthew Phillips had a shot at cracking the Flames' opening-game roster. Obviously that did not happen, but the undersized winger may get his shot soon.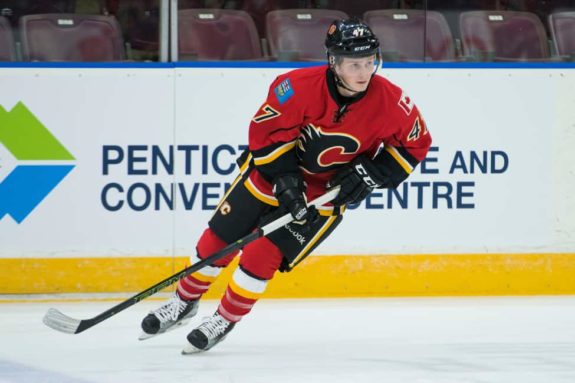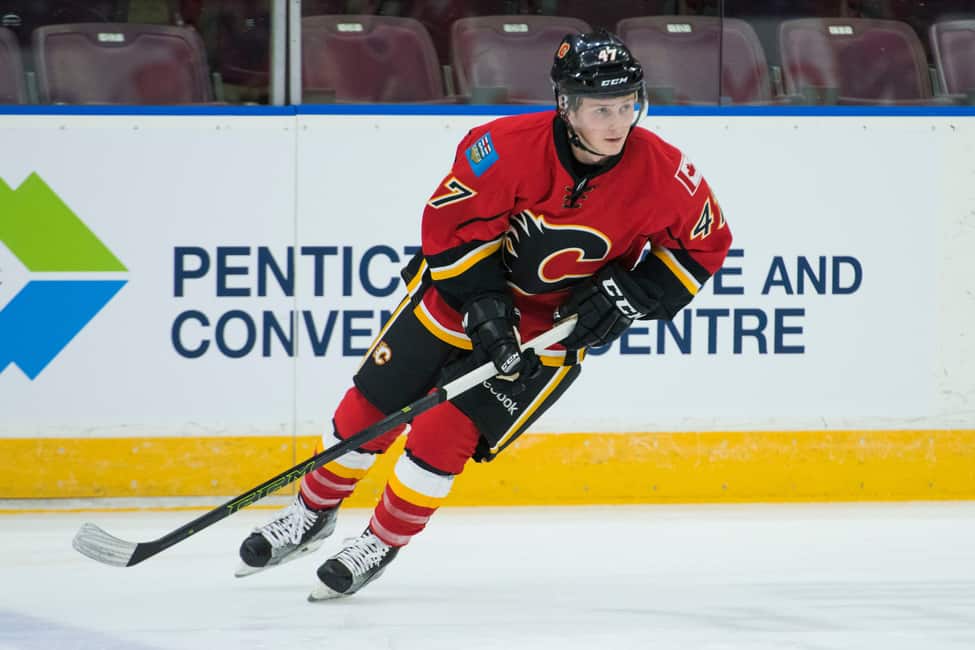 Last season, which was his second in the AHL, Phillips put up an impressive 15 goals and 33 points in 38 games. While the Stockton Heat are just five games into the 2020-21 season, he has so far picked up right where he left off last year with a goal and five helpers. Given that the Heat are playing out of Calgary this season, he may get an opportunity to play some NHL games in the near future.
Adam Ruzicka (2017 4th round, 109 overall)
The 2019-20 season felt like somewhat of a letdown for 6-foot-4 centerman Adam Ruzicka. Many had hoped the talented Slovakian forward would be able to find his scoring touch right away at the AHL level, but that wasn't exactly the case. The now 21-year-old struggled at times last season, and ended the season with 27 points in 54 games.
Early on this year, Ruzicka appears much more comfortable at the professional level. Through five games with the Heat, he has as team leading five goals and nine points. If he is able to continue like this, he will find himself jumping way up on the Flames' depth chart, which would be huge for the team given his massive frame. Like Phillips, he may get an opportunity in the near future if he keeps this up.
Martin Pospisil (2018 5th round, 105 overall)
Much like Ruzicka, Martin Pospisil also struggled in his first season as a pro in 2019-20. He was limited to just 26 games due to injury and failed to get much going offensively when he was healthy with just three goals and 10 points. However, the one thing that was noticeable about him was his toughness, as he had 56 penalty minutes (PIMS) on the season, which wasn't too surprising given the fact he recorded a ridiculous 253 PIMS just two seasons prior in the United States Hockey League (USHL).
The 21-year-old Pospisil, who like Ruzicka is both a centerman and from Slovakia, appears more comfortable with the Heat this season. Through five games, he has one goal and three assists while still maintaining his physical play with 27 PIMS. He was also able to get in some playing time before joining the Heat this year, suiting up for 22 games with Kosice HC in the Czech league where he had nine goals and 17 points.
Emilio Pettersen (2018 6th round, 167 overall)
Though Emilio Pettersen is just five games into his professional career, Flames management has to be thrilled with what they see so far. The 20-year-old, who is known as the "Norwegian Gretzky," has a goal and two assists with the Heat. Unlike the others listed above, he isn't likely to receive any NHL playing time this season as management will likely want him to continue to adjust to the professional game in the AHL for the time being.
Still, this start is catching the attention of many, who hoped that after two impressive seasons with the University of Denver he would be able to pile up points with the Heat, and so far, so good. He will be an interesting player to keep tabs on for the remainder of the season.
Dmitry Zavgorodniy (2018 7th round, 198 overall)
One very intriguing prospect the Flames have in their system is 20-year-old Russian forward Dmitry Zavgorodniy, who they took late in the 2018 NHL Entry Draft. He spent the previous three seasons in the Quebec Major Junior Hockey League (QMJHL), where he put up very impressive numbers, capped off with last season's 29-goal, 67-point output in just 40 games.
The 2020-21 season has marked his first as a pro, and with the AHL season delayed, he headed over to the KHL to play for St. Petersburg SKA. While he only suited up for six games, he played quite well, registering three assists. He is now with the Heat but has failed to get on the scoresheet through the team's first five games. There were questions surrounding how his scoring would translate to the professional level, so it will be intriguing to see how he does this season. Regardless, he is very young and has time to figure things out.
Johannes Kinnvall (undrafted)
Some Flames fans may be unfamiliar with the name Johannes Kinnvall as he was never drafted and has yet to play in North America. The Swedish defenceman signed an entry-level contract with Calgary in April 2020 and is expected to head overseas for the 2021-22 season. He has the potential to compete for an NHL spot next season too, as he is playing very well right now for HV71 Jonkoping in the SHL with seven goals and 22 points in 29 contests.
Junior/College Prospects
Dustin Wolf (2019 7th round, 214 overall)
With the Western Hockey League (WHL) having yet to start, goaltender Dustin Wolf was able to suit up for three games with the Heat recently. Flames fans eagerly awaited for this to happen as the 19-year-old has the potential to be an NHL starting goalie in the future. His first game as a pro was a disaster, to put it lightly, as he allowed five goals on just 11 shots before being pulled.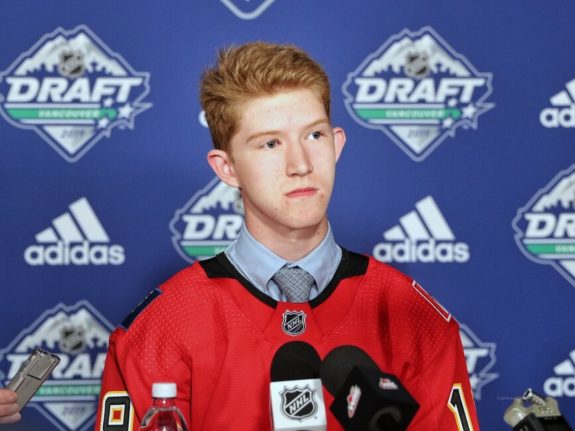 Thankfully, the following two starts went much better, as he allowed just three goals on 57 shots combined and made multiple highlight-reel saves in the process. He was sent back to the Everett Silvertips of the WHL this week as the season is set to get underway, and will look to improve on his incredible 1.88 goals against average and .935 save percentage from 2019-20.
Connor Zary (2020 1st round, 24 overall)
Like Wolf, Connor Zary was able to get some AHL games in this season with the WHL season being delayed. Despite just having being taken in the most recent draft and only being 19 years old, Zary fit right in with the Heat, posting two goals and three assists in five games played.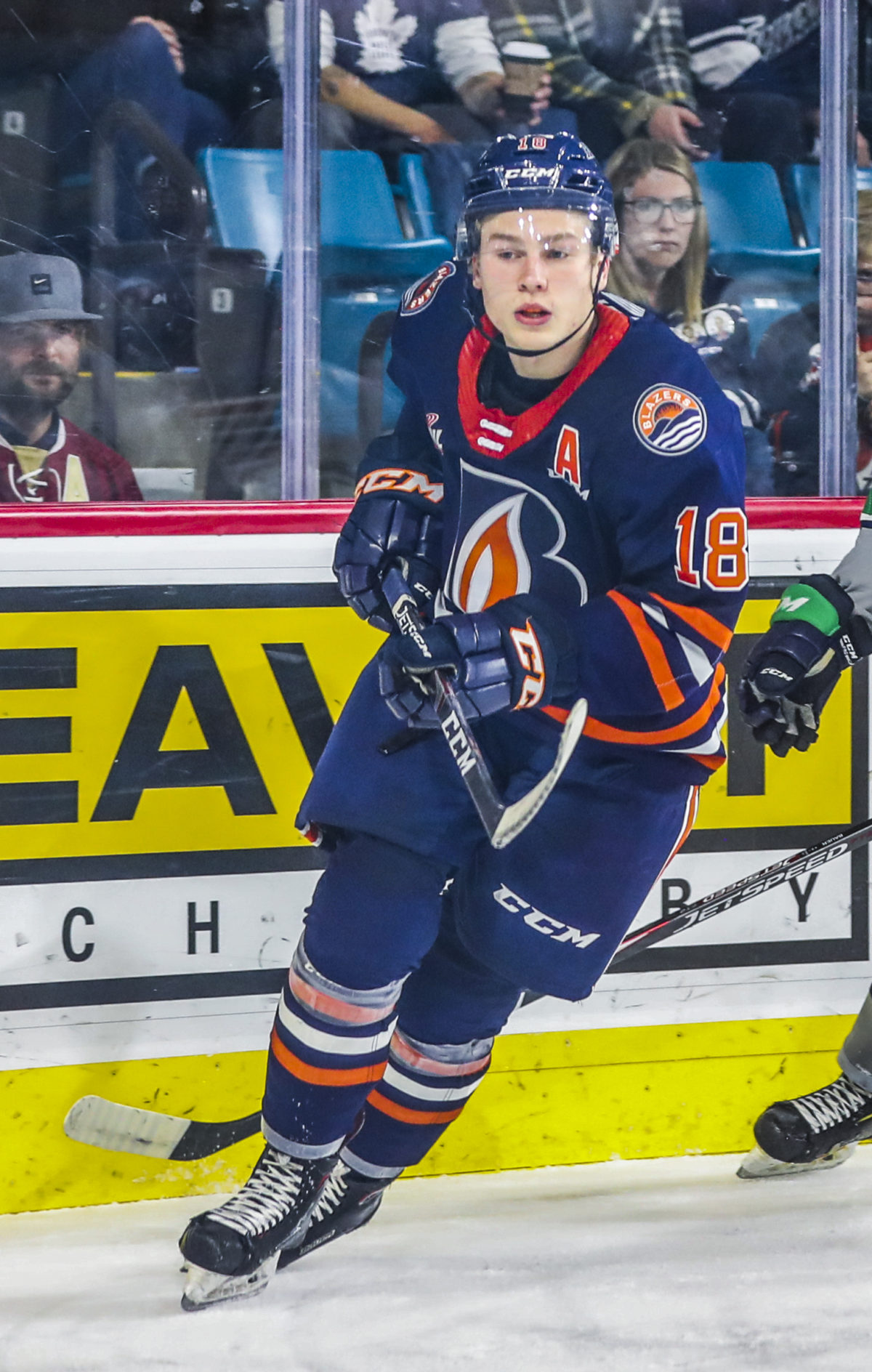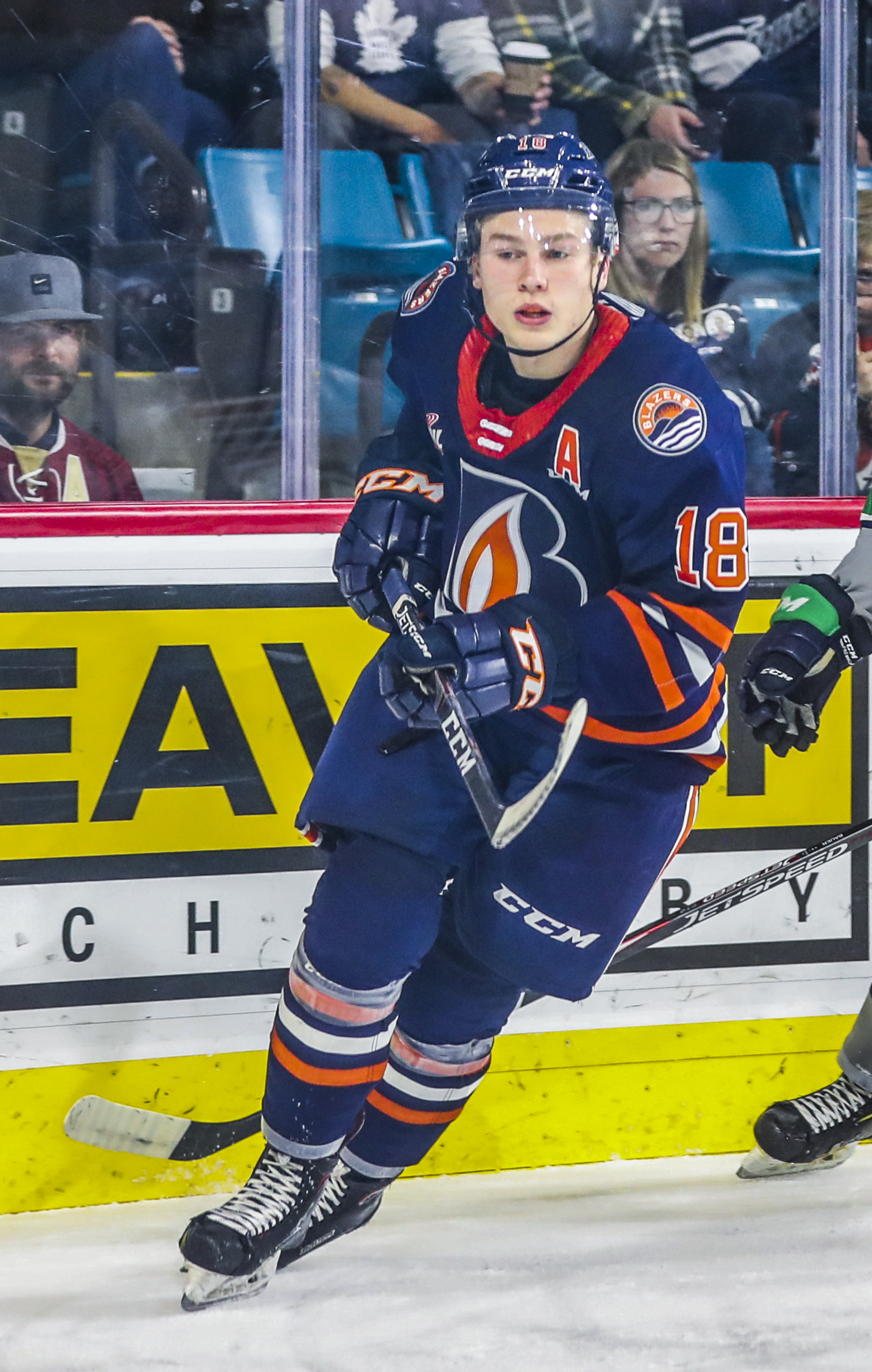 As mentioned above, the WHL season is getting underway soon, which means Zary will soon be reassigned to the Kamloops Blazers. In 57 games last season, he had 38 goals and 86 points. On top of his short stint with the Heat, Flames fans were also able to watch him at the 2021 World Juniors where he had two assists in seven games for Team Canada.
Jakob Pelletier (2019 1st round, 26 overall)
Unlike Wolf and Zary, Jacob Pelletier wasn't able to make his pro debut this year as the QMJHL's season is already roughly 30 games in. The talented 19-year-old had spent the past three seasons putting up many points for the Moncton Wildcats, but is now with the Val d'Or Foreurs after a trade this past offseason.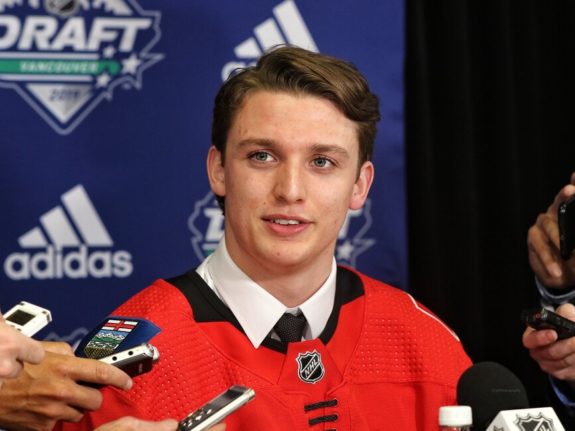 In 19 games so far, Pelletier has seven goals and 30 points. While the goal total is lower than expected after 39 and 32 goal seasons, the point total has more than made up for it. He was also able to play for Team Canada at this year's World Juniors, and was one of the team's most productive players with three goals and seven points in seven games.
Jeremie Poirier (2020 3rd round, 72 overall)
One of the most exciting and talked about picks the Flames had at the 2020 Draft was Jeremie Poirier. While the 18-year-old has first-round talent, he has been described as lackadaisical at times, and has many deficiencies in the defensive zone. Still, there is no denying his raw talent, particularly offensively as proven by his 20-goal, 53-point 2019-20 season for the Saint John Sea Dogs in the QMJHL.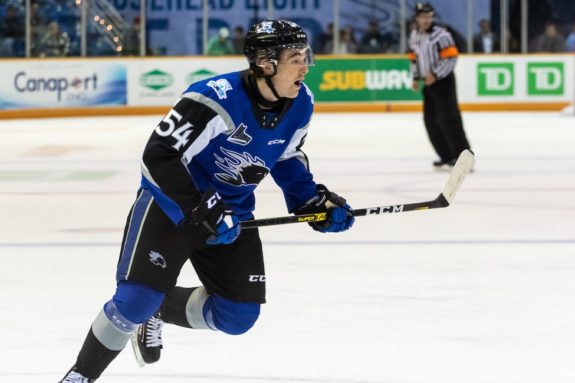 The one major thing that stood out regarding Poirier's stat line last year was his plus/minus, which was minus-25 by the time the season was finished, and a shockingly bad minus-41 the season prior to that. So far this season, he is making large strides in that area while still being able to maintain his great offensive play. Through 15 games this season, he has five goals and 16 points and is just a minus-three. Sure, that is still not ideal, but certainly an improvement from the prior two seasons. He is without a doubt the biggest wildcard prospect the team has, and one that should be fun to track over the next few years.
Ryan Francis (2020 5th round, 143 overall)
While Ryan Francis isn't a very talked about or well-known prospect for the Flames, that may soon change. Teams shied away from him in the 2020 Draft due to his small stature of 5-foot-9, 176 pounds, but the Flames elected to take a chance on him in the fifth round. The numbers certainly prove just how skilled he is, as he put up 24 goals and 72 points in 61 games with the Cape Breton Screaming Eagles in the QMJHL last season.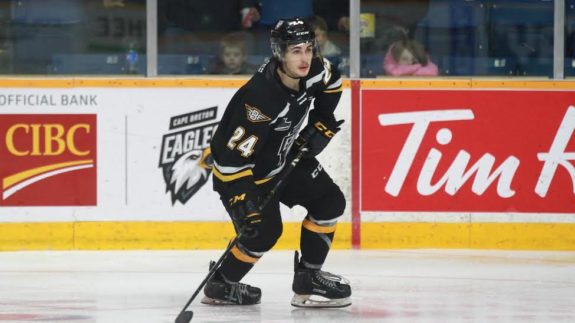 As mentioned above, the QMJHL season started up earlier than most other leagues, meaning Francis has already got some game action in this year. Through 15 games with Cape Breton, he had nine goals and 21 points, but was recently traded to the Saint John Sea Dogs. He is currently still in his 14-day quarantine, but will be able to make his Sea Dogs debut soon. For the Flames, he remains very much a project at this point, but the talent level is clearly there.
Yan Kuznetsov (2020 2nd round, 50 overall)
Another 2020 draft pick by the Flames who is having a solid start to the 2020-21 season is Yan Kuznetsov. They picked up the massive 6-foot-4, 210-pound Russian defenceman in the second round after his freshman season with the University of Connecticut. The offence wasn't there for him last season with just 11 points in 34 contests, though that wasn't surprising given the fact he was playing college hockey at just 17 years old.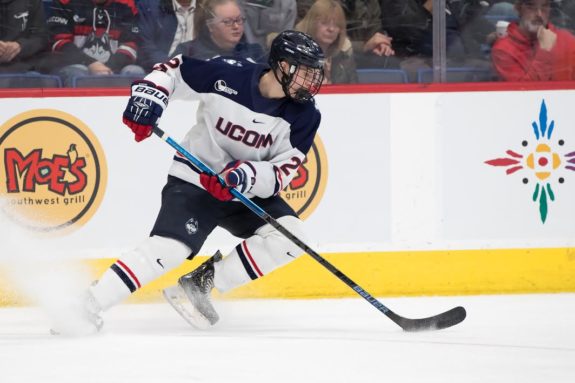 This season, the now 18-year-old has improved his entire game in a big way, particularly offensively where he has six points in 14 games. Flames fans were able to watch him play for Team Russia at this year's World Juniors, though he was held pointless in seven games. He is still years away from making an impact at the NHL level, but is certainly on the right track as of now.
Foundation of Youth
As this list shows, the Flames have many prospects who are off to great starts this season. The teams scouting staff certainly deserves their fair share of credit here, as many of the players listed here were taken in the mid-to-late rounds, and appear to have bright futures ahead of them. With these prospects, along with a few others who weren't mentioned, the future appears to be pretty bright for the Flames.
---
---