Marc-Andre Fleury has long been one of the NHL's most consistent and successful goaltenders.
In fact, since he entered the NHL in the 2005-06 season, Fleury has played in an incredible 632 games, 613 of which starts and have all come with the Penguins. In that stretch of time, Fleury's 353 wins are third best in the entire NHL, trailing only fellow star net-minders Henrik Lundqvist and Roberto Luongo.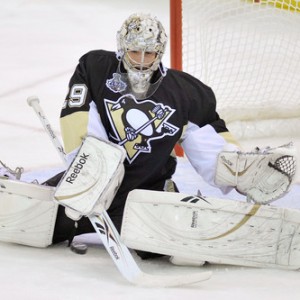 Oh, he's also won two Stanley Cups and is a two-time All-Star.
With such an incredible resume, most NHL goaltenders would be cemented in place within their team's respective roster. However, for the man affectionately referred to as 'Flower', his time in Pittsburgh could soon be coming to an end despite more than a decade of loyal service.
Fleury's potential departure from the Penguins is in no way ability related, but instead due to the breakout play of rising young star Matt Murray, who in his first year in the NHL led Pittsburgh to a Stanley Cup Championship. Realistically, he should have also taken home the Conn Smythe as Playoff MVP.
As such, Fleury finds himself on the outside looking in.
With an Expansion Draft looming and Murray surely to receive the vast majority of starts in 2016-17, trading Fleury is a virtual guarantee for the Penguins, the only factor left to determine is exactly where the skilled net minder will play next season.
One ideal suitor could be a team at the polar opposite of the NHL spectrum, yet one with which Pittsburgh and General Manager Jim Rutherford are highly familiar: the Toronto Maple Leafs.
A Vibrant Trading History
An oddity in the modern-day NHL, the Penguins and Maple Leafs have a long history of making trades despite residing in the same Conference.
The Phil Kessel trade was of course the most recent and likely most significant trade the two teams have made, and is one which has still yet to pay off for one team in the equation. Further deals between the two clubs have included Daniel Winnik, in February of 2015, Alexei Ponikarovsky in 2010, and Hal Gill in 2008.
As such, a potential deal between the two teams would be anything but a surprise, especially given the current states of both franchises.
Why the Penguins Should Trade Fleury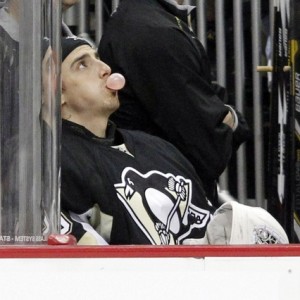 It isn't rocket science to understand why the Penguins will keep Murray as their starting goaltender over Fleury, especially so given his incredible playoff performance in 2016.
At just 22 years of age Murray has a tremendous amount of hockey ahead of himself. Sure, he will only have 13 games of regular season NHL experience in hand when the 2016-17 season gets underway, but the fact that he was named the American Hockey League Goaltender of the Year in the same season he was named the AHL Rookie of the Year as a 21-year-old illustrates the fact that Murray is incredibly confident and consistent in his game at the professional level.
Further, with an expansion draft looming, given his experience, the Penguins will in fact need to protect Murray from selection, meaning that Fleury would be available to be drafted and taken from Pittsburgh for no return.
Currently carrying a $5.75 Million cap hit per season, shedding Fleury's contract would also open up a number of new options for the Penguins in coming seasons, as the team is already projected to come in above the salary cap in 2016-17 while holding a number of UFA and RFA contracts in 2017-18, one of which being Murray's.
One interesting factor in particular with Fleury's contract is his modified no trade clause, which allows him to name 18 teams he would accept a trade to.
Maple Leafs are the Ideal Trading Partner
As we have seen, the Maple Leafs and Penguins have a history of making deals, and that familiarity could come into play when shopping Fleury. While numerous teams have likely called about the net minder, the Calgary Flames being one of them, the Leafs could in fact be the best place for Fleury to continue his NHL career, and there are a few reasons why.
Playing Time
Above all else is playing time. By no means would Fleury be happy backing up Murray for the considerable future, and a deal to the Maple Leafs would ensure Fleury receive a considerably greater amount of playing time.
Quite obviously the Leafs already hold onto Jonathan Bernier, but as we witnessed in the 2015-16 season, whether or not Bernier can be a full-time starting NHL goaltender remains incredibly vague. He has long struggled with his consistency, and even spent a portion of last season in the AHL with the Toronto Marlies.
If acquired, the Leafs could feature a rotating goalie system, one similar to that of the Dallas Stars, who happened to be fairly successful in 2015-16 using two goaltenders. Ideally, Fleury would get the majority of starts, and in doing so would help to push Bernier into finding his game again at the NHL level.
The time until Fleury's contract expires would also allow the Leafs to continue their hunt for either a blue-chip goaltending prospect or young start with potential.
Finances
Secondly, there is the Maple Leafs' financial situation. As the 2016-17 season approaches, the Leafs currently have just over $7 Million in available cap space. Fleury's current contract, as previously mentioned, carries a cap hit of $5.75 Million per season, and is set to expire following the 2018-19 NHL season, at which point Fleury will be 34 years-old.
As such, the Leafs would certainly be able to take on Fleury's contract, especially so if they were able to rid themselves of a similar contract in the deal – Tyler Boak could be an option, as he too will be in a tight spot given the Leaf's prospect movement.
A Good Fit
Above all else, Fleury in Toronto would simply be a good fit. Fleury has a wealth of experience at the NHL level, as well as in the Playoffs, where the Maple Leafs hope to be in the near future. His presence would provide a calming, reassuring presence in-goal, allowing the Leafs' up and coming prospects to focus on developing a sound, two-way game.
Surely Fleury won't be the goaltender to lead the Leafs to the Playoffs and into the Stanley Cup Final, but his presence would be beneficial in the development of the players who will one day hope to reach the Finals.
What Would it Take?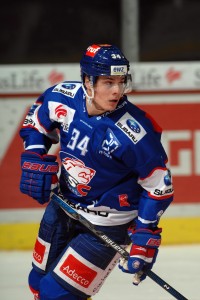 With all things considered, what would it take for the Leafs to land Fleury?
Because the Penguins are looking for suitors, Fleury's value immediately dips. The Leafs are quite obviously in a re-build, and as such would like to hold onto the vast majority of their prospects, so in all likelihood Toronto would need to give up a current roster player in return.
As mentioned, Tyler Bozak could be an option. The Leafs have Mitch Marner, and soon Auston Matthews, projected to be their franchise number-one and two centre-ice men for years to come. With Nazem Kadri locked up to a six-year contract extension in April of 2016, the Leafs appear set down the middle and would do well to move Bozak while his value is still high and contract retains term.
Adding Bozak (and potentially other pieces) to their roster in return for Fleury would be a great move for the Penguins too, as it would add even greater depth to their lineup while slightly reducing their financial commitments. Pittsburgh would be strengthened for a repeat Cup run.
Whether or not all of this happens of course remains to be seen, however there are clearly benefits for both teams were the deal to be made. Regardless, Fleury remains a highly skilled goaltender who deserves an NHL starting job. The Leafs may not be the most popular suitor, but they would be an extremely good fit for Fleury considering his current situation, as well as that of the Penguins.