It's the calm before the inevitable storm. Everyone expects the Rangers to be among the busiest teams this summer as they attempt to retool on the fly. They have a number of issues to address and have indicated a desire to make changes. The feeling is that the first move they make will queue an avalanche of transactions which will drastically reshape the roster. Until then though, nothing but deafening silence.
Like any Rangers fan, I've followed the latest news, rumors and innuendo trying to figure out what the team might actually do. I've also formulated my own ideas what management should do to again reach the Stanley Cup Finals. In fact, I've written, rewritten and rewritten again.
So much is up in the air at this point and this is Jeff Gorton's first real opportunity to shape the roster the way he wants. As much as I want to be realistic with my plan, it's hard to do so when you have no clue what the management team is thinking. Regardless, this is the result of my efforts: a five step plan to fix the Rangers.
Step 1 – Buyout Dan Girardi
Yes, the long-term cap ramifications of the buyout are tough to swallow. But the team will save $3.75MM for 2016-17 and $2.75MM against the cap in 2017-18. If the Rangers fancy themselves as contenders for the Cup, they need to bite the bullet now and take advantage of the near-term savings. They can't seriously consider keeping Girardi around, fingers crossed that it was injuries and not regression that caused his performance to fall off a cliff. Not if they want to win in the next couple of seasons.
Step 2 – Trade Nash to Anaheim for Cam Fowler
Ducks GM Bob Murray has his sights set on a left-shooting LW, and preferably one of "high quality." Nash certainly fits that bill as he can line up on either side of center. It's likely Anaheim will look to add that LW via trade using one of their young blue liners. After re-signing Sami Vatanen and with Hampus Lindholm next up, one candidate the Ducks could move is Cam Fowler.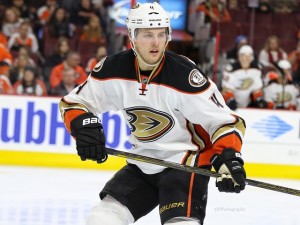 Fowler would be a welcome addition to New York. With Keith Yandle all but certain to depart as a free agent, Fowler would help replace his skill and puck handling. The Rangers would have to retain part of Nash's salary, perhaps $2MM. That would lower the Ducks salary cap commitment to $5.8MM while the Rangers would be on the hook for $6MM in each of the next two seasons. That seems equitable enough.
Losing Nash isn't ideal but the club placed 8th in goals scored last season despite getting just 15 goals in 60 games from the veteran winger. The Blueshirts boasted five players who topped 20 goals this season and it's likely Nash's days as an elite goal scorer are in the rearview mirror anyway. The offense should be just fine sans Nash, getting by with a balanced attack like they did this year. Where they may miss him the most is on the penalty kill.
Step 3 – Sign Jimmy Vesey
Yes, it seems Boston and Toronto would have the inside track to secure the services of the much-heralded Vesey. Boston is home while Vesey's father is employed as a scout with the Leafs. But it wouldn't be the first time the Rangers surprised the field and pilfered a top prospect from the college ranks. At least one person close to Vesey thinks the Rangers have a chance at the winger.
Granted, we have no way of knowing how much Vesey can contribute to the Rangers right away. It took Hayes half his rookie season before he became a consistent producer. But after trading so many recent first-round picks and prospects trying to win the Cup, signing a player with Vesey's pedigree helps inject needed young talent into the organization. Nashville thought highly enough of the player to forgo pursuit of a top-six forward at the trade deadline with the idea that Vesey would sign and be that guy. Maybe the Rangers luck out and Vesey is NHL-ready from day one. Anyway, it's worth a shot.
Step 4 – Re-sign Stalberg
Stalberg had a strong first season with the Rangers, averaging 1.31 Pts/60, good enough for 10th among team forwards. He was also one of the team's better possession players with the sixth best SAT% Close at 49.52%. To top it off, Stalberg had a propensity for drawing penalties, placing third on the squad averaging nearly one minor drawn per 60 minutes.
The key is what it will cost to bring him back. While his size, speed and skill would all be welcome, a new deal needs to be team-friendly. If he's willing to return on a one or two-year contract under $2MM per then it should be an easy negotiation. However, if his camp wants to "Benoit Pouliot" the Rangers, the team should walk away from the table.
Step 5(a) – Sign Kyle Okposo or Frans Nielsen
The four previous steps, combined with sending Tanner Glass and his cap hit to Hartford next year, would net the Rangers some precious cap space. By my figures, and with Pavel Buchnevich and Jimmy Vesey joining the club, the Blueshirts will have about $20MM available with eight forwards, five defensemen and two goalies under contract. It would be tight but they could target one big-ticket free agent and still have enough left to get their RFA's locked up to reasonable deals and flesh out the roster. Under that scenario, the Rangers should target Islanders winger Kyle Okposo or center Frans Nielsen.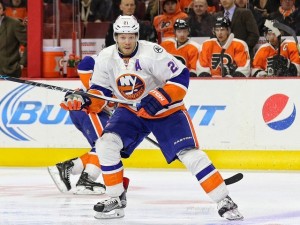 Okposo would be the preferred target, as he is four years younger than Nielsen and a more prolific scorer. In this scenario Okposo would replace the scoring depth lost with Nash on the move. His 2.72 P/60 rate at five-on-five over the last three seasons ranks 18th in the NHL among players to appear in at least 180 games. For comparison sake, Derek Stepan and Nash led the Rangers over that time frame averaging 2.48 and 2.47 P/60 respectively. That's why he'll be expensive to sign in free agency. Reports suggest he' looking for $7MM per and at that price I'm not sure the Rangers can make it work. But for $6MM annually, maybe it's a different story.
Signing Okposo would also add a much-needed RH shot to the forward ranks. Aside from Derek Stepan and Jesper Fast, the Rangers have no other right-shooting forwards. Okposo would help balance out the unit.
Step 5(b) – Nielsen
Nielsen would add depth at the center position and allow the Rangers to keep Kevin Hayes on the wing. He can play in all situations, including the penalty kill, and would potentially allow Alain Vigneault to find better matchups for Derek Stepan and Derick Brassard. At 32, Nielsen would be in line for a shorter term and a lower AAV than Okposo which might make him more appealing to the Rangers.
The End Result
This plan leaves the Rangers younger than the squad that the Penguins blew out in the playoffs. Subtracting Dominic Moore, Glass, Eric Staal, Nash, Dan Boyle and Girardi and replacing them with Vesey, Buchnevich, Oscar Lindberg, Okposo, Skjei and Fowler lowers the average age of the club's skaters by more than three years. It's also easy to argue that the new group of Blueshirts would be quicker and more skilled.
Would this club be good enough to hoist the Cup next June? Of course we'll never know unless this lineup ever takes the ice together. But they would be better positioned to do so.