Aleksander Barkov and Jonathan Huberdeau have both missed significant time this year due to injury. In fact, there were concerns that the pair who ranked third and fourth, respectively, in team scoring last season, could miss the remainder of the 2016-17 campaign. Then, to the surprise of everyone, the duo returned to action Feb. 3, slotted alongside familiar right-winger Jaromir Jagr.
Once again, the Florida Panthers blindsided the hockey world. Is there any team more fun?
Top Line is Top Priority
Psychological mind games aside, this line is critical to the Panthers' success. The Panthers rank second-last in the National Hockey League shooting percentage at 6.12 percent. They are 26th of 30 teams in goals for. Their power play ranks third-last (15.1 percent) behind such league heavyweights as the Arizona Coyotes.
These numbers are very poor for any team, let alone the Atlantic Division champions from last season. Getting 48 goals and 118 points back in the lineup, full stop, will obviously help matters, though the reunion of the Huberdeau-Barkov-Jagr unit will perhaps be even more helpful. Case in point, the trio has produced five goals and five assists in their three games together.
Since the beginning of the 2014-15 season, the Florida Panthers have rolled out Huberdeau, Barkov and Jagr more than any other line combination – 25 percent more, in fact. If that time frame bothers you for some reason, it's probably because Jagr didn't actually arrive in South Florida until the 2014-15 trade deadline. Combined with this season's injuries to both Barkov and Huberdeau, this stat is no longer merely interesting; it's downright unbelievable.
But let's kick it up a notch: since 2014-15, the Panthers' top line is 13th in the entire NHL for time spent together. When one considers their only full season together – 2015-16, the trio ranks third. The line has produced 3.45 goals per 60 minutes of ice time, while only giving up 1.79, meaning Huberdeau, Barkov and Jagr generate nearly two goals for every one scored against them by the opposition. I dunno about you, but I like those odds.
Reunion Tour or One Night Only
Okay, so the band is back together then? Great, huzzah, let the bells ring out! For now, anyway. Jagr will be 45 this week and, while still a productive player, one has to wonder how much he factors into the Panthers' long-term plans – or if the Panthers factor into his.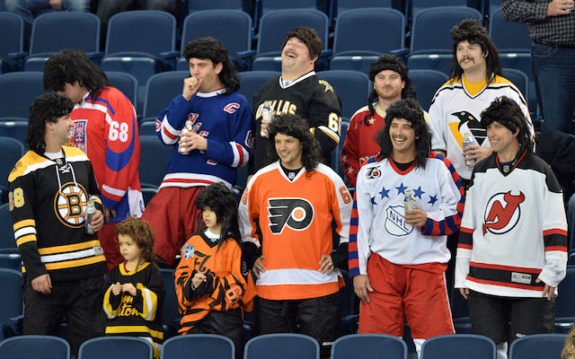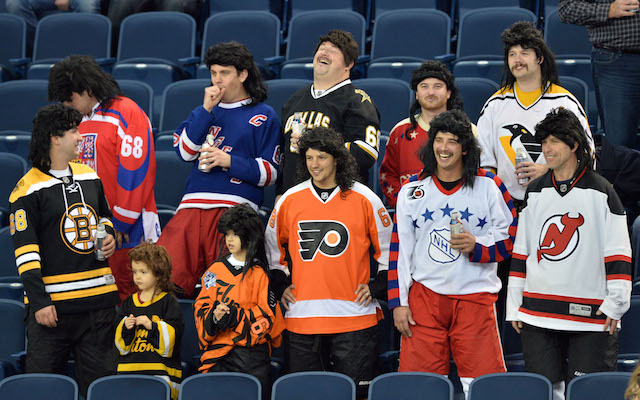 Jagr is unquestionably a fan-favourite and has done nothing but produce in South Florida. That said, if things go according to plan, the Panthers should be entering their window of contention within the next season or two. Jagr has no goals in his last 37 playoff games, dating back to the 2011-12 postseason. Considering he has not been this unproductive at any other point of his career – quite the contrary, is he simply wearing out towards the end of the notoriously grinding NHL season?
And as for Jagr personally, yes, Florida might be on the rise, but the Vegas Golden Knights need to reach the salary cap floor and, given the restrictions on who they can select in the expansion draft, they might have to throw a lot of money at a free agent or two. Nevada, like Florida, has no state income tax (Jagr has run into problems with the Internal Revenue Service), and its cost of living is significantly lower. On the other hand, Jagr has had gambling issues in the past, so perhaps he would not want to amplify temptation by relocating to Las Vegas.
Replacing the Irreplaceable
Regardless of where Jagr ends up next season, when the inevitable parting of ways does occur, who should take his place? How about Nick Bjugstad? While it is possible that Bjugstad is left unprotected for the expansion draft and is claimed by the Golden Knights, he will most likely remain on the Panthers.
He is, like Jagr, a big-bodied (six foot six, 215 pounds) offensive forward with a tantalizing skill set. A first-round draft pick back in 2010, Bjugstad has yet to truly find his stride at centre; 43 points (2014-15) is his career high. Perhaps a shift to the wing – and to first-line wing at that, versus the third-line role he currently occupies – would enable the Panthers to finally tap his undeniable talent.
Or perhaps Jonathan Marchessault? The diminutive pivot already has experience playing the wing thanks to a crowded Panthers centre corps. Both Barkov and Huberdeau can absolutely fly; the addition of Marchessault would add a third waterbug to the Panthers' top line, providing the cross-state rival Tampa Bay Lightning with competition for their Triplets. Joined by Marchessault, the team's breakout player for 2016-17, the Panthers' top line alone would be worth the price of admission.
Living in the Now
But hey, the Panthers have been looking ahead all season long. They waited for offseason acquisition James Reimer to find his game between the pipes (he certainly doesn't need any help elsewhere).
Pure bliss & happiness… Welcome to the world Nevaeh Adelyn May Reimer! My heart can't contain this much love!! ???? pic.twitter.com/lfrhRb4cgG

— April Reimer (@april_reimer) January 31, 2017
They waited for Jagr to get his rear in gear offensively.
Perhaps most importantly, they waited to get healthy.
This is the first time this season the Panthers have been able to ice the squad they envisioned, particularly with regards to their top line of Huberdeau, Barkov and Jagr. The early returns are positive; two wins in three games since the reunion, with 12 goals scored – five of them by this line.
All that's left to do is to sit back and watch them weave their magic once more.
(All advanced stats are thanks to Corsica. All metrics are at five on five, unless otherwise specified.)