SUNRISE, Fla. — Aleksander Barkov scored at 2:26 of overtime to lead the Florida Panthers past the Buffalo Sabres 3-2 Friday night.
It was the second loss in as many days for the Sabres, whose 10-game winning streak ended with a 5-4 loss Thursday in Tampa Bay.
Barkov made the most of a wide-open net against an out-of-position Linus Ullmark, who had stopped 40 of 42 shots before the game winner. James Reimer stopped 20 of 22 shots for Florida.
Jared McCann and Evgenii Dadonov also scored for the Panthers.
Sam Reinhart had a goal and an assist, Jeff Skinner scored and Jack Eichel added two assists for the Sabres.
Buffalo struck first. Skinner went top shelf on Reimer off a feed from Sam Reinhart on a 2-on-1 break 10:55 into the first period. It was Skinner's 20th goal of the season.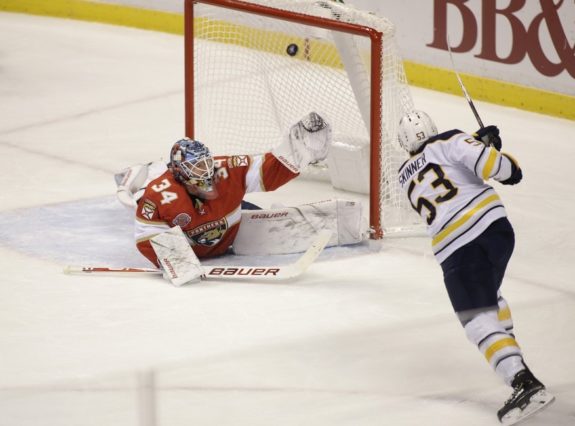 With just 1:29 left in the first, McCann tied the game with a one-timer from the top of the circle. McCann's fifth goal beat Ullmark to the glove side.
The Sabres regained the lead early in the second period when Reinhart converted a tip-in on the power play for his sixth goal.
With just over eight minutes to go in the third period, Dadonov knocked in the rebound off an initial kick save by Ullmark in traffic near the crease, tying it at 2-all.
NOTES: Buffalo C Jeff Skinner continues to excel with his 12th goal in 15 games away from the KeyBank Center. He has five goals and an assist in the last six games against Florida. … Sabres C Sam Reinhart has 13 points in his last 12 games against the Panthers. … Lawrence Pilut made his NHL debut for Buffalo. … Florida G James Reimer made his third straight start as Roberto Luongo continues to rehab from a knee injury suffered Nov. 24 against Chicago.
UP NEXT:
Florida: Hosts Tampa Bay on Saturday.
Buffalo: At Nashville on Monday.
___
More AP NHL: https://apnews.com/NHL and https://twitter.com/AP_Sports
The Associated Press