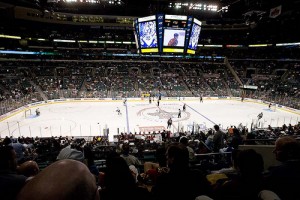 Fans of the Florida Panthers are having a heck of time figuring out how to feel about their home team.  7 of the team's 15 home games have gone to extra time.  Free hockey, as the saying goes, for those who paid for 60 minutes.  The Cats have gone to OT 5 times on the road, for a total of 12 of 30 games needing additional playing time.  Unfortunately for the rapidly decreasing home fans (announced attendance of 11,469 at last night's home game against the Oilers), the Panthers are just 2-5 in OT on home ice, as opposed to 4-1 on the road.  What does this all mean?  Despite having just 6, SIX, wins in regulation this season, the Panthers' 11-13-6 record has them just 2 points out of that all-important 8th seed.  And looking at their recent play on home ice, their upcoming 4 game road trip might be exactly what this team needs.
An increasingly frustrating trend has been developing that the Panthers will have to amend is their ability to lose that 2nd point when holding a lead in the 3rd period.  Without going into too much research, the Panthers are officially 5-2-3 when leading after 2 periods.  Twice the team has gone to the final 20 with a lead and failed to gain any points, and three times they coughed up the full 2.  Reverse the outcome in just two of those five losses, and the Panthers could be sitting as high as 7th in the conference.  But a deeper look into my recent memory reveals it's actually worse than that.  In 4 of the Panthers last 5 games, the Cats were unable either tied or held a lead in the 3rd period, yet were unable to hold on.  November 30th; Panthers and Thrashers went to the 3rd period tied at 3.  Just 6 seconds away from overtime and at least 1 point, Maxim Afinogenov scores to give the Thrash the win.  December 2nd; Panthers hold a 5-3 lead over the Avalanche with UNDER A MINUTE LEFT.  Avs score twice in the final minute to force OT and a shootout, which the Panthers thankfully win.   December 5th; Panthers and Thrashers again go to the 3rd period tied, 0-0.  Stephen Weiss gives the Cats the lead early in the 3rd, but Ilya Kovalchuk scores to force overtime, this time with only 1:04 left in the game.  Thrash win in the shootout, Panthers lose a point by 64 seconds.  December 7th; Panthers and Oilers go to the 3rd tied, Dom Moore gives Panthers lead in 3rd, Oilers tie it, Panthers lose in shootout.  Another point gone. 
If the Panthers are going to end their decade long playoff drought, these extra points are going to have be picked up.  A quick glance to last season proves to be a painful reminder of what can happen.  A 3-8 record in shootouts cost the Cats a playoff berth, as they ended the season tied in points with Montreal for the 8th and final spot.  Just one more shootout goal, and the Cats would have been in. 
For Panther fans who are looking for a silver lining, the team is certainly playing better.  They are competitive and consistent for a full 60 minutes, something that could not have been said over the first two months.  They have been able to outwork and outchance teams over the past couple weeks.  Now all that's left is finding a way to pick up the full 2 points when they deserve them.   And with David Booth and Cory Stillman expected to return to the lineup sometime around Christmas, things could start looking up.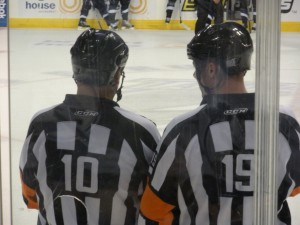 And from the "Only the Panthers" file… everyone by now has seen the infamous Keith Ballard beheading attempt on his own goaltender, Tomas Vokoun.  Well, there has been another Cat-on-Cat crime.  6'4" defenseman Bryan Allen went for a big open ice hit at the end of the 2nd period in Monday's game against Edmonton, but instead took out teammate Greg Campbell.  The good news in the Vokoun incident is that T-Vo is already back in his crease.  Unfortunately, Campbell might be out a little longer.  He did not make the team flight to Columbus, where the Panthers will start their 4-game road trip tomorrow.  No word yet if Father Campbell (NHL VP Colin Campbell) is considering a suspension on Allen, who delivered the vicious head shot.  Only the Panthers…