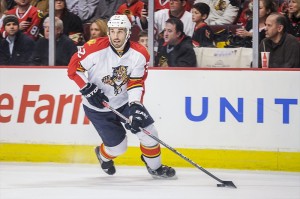 It's not hard to understand why the Florida Panthers are being considered underdogs in their first playoff series since 2000.  They've won just twice in their final 10 games.  They lost to bottom dwelling Columbus, Minnesota, Edmonton, and the New York Islanders in the final weeks of the season.  They almost let the division title slip from their grasp, needing a win over Carolina in game 82 to finally seal the 3rd seed.  So when Florida was matched up against the New Jersey Devils, the prognosticators were out in full force, projecting a New Jersey win in 4 or 5 games.
But if you look beyond the numbers, you might be surprised.  Probably the biggest argument against Florida is their goal scoring, or lack thereof.  New Jersey has three 30 goal scorers on the roster.  Florida has none.  But the Panthers do have 9 different players who have scored 10 or more times.  Once you get past the big 3 of New Jersey, only 4 other players have scored more than 7 goals.  Florida will roll four lines against New Jersey, and all four have the capability to add one to the scoreboard.   This should add a little smirk to Panther fans, as following a loss to Florida early in the season, New Jersey forward Patrik Elias put it bluntly; ""That team is beatable, no question about it…They have one line, that's all."  But as the season wore on, that "one line" of Stephen Weiss, Tomas Fleischmann, and Kris Versteeg cooled off, and when Versteeg went out with a hip injury, other pieces stepped in and Florida kept winning.  Now with Florida's "big 3" back, the scoring is spread out over the entire roster.
Another number that the naysayers bring up is Florida's depressingly low -24 goal differential.  No team as far back as I looked (about 15 years) has made the playoffs with a differential that low.  But it's also a deceiving number.  Florida lost 3 games this season by a combined 20 goals (a 6-1 loss to the Rangers, 8-0 to the Bruins, and a 7-0 decision to Winnipeg).  At the same time, Florida played in  40 one goal games, three more than New Jersey's 37.  So while the Panthers certainly laid their share of eggs, more often than not, Florida took their games to the wire.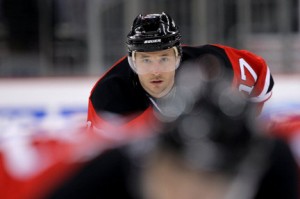 During the season, the difference between the two teams came in the OT\Shootout record.  The Devils claimed an astounding 16 of their 48 wins in the extra frame, while Florida lost 18 times after regulation.  But when you look at regulation wins, the two teams were virtually identical with New Jersey taking 32 compared with Florida's 31.  Obviously, there is no shootout in the playoffs.  Ilya Kovalchuk and his 78.6% success rate in the skills competition means nothing.  The Panthers 6-11 record in shootouts is meaningless.  This series will be decided 5 on 5, where the two teams have much more even numbers (New Jersey averages 2.63 goals per game, 2.50 goals against, compared with Florida's 2.40 GPG, 2.63 against).
With a team making the playoffs for the first time in over a decade, it would be a safe assumption that the team is young and inexperienced.  Florida's been "rebuilding" for a couple seasons now, so surely their roster is full of up and comers.  A safe assumption, but a wrong one.  Florida boasts 5 players who have their name engraved on the Stanley Cup, one more than New Jersey can claim, and combined hold eight championship rings.  Also, 17 roster players have at least one playoff series in their belts, including Sean Bergenheim, who broke out last year with the Tampa Bay Lighting as they made a run to the conference finals and continued his success throughout the year with Florida.
So don't be fooled by the cover of this book.  And sure, Florida may struggle to score and be swept out unceremoniously by the Devils, as they were the last time the Panthers were in the playoffs.  But numbers, assumptions, and appearances aren't the whole story.  Both teams have head coaches entering their first NHL playoff series behind the bench.  Both teams have experienced goalies who spent parts of their careers at the top of the game.  While one team relies heavily on a trio of 30 goal scorers, the other comes at you with 4 strong lines.  One has the 7th ranked power play unit, the other a top ranked penalty kill.  Regardless of the final outcome, those looking to shrug off the Panthers as a cute regular season story could be in for little surprise.  Besides, it's not like there's any pressure left on this Florida team.  They were supposed to be battling for a top 5 lottery pick in April, not a playoff series.  They've already proven the experts wrong once.  Game 1 is Friday night, 7:00 PM ET on NHL Network.
Karl Selvig was born and raised in south Florida, and was introduced to hockey when the NHL came to Miami in 1993. It was love at first sight. After playing through college, he turned to the media side of the sport and has enjoyed writing about his beloved Panthers since 2007.