While some prospects like Jonathan Huberdeau will be immediately rushed into the Florida Panthers lineup once this current lockout is over, other young players will have to rely on good showings in the minors – as well as some luck. Here are estimated call up chances for some of the Panthers top prospects going into the 2012-2013 season.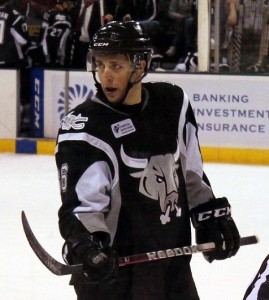 Drew Shore: Taken 44th overall in the 2009 NHL Entry Draft, Drew Shore is starting to show off the kind of talent that initially caught the Panthers attention. Shore is an impressive two-way forward with above average scoring ability who can also use his 6'2 frame to his advantage when fighting for pucks. While Shore may not be a flashy player, his overall game is solid and his defensive abilities could be of great help to the Panthers penalty kill. Shore is currently playing for the San Antonio Rampage of the AHL and is second in team scoring with 20 points (6G 14A).
Shore's Call Up Chance: 60%
Colby Robak: Taken 46th overall in the 2008 NHL Entry Draft, Colby Robak is in the midst of possibly the most important season of his career. At 6'3", 207 pounds, Robak has an imposing body that he uses to control the tempo of the game on both ends of the ice. He has a great feel for the game as well as a booming slap shot that he is still learning how to harness. A laundry list of Panthers' injuries led to Robak getting his first NHL call up last season. In three games with the club, Robak didn't record a point, but played well when he was given opportunities. While Robak still has the potential to be a solid NHL defender, other young talented defenders like Erik Gudbranson and Dmitry Kulikov could lead to Robak possibly being traded in the future. In order for Robak to crack the Panthers lineup this season, he would most likely have to jump over both Tyson Strachan and Keaton Ellerby in order to do so. Robak is currently playing for the San Antonio Rampage of the AHL where he leads all team defenders with 14 points (3G 11A).
Robak's Call Up Chance: 20%
Jacob Markstrom: Taken 31st overall in the 2008 NHL Entry Draft, Jacob Markstrom is one of the most highly touted goaltending prospects in the NHL. A native of Sweden, Markstrom is a talented butterfly goaltender with an impressive glove and an even more impressive frame. Standing at 6'3", Markstrom makes the net seem incredibly tiny to wary shooters. Markstrom was able to make his NHL debut last season and performed exceptionally well (2-4-1 / 2.66 / .923%).  During this current NHL labor dispute, Markstrom is playing for the San Antonio Rampage and was recently named the "AHL Player of The Week". When the puck finally drops this season in the NHL, Markstrom will be given the opportunity to shine if veteran net minders Jose Theodore and Scott Clemmensen struggle.
Markstrom's Call Up Chance: 90%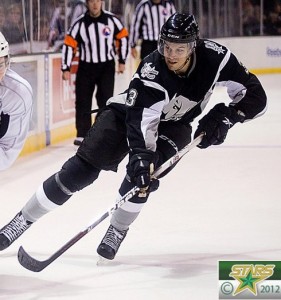 Alex Petrovic: Taken 36th overall in the 2010 NHL Entry Draft, defenseman Alex Petrovic is making his presence felt in the AHL. In only his first season with the San Antonio Rampage, Petrovic is impressing both fans and management. While his offensive game still needs a lot of polishing, Petrovic's greatest skill is his physical play on defense and his eagerness to drop the gloves at any time. It is unlikely that Petrovic will play ahead of Tyson Strachan, Keaton Ellerby and Colby Robak, so fans should look for him to spend the rest of the season in the AHL working on his size and skill set. However, heading into the Panthers' 2013-2014 training camp, Petrovic will have a great chance of cracking the NHL roster if he continues to grow in the minors.
Petrovic's Call Up Chance: 10%
Quinton Howden: Taken 25th overall in the 2010 NHL Entry Draft, Quinton Howden could possibly get his first look of NHL action this year. At left wing, Howden is gifted with exceptional speed and agility, as well as an above average scoring sense. With injury-prone wingers like Tomas Fleischmann and Tomas Kopecky, there is a great chance that Howden could finally break onto the NHL scene. Howden's quickness and defensive prowess could be an integral part of the Panthers' penalty killing unit both this season and beyond. Currently, Quinton Howden is playing for the San Antonio Rampage, where he has 12 points (6G, 6A) including one shorthanded goal.
Howden's Call Up Chance: 75%
Nick Bjugstad: Taken 19th overall in the 2010 NHL Entry Draft, Nick Bjugstad is a dark horse candidate to join the Panthers if they reach the playoffs this season. While he is currently enrolled at the University of Minnesota, Bjugstad could make a jump to the NHL after the collegiate season has ended, much like Chris Kreider did for the New York Rangers this past season. Bjugstad is able to use his 6'5" frame to impose his will at both ends of the ice. Whether it's controlling the puck in the offensive zone or throwing powerful body checks on opposing players, Bjugstad can do it all. His chances of joining the Panthers this season will be directly linked to the success the team has on the ice prior to his arrival. If the Panthers cannot make the playoffs again this season. Bjugstad will most likely have to wait until next season for his NHL debut.
Bjugstad's Call Up Chance: 10%