Dale Tallon took a struggling Chicago Blackhawks and revamped them through trades and drafting to become a perennial Stanley Cup contender. The year after leaving the team to join the Florida Panthers, the Blackhawks won their first Stanley Cup since 1961. Tallon and company are looking to do the same thing with the Florida Panthers. The Panthers have been down on their luck just about every single season since their inception in 1993-94. In that 20 year span, they have only been able to make the playoffs four times. With Tallon overseeing the team, he's already begun to hoard top prospects and had the 1st overall pick in 2014. Here is a look at the top five Florida Panthers prospects.
Criteria:
Skaters can not have played more than 42 games.
Goalies can not have played more than 25 games.
5. Ian McCoshen – NCAA – Boston College Eagles – D
McCoshen made a name for himself in the USHL with the Waterloo Blackhawks. He's a large, two-way defenseman that can block off passes, maintains opposing forwards, is physical, and can also move the puck well. His two-way play will continue to grow with Boston College and McCoshen has already experienced success going to the Frozen Four in his freshman season. As a freshman, Jerry York allowed McCoshen opportunities last season which allowed him to score 13 points in 38 games. The former 2nd round pick still has a few years in college before making his way to the pros, but playing for BC isn't all that bad.
4. Rocco Grimaldi – AHL – San Antonio Rampage – C
The most undersized forward that is working his way to the NHL ranks, Rocco Grimaldi signed an entry-level deal in May, forgoing his final season with North Dakota and getting the opportunity to play in the AHL. Grimaldi has had critics for most of his career given his diminutive height, but he's quieted them with his play on the ice. He has tremendous agility and acceleration that you see from many of the prototypical small guys, and has splendid work ethic. There is no opponent that's too big for him and battles tooth and nail for every puck. His elusiveness and dangerous skill in traffic areas allows him to use his deceptive shot to score goals. It'll be interesting to see how he handles the AHL this season.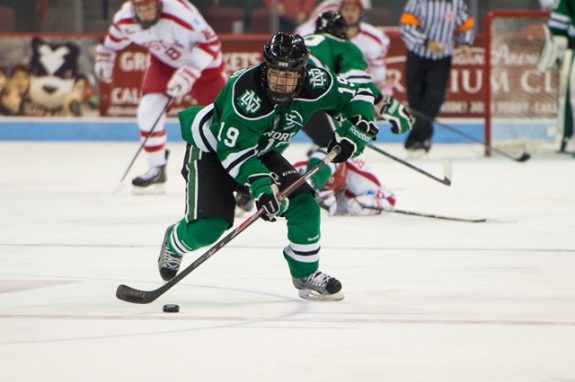 3. Quinton Howden – AHL – San Antonio Rampage – LW
While finding offensive success in the WHL with the Moose Jaw Warriors, Quinton Howden is much more of a two-way winger. He's lanky and may need to gain a few pounds as to not be out-muscled by the opposition. Howden's skating is one of his best assets as he's fluid in transition and can accelerate quickly. He's not the smoothest stick-handler, but his shot is what allows him to be a threat. He scored 10 goals and 27 points in 57 games last season for San Antonio and got some NHL time with the Panthers for 16 games. Although it might be worth it to keep him with the Rampage for a half season, Howden could very well fight for a spot in the Panthers lineup this upcoming season.
2. Mike Matheson – NCAA – Boston College – D
Mike Matheson will be returning for his 3rd season with Boston College to captain the Eagles in 2014-15. The mobile defenseman has been a go-to player for Jerry York and was a key cog for the team in their Frozen Four run. A polished defenseman that can run a powerplay, Matheson's offensive flair is what makes him stand out. He creates pressure by making crisp outlet passes, carrying the puck, and finding streaking forwards everywhere on the ice. He does have a tendency to pinch frequently and get caught out of position which has hindered his defensive game, but he counteracts that with his skating and offensive tendencies.
1. Aaron Ekblad – OHL – Barrie Colts – D
Despite being knocked out of the U20 camp with a concussion, Ekblad is still the best prospect for the Panthers, bar none. On the backend, he's a game changer. Ekblad has the NHL size and two-way ability which made him the 1st overall pick in the 2014 NHL draft. He's physical, can rush the puck, block shots, cut down angles, and keep players to the perimeter. In baseball they talk about 'five-tool' players. Well Ekblad is the equivalent for hockey as a defenseman. He's NHL-ready and could very well make the team out of camp given their young roster.