With Saturday's 2-1 win over the Los Angeles Kings, the Flyers exit the left coast with three points in three games. After a backbreaking loss in San Jose on Tuesday, and somewhat of a morale booster in Anaheim the following night, Philadelphia leaves the state of California with their much valued three points, and a season sweep over the defending Stanley Cup champions.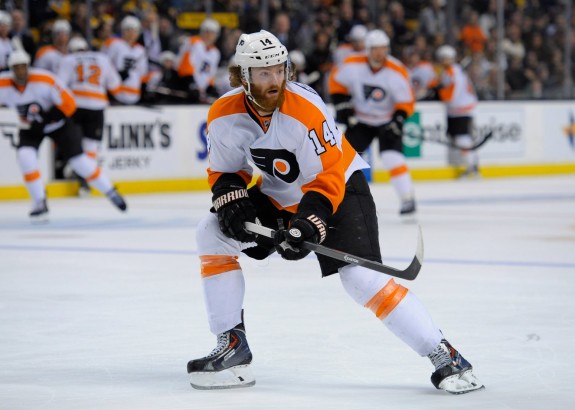 Progress in Motion
When the Flyers hit the ice in San Jose on Tuesday, they did so without their second-year free agent acquisition in Vinny Lecavalier. The Flyers were reeling, losing eight of their last nine, scoring two goals or less in six of those nine. And while that trend continued against the Sharks – losing 2-1 – it was done so with Vinny Lecavalier serving as a healthy scratch for the first time in his career.
The Flyers did, however, capture the game's first goal on the road for the first time all season with Sean Couturier's first period power play goal. Couturier's fifth of the season wasn't enough, though, as San Jose received their equalizer from Marc-Edouard Vlasic in the following period, and the game-winner off of Matt Nieto's stick with 11 seconds left in regulation.
Sean Couturier scored the lone goal for the Flyers, who have lost eight straight road games for their longest skid away from home since March 1998. Steve Mason made 25 saves but had no chance to stop the game-winner. — NHL.com
Philly would take their slump, which then stood at five straight losses, to Anaheim on the following night. The orange and black again struck first, this time on Michael Raffl's seventh of the season. Raffl's mark snapped a six-game goalless drought, and was the first for the 26-year-old Austrian since Oct. 30th's tilt against Tampa Bay.
R.J. Umberger also tallied his 2nd goal of the season, which was his first since Oct. 22nd. With Couturier's goal, and one added by Wayne Simmonds, Umberger's score put the Flyers up 3-1. It was a lead they would go onto blow, setting the stage for Simmonds' game-tying mark with just three seconds remaining in overtime.
https://www.youtube.com/watch?v=BgUb5x0DAJk
The overtime stanza came and went, leading to the dreaded shootout. And despite Couturier chipping in Philly's first shootout goal of the season from someone other than Claude Giroux, the Ducks finished the job with goals from Jakob Silfverberg and Corey Perry.
"We're playing better hockey, and we know if we're going to start picking up more points as we go along we're going to have to keep playing this way," Simmonds said after Philly's 5-4 shootout loss. "It seems like we're not playing the complete, full 60, but our effort is definitely there a lot more than it was in the previous games."
Wednesday's loss at the Honda Center was Philly's sixth straight loss, and their 10th straight on the road. But instead of blowing the game in the final seconds like they had done on two previous occasions, the Flyers clawed back, earning a point. And after sitting on 19 points for a week straight, the Flyers welcomed their 20th point on the season with open arms, despite the disappointment of dropping to 0-4 on the year in the skills competition.
Much Love for the Staples Center
Who would've thought a trip to the Staples Center would be the anecdote for the Flyers' inept road record? Historically speaking, it makes sense. The Flyers entered Saturday's matinee with a four-game winning streak in Kobe Bryant's house of basketball. But with the way things were going for both teams, it would appear as though the Kings were in store for their first home win against Philadelphia since Jan. 3rd of 2009.
History is one thing. The here and now is another. And considering the fact that Los Angeles had won three of their last four, while carrying an 11-3-1 home record, Saturday's date with the Kings was anything but a gimme.
https://twitter.com/myregularface/status/541341202843332610
But, yet again, the Flyers continued to build off of their recent silver linings and jumped out in front on Claude Giroux's eighth goal of the season. Wayne Simmonds would give his team breathing room with his third goal in his last two games, while Steve Mason warded off heavy doses of pressure from L.A., which resembled a tsunami wave.
Mason was very sharp with 15 saves alone in the second period when the Kings made a strong push. He was the one Flyer pushing back, especially in the last six minutes of that period when the Kings were in the Flyers' end the entire time. — Tim Panaccio, CSN Philly
Ex-Flyer Justin Williams would make things interesting in the third, scoring at the 4:09 mark of the period. And despite being outshot by a 3-16 tally in the final period, the Flyers would hold on to collect a pair of points for the first time in 14 days.
https://www.youtube.com/watch?v=FYGVhPYKhhw
For head coach Craig Berube, Saturday's win had to be as satisfying as hearing that his job was safe the day before. Berube and the team have been unquestionably tested in the early going, which makes Saturday's win even more pleasing.
"We played good hockey on this road trip, to be honest with you," claimed Berube. "We went into San Jose and deserved two points. We blew that game … Went into Anaheim, battled hard against a real good hockey team and got a point, lost in the shootout and won a game today.
"This was a tough road trip. It really was. These teams are hard to play against. We matched them. The Kings came at us in the second half and we hung in there and did a lot of good things."
Standing Out
Throughout the west coast trip, which began with a pair of familiar losses, the Flyers began seeing contributions from several skaters beyond their top line. Philadelphia also vastly improved in the penalty killing department, yielding only one power play goal in nine chances.
When it came to the man advantage of their own, the Flyers capitalized on three of eight chances, while the secondary scoring epidemic that's caused Claude Giroux and Jakub Voracek to wear weightlifting belts appears to be gone for now.
Couturier ended his trip to California with a goal and two assists, while Michael Raffl, Andrew MacDonald, R.J. Umberger, Scott Laughton, Nicklas Grossmann, and Nick Schultz all added points throughout that span.
MacDonald's second period helper to Simmonds was his second power play point of the season, and the third straight game the 28-year-old defenseman has notched a point. Coincidentally or not, MacDonald's point streak began after he was scratched against the New York Rangers on Nov. 29th.
Sean couturier & Andrew MacDonald with Assists on Wayne Simmonds Goal #Flyers #LAKings #PHIvsLAK

— David Malandra Jr (@djmjr788) December 6, 2014
In addition to MacDonald's contributions since his return, R.J. Umberger has appeared to emerge as well – so much as to say he may never want to leave the state.
R.J. Umberger has had an atrocious start to his season, and I'm still waiting for him to get his turn on the press box carousel, but I have to say, his past week in California was probably the best hockey we've got out of him this season. He, Couturier and Read had a number of decent shifts today, and for once it didn't seem like he was totally anchoring them down. Three games is obviously not a ton of time, so things could go south again pretty quickly and none of us would be surprised, but if Umberger can manage to play the rest of the year like he's played for the past week, it'd be appreciated. — Kurt R., Broad Street Hockey
As for Steve Mason, who started all three games out west, two wins in seven outings is far from impressive on paper. But for those who watch, Mason has been anything but poor. The third-year starter allowed two goals or less in four of the seven games, which includes two of his last three. Mason's wizardry on Saturday frustrated the Kings, as the former third-round pick negated 37 of L.A.'s 38 shots put on net.
"I think you have to look at this as a turnaround for us, I hope," said Flyers owner Ed Snider after Saturday's victory. "I'm very pleased with what I've seen. Mason did the job today — but when you come into this building, it's tough no matter who you are."
Flyers break the road slump against the Stanley cup champs. Good day. Showed heart. This team might turn around now.

— Spencer Severs (@SSevers219) December 7, 2014
If Saturday's win against the Kings is, in fact, the turning point for the Flyers, it means we're in store for a drastic change in fortunes on the road. The Flyers will end the month of Dec. with four of their next 11 games coming on the road. And even with today's win, Philly's road record still sits near the bottom of the league at 3-9-2.
Tidbits from Hollywood
Steve Mason Outlasts Jonathan Quick
Steve Mason's 37-save performance on Saturday afternoon improved his record at the Staples Center as a Flyer to 2-0-0. Mason, who is 7-7-0 all-time now against the Kings, went a stretch of over 100 minutes without allowing a goal on L.A.'s home ice. Justin Williams' third period goal, of course, spoiled the party. Mason blanked the Kings in L.A. Feb. 1st last season.
Steve Mason has stopped 72-of-73 pucks for the #Flyers on the road against the Kings in the last 10 months.

— Bob Herpen (@pelle31lives) December 6, 2014
Jake Voracek Watch
Saturday's tilt marked the sixth time all season Jake Voracek was held off the scoresheet. It was the first time all season, however, the 25-year-old was held scoreless in a Flyers win. Voracek, who now sits third in points among league leaders, has yet to be held pointless in back-to-back games this season. Dallas' Tyler Seguin leads all NHL skaters with 35 points, while Pittsburgh's Sidney Crosby stands one point behind him.
Imagine what Voracek's numbers would look like if the Flyers had another legitimate first-line winger to play with him and Giroux.

— Tim Riday (@TimRiday) December 4, 2014
Ex-Flyers vs. Ex-Kings
Never mind the fact that the Flyers just swept the season series against last season's Stanley Cup winners. The Flyers and Kings will be attached for some time to come with Mike Richards and Jeff Carter on the team out west. This season, though, the Flyers have held their former stars in check. Through two games, Richards owns the only point between the two with his goal on Oct. 28th.
Wayne Simmonds and Brayden Schenn, on the other hand, have a goal a piece. With Sean Couturier added – since Carter was traded for the draft pick to select him – the ex-Kings win the head-to-head point matchup by a final score of 3-1 (3-2 with Justin Williams thrown in).
The Flyers beat the Kings, and the Carter/Richards trades are vindicated at last

— FakeWIPCaller (@FakeWIPCaller) December 7, 2014
Road Trip Wrap Up
The Flyers will finish off their five-game road trip on Tuesday in Columbus. Both teams own a win this season against each other, but Columbus is now riding a three-game win streak. Adding to Philly's large task, the Flyers have lost four straight at Nationwide Arena in Columbus. Philadelphia will look to build off of their west coast trip by securing their first win in Ohio's capital city since Dec. 13th, 2005.
https://twitter.com/AndyMcGeoch/status/541428568925171713
Through 26 games, only two points separate the Flyers from the Blue Jackets. And with Columbus winning five of their last eight meetings, Tuesday will be another road test for a team that's won three times in 14 road games. In other words, expect a hat trick out of R.J. Umberger.
Andy is a contributor for The Hockey Writers, covering the Philadelphia Flyers. He holds a Bachelor's Degree in Communications from Walsh University. He enjoys spending time with his family, golfing, and reading. He is married with a daughter. You can follow Andy on Twitter @ADudones.