After going 17 consecutive games without a point to show for, R.J. Umberger finally ended his long personal drought. Umberger's second goal of the season in Wednesday night's 5-4 overtime loss to the Anaheim Ducks was his first since scoring in Pittsburgh on Oct. 22nd. And despite yet another loss added to the standings, it's something worth smiling over.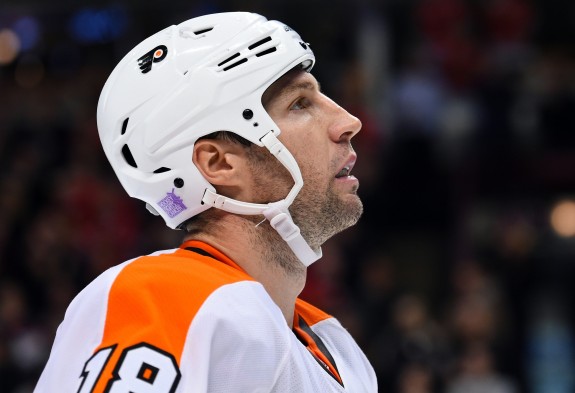 Hard Work Rewarded
Let's not kid ourselves. R.J. Umberger was never a threat to Alex Ovechkin, Steven Stamkos, or even Tyler Seguin for accolades in the goal scoring department. The veteran forward has been best known for his two-way skills throughout his 10-year career, which is validated in the time spent on Philadelphia's shutdown line with Sean Couturier and Matt Read.
With Craig Berube handing out healthy scratches as if there's a quota, Umberger has eluded the press box to this point. And while it's been commonly questioned as to why, the answer can be found as to why his other comrades fell victim to Berube's iron hammer – most recently, Vinny Lecavalier and Michael Del Zotto.
"Yeah, everyone has to be better," said Berube before Tuesday's game against San Jose. "Everyone can be better in here, and that's really what it boils down to. There's not one or two guys that change things around.
"It's going to take a full team effort — all four lines, all six D and the goalies. Until we get everybody going, we're going to still be in a slump."
Since Nov. 20th's tilt against Minnesota, Umberger has noticeably exuded the type of effort Berube has preached throughout the Flyers' current 11-game tumble. But even with the added intensity, seen in his physical play, the 32-year-old continued to come up a day late and a dollar short. That is, of course, until Wednesday's game in Anaheim.
https://twitter.com/myregularface/status/540368798151634944
"It probably felt better than my first goal scored in the NHL," said a relieved Umberger. "I'll take it. It wasn't pretty. It was greasy but I will take it for our team.
"That is where I am going to score: around the net. You got to work hard through these type of things, get to the net, work hard and battle and find any way to contribute."
Say what you will about the Ohio State alum – and a lot has been said – but he's handled his latest bout with adversity, as well as the team's, with a winner's attitude. The type of mindset that has battled through a demotion to the fourth line, where he was deployed on Wednesday night, and the type of mental toughness that's withstood harsh criticism thrown in his direction.
Sixers won. Umberger scored, we scored in a shootout & now they cancel the space launch? I told y'all. Aliens. *puts tin foil hat back on*

— Carly (@nuclearcarly) December 4, 2014
"It's moments like these you have to stick together as a team and find the positives," added Umberger. "In San Jose … the message from Chief (Craig Berube) was if we play like that, we are going to win a lot of games.
"Tonight we battled against a desperate team and found a way to get a point. We didn't quit. You take those parts and build off it. It's not going to be pretty coming out of these [slumps].
If the Flyers want to even think about competing this season, building off of the small victories within is their only realistic chance. After all, it's not like their current situation can be fixed with a magical wave of the wand from Flyers GM Ron Hextall.
"It's just going to take sacrifices from everybody," said Umberger. "Do your own job. We're stressing that. Don't try to do too much. … We've learned in the last few games that every one shift matters. It's cost us games, just one shift, and we gotta lay it on the line. I think these moments though, we can build off it."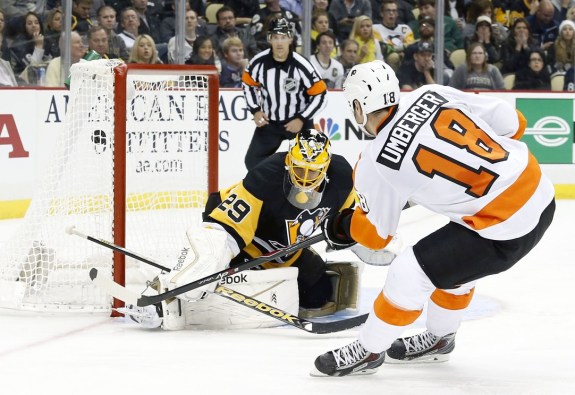 More to Come?
R.J. Umberger knows what it's like to have a down year. In the 2012-13 lockout-shortened season, the Pittsburgh native posted a career-low 18 points in 48 games. Umberger, while in his fifth season with the Columbus Blue Jackets, also saw his goal scoring take an acute dive. His eight goals ended a four-year streak of 20 or more goals – a disappointing output of production for even the shortened season.
"I've had a couple slow starts in my career," said Umberger before playing his former team last month. "This might be the worst. It's hard, but it happens."
While it's unlikely Umberger will regain the form that once touted back-to-back 50 point seasons for Columbus, the chances of the 6-2, 214-pounder being held to next to nothing for the remainder of the year is equally improbable. Even with the slowest start to a career that's now reached a decade, Umberger has hardly been alone when it comes to slumping.
The team's secondary scoring, or lack thereof leading up to Wednesday's game, has plagued the orange and black. Up until Philly's faceoff against the Ducks, eight forwards with 16 games or more had single digit point totals. Couturier's assist dropped that number to seven, while the Flyers got nine points from other members not named Claude Giroux or Jakub Voracek.
"I view (Umberger) as a big guy who can play different positions, eat up minutes, kill penalties … but (one who also) can put the puck in the net," said Berube last month. "I think he will put the puck in the net. I don't want to put any more added pressure on him or anything else, but he just needs to shoot pucks and get to the net and play a big game."
Umberger has looked decent on the forecheck. I'll give credit where it's due.

— RiskyBryzness (@RiskyBryzness) December 4, 2014
The Flyers would love to see more of the R.J. Umberger that was seen in Anaheim and Pittsburgh, and less of the player that's struggled in the 23 other outings. And even with optimism, the downward trend in his play indicates that efforts that result in scoring are going to be few and far between from here on out.
As mentioned, he's not a "goal scorer." And at 32-years-old, Umberger is unquestionably beyond his prime as a power forward – one of the advantages of unloading Scott Hartnell in the first place.
It's a historical fact that power forwards bloom later at the NHL level (and often decline around age 30, due to the pounding they take).These guys often start out as checkers or enforcers and, in their mid- to late-20s, emerge as scorers. However,almost without variation, these playerswere oncewell-above-average goal scorers at the junior, college, and/or AHL levels before climbing their way up in the NHL. — Bill Meltzer, Hockybuzz
Yes, we all know that R.J. Umberger isn't here to replace Scott Hartnell's production. His career-high in goals/points respectively (26/37) never implied that. But there was evidence of Umberger's decline even before he was acquired from the Blue Jackets.
When Hextall weighed the pro's and con's of dealing Hartnell for Umberger, it's widely assumed that Umberger's special teams forte played a roll – along with contract length – in making the deal. And despite Umberger's decline on Columbus' penalty kill last season, his downturn in special teams play has been much worse in Philadelphia this season.
Below is a breakdown of Umberger's career shorthanded advanced analytics.
Remember, the Flyers' 84.8 percent penalty kill last season was good enough for seventh in the league. Through 25 games this year, their 74.4 percent kill leaves them nowhere to go but up. And that's with their last 15 kills in 19 tries factored in.
While the numbers aren't encouraging, there could be more to Umberger's ineffectiveness than meets the eye. Especially when taking his penalty kill decline from last season into account.
After the season, he told the media that he had a broken finger, a separated shoulder, a herniated disc, a bruised left hand and a cut beneath his left eye that required stitches.But he gave no indication that he was expecting to leave Columbus, his second home since 2000, when he began a three-year run at Ohio State. — Aaron Portzline, The Columbus Dispatch
Whether or not Umberger is playing hurt is anybody's guess. If he is, it wouldn't be a surprise. Not only does the style of hockey that he plays bolster the odds of injury, his outright ineffectiveness could be an indication. After all, no one anticipated this type of start for the two-time Flyer.
"You know what? I try to just focus on what's gong on here," added Umberger. "I know they're probably not happy. Rightfully so, but you can't let that bother you. You've got to put a hard effort in every night."
For a team that is approaching a single season crossroad, however, a goal from their struggling veteran could be that baby step that gets everything else in motion. And with a $4.6 million cap hit for the next two seasons after this year, the Flyers desperately hope it is.
Andy is a contributor for The Hockey Writers, covering the Philadelphia Flyers. He holds a Bachelor's Degree in Communications from Walsh University. He enjoys spending time with his family, golfing, and reading. He is married with a daughter. You can follow Andy on Twitter @ADudones.