Pep Talk is a semi-regular series where current Blues playing trends are discussed in a constructive way. Find more musings about your St. Louis Blues by following Mike Poepping on Twitter: @pep30
The St. Louis Blues now find themselves in a precarious situation, where their holes are being exposed by Central Division rivals and their defense has had trouble setting up good transitions for better scoring chances in the opposition's end. The good news is the team is closer to being in top form than many fans may think, and here we look at exactly how close they are to being the powerhouse they should be this season.
Blues fall 4-3 in Brodeur's debut but critical mistakes, not goaltending, are the reason. http://t.co/Un9f5qEKUW" #stlblues

— Jeremy Rutherford (@jprutherford) December 5, 2014
'We Got Problems'
But they aren't HUGE ones, as of yet at least. The biggest issues facing the Blues today are team communication and cohesiveness. It seems that the line juggling is starting to confuse some players, and their communication is lacking because of it. Errant passes are a cause of lackluster chatter on the ice, which has been the biggest problem for this year's Blues squad throughout the first 25% of it anyway. In addition to the lack of communication, another big issue facing the team (which actually ties in to the communication issues) is a lack of team defense. This is a problem that has reared its ugly head at times around the Notes organization for decades now, but has definitely been an issue as of late.  
Playing team defense starts with the communication problems as hinted at earlier, so once the leaders of the team start truly focusing again this problem should begin to correct itself. However, over the past few games the lack of communication has leaked out into lapses in coverage, leaving the backdoor and slot areas open for opposing players to sneak in and get quick shots on net in high scoring areas, which in turn has led to various untimely goals and ultimately (as of the last 2 games) Blues losses as well.
The Cause and Effect of Poor In-Zone Defense
It's no secret that a good defense leads to increased scoring chances, and a poor defense has the opposite effect. What is different about the Blues team over this rocky 5 game stretch is that they are still getting scoring chances due to their highly talented core group of players, and specifically one amazing Russian snipe machine named Vladimir Tarasenko and his line-mates. However, over this span the team has seen 3 contests dropped due to lax coverage in their own zone, and it's becoming too frequent a trend to be comfortable with any longer.  
I hope someone finds them by Saturday. #stlblues pic.twitter.com/NkGEXz6l6p — Josh Smith (@joshsmith7) December 5, 2014
The main cause of the missed coverages has been the communication issue, but the problem goes deeper than that. The Blues as a team are falling back in to lazy in-zone play where the opposition is given too much time and space to make plays, a dangerous combo to give any NHL level talent with the way the game is played today. When you give good players time with the puck to watch the developing play, and you allow their teammates time to get into a better (more open) shooting position simultaneously, their chances of scoring greatly increase. This is directly caused by a defense that neither collapses on the play, nor stays in a man coverage, which allows good players to find just enough space in those coverage gaps to convert in high scoring areas. The team needs to get back to a full 60 minute, 200-foot game in order to break out of this 'slump' (if you can call a 2-3 record that) and in order to ease the wide open opportunities other teams are getting against the Blues goaltenders as of late.
The Good News
The good news is that the Blues are very close to being that stalwart defensive team we have come to expect over the years. They are still the same amazingly-talented group of individuals who have been praised since training camp, and they still are among the league's best groups this season. Minor tweaks and a little more heart is all they need to get over this small bump in the road on their way to an impressive playoff run this coming spring.
Jackman: "Tonight I thought we played a better overall game. Just a couple breakdowns that cost us." #stlblues

— St. Louis Blues (@StLouisBlues) December 5, 2014
One great effect of a defensive unit coming back together and communicating efficiently is exactly what the Blues have been trying to accomplish all season: quicker transitions, and more scoring chances being created for them. This should also lead directly to more balanced team scoring as the 'STL' line won't be on the ice for every opportunity, and also other players will then begin feeling the love. This should help spark should-be stars like Paul Stastny, TJ Oshie, David Backes, and Alexander Steen back to life by giving them better touches with the puck, and more time to see the ice to use their high hockey IQs to make plays and find the back of the net on a consistent basis.
This will also help jump start the defense back into a supporting role, where they will continue to get great assist numbers, boosting their confidence and helping aid their defensive zone play. Players like Kevin Shattenkirk, Alex Pietrangelo, and Ian Cole will be able to continue their offensive minded game at a better team pace knowing that everyone else on the team is pulling their weight, taking some of the pressure off of them to shine in every zone and situation. That should lead to more confident breakout passes, less getting caught up in the offensive zone, and less opposing scoring chances overall. Things will also begin to turn around once Jay Bouwmeester returns to the lineup (as early as Saturday against the New York Islanders), as he eats a lot of minutes, and covers a ton of ice in just a few smooth strides.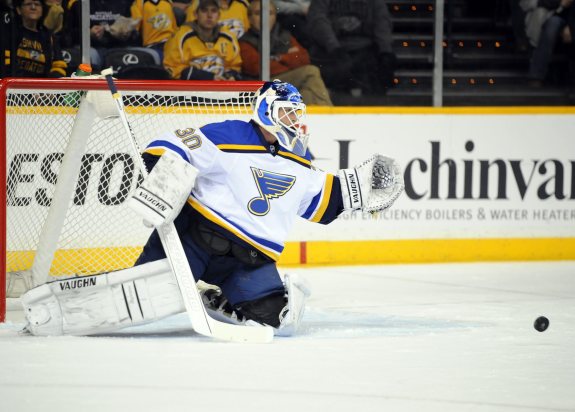 Minor Tweaks will Lead to Major Team Growth
All of these minor changes to the Blues' team defense will secure their back-end, and shift the focus to creating the balanced scoring that should result from great team play. If the Notes can regain their in-game focus and play that 200-feet needed to ensure the opposition doesn't get easy scoring chances, it will translate to higher goals-for totals with the group as well. Their feet will begin to keep moving in all zones, and their passing will find its rhythm en route to a dominating rest of the season performance over the last 75% of it and into the playoffs. Though the last 5 games may be a sore spot for most fans, it's only early December so the Blues have plenty of time to get back in tune with one another and to find their game before the true test (playoffs) begins.
Like what you've just read? Follow me on Twitter: @pep30 
Mike has covered the St. Louis Blues and Tampa Bay Lightning in depth for The Hockey Writers since 2013. He is also a contributing writer for KSDK News Channel 5, the St. Louis area NBC affiliate, and has been a credentialed media member of the Blues since 2014. Follow him on Twitter @pep30.